LIFE SENTENCE! Vybz Kartel Found Guilty Of Murder
04/03/2014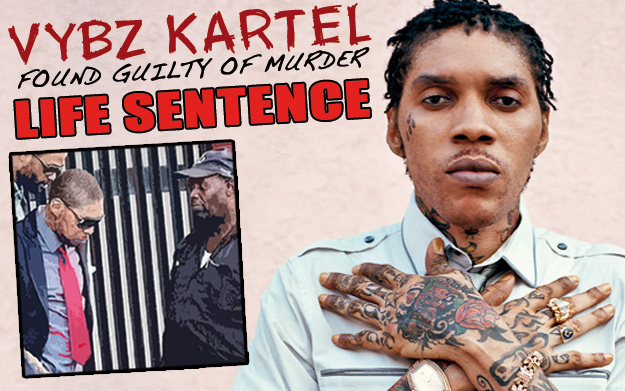 UPDATE - APRIL 3rd


VYBZ KARTEL GETS LIFE!
IN THE PRESS
# Kartel, Co-Accused Get Life [Jamaica Observer]
Adidja 'Vybz Kartel' Palmer and his three co-accused were Thursday slapped with life sentences for the murder of Clive 'Lizard' Williams. Kartel is to serve 35 years in prison before he becomes eligible for parole.

# Statement From Police High Command On Vybz Kartel Case [Jamaica Observer]
The Police High Command takes this opportunity to commend the members of the Constabulary who were involved in the investigation and recently concluded murder trial of Adidjah Palmer et al.

# Vybz Kartel Sentenced To Life In Prison [Jamaica Gleaner]
Dancehall artiste, Vybz Kartel, has been sentenced to life in prison for the murder of Clive 'Lizard' Williams.


# Dancehall Artist Vybz Kartel Receives Life Sentence [Billboard]
Kartel will not be eligible for parole until he serves 35 years of his life sentence, while Shawn Campbell and Kahira Jones will be eligible for parole after serving 25 years of their life sentences.

---

[Kingston, Jamaica] Vybz Kartel and three co-accused found guilty of murder (in August 2011) of Clive 'Lizard' Williams.

After a 65-day trial, which was the longest running criminal hearing in the history of Jamaica's circuit court system, the 11-member handed down its verdict minutes after 6pm on thursday, march 13th:



Adidja Palmer (aka Vybz Kartel) – GUILTY
Shawn Campbell – GUILTY
Kahira Jones – GUILTY
Andre St John – GUILTY
Shane Williams – Not GUILTY

The convicts are to be sentenced on March 27.

Kartel's lawyers have indicated they will appeal the verdict.

IN THE PRESS
# Vybz Kartel, 3 Co-Accused Found Guilty Of Murder [Jamaica Observer]
# Juror Arrested After Bribery Attempt [Jamaica Observer]
# Guilty - Vybz Kartel, Three Co-Accused Convicted [Jamaica Gleaner]
# Kartel Looked Pale Before Verdict [Jamaica Gleaner]
# Jamaica Justice System Was On Trial [Jamaica Gleaner]
# Police High Command Commends Investigators In Vybz Kartel Case [Jamaica Gleaner]
# Jamaican Dancehall Artist Vybz Kartel Found Guilty of Murder [Billboard]
# Jamaica Dancehall Star Vybz Kartel Guilty Of Murder [BBC]

Watch the Jamaica Gleaner news report below: