Breaking News or Major Fake: Vybz Kartel Escaped From Prison ?
11/30/2011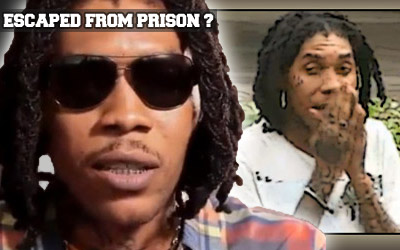 UPDATE ★ UPDATE ★ UPDATE
Here is the confirmation by the Jamaican Observer, that the info was false! read it below. In the meantime HypeLife Magazine added a line to their article:
For those who may not have caught on yet… THIS IS A JOKE!
Read the full statement titled
Vybz Kartel Prison Escape 'A Rumor,' Just A Joke Haox & We Apologize
---
No Escape for Vybz Kartel
Cops dispel rumour that deejay and seven others stage prison break
source: Jamaica Observer [Nov. 30th]
---
Breaking News: Vybz Kartel Escaped From Prison, Now Listed As Jamaica's Most
That headline spreads like wildfire on Facebook, Twitter, etc... right now, but there is still only one source of that story, which reads like a movie. If that story is true, it will surely be confirmed soon by the Jamaica Observer or Gleaner, but till then.. it reads like a big fake, which turns out to be a good promotion move for The Hype Life Magazine....
Hype Life's report read like this:
In the biggest prison escape in Jamaica history, on 30 November 2011 in Jamaica, at Horizon Adult Remand Centre on Spanish Town Road, its alleged that Dancehall star Vybz Kartel, who had been charged of offenses including several murders and ganja possession, escaped from the prison along with 7 other prisoners.

One prison officer died of a heart attack as a result of the escape and twelve others were injured, including two who were shot with guns that had been smuggled into the prison. Shortly after 1:00 am, Vybz Kartel, whose given name is Adidja Palmer, took control of the jail holding the prison guards hostage at gunpoint. Some of the prisoners took the guards clothing and car keys in order to help with their escape.

The group of prisoners also impersonated prison officers on the phone and created false stories to ward off suspicion from authorities. The Police gave chase resulting in the capture of one of the prisoners.

At about 1:45 am, they eventually made their way to the prison maintenance pickup-truck which they used to escape from the prison ground. The escape occurred during the slowest period of the night when there would be less surveillance of certain locations like the maintenance area. News in the street is that the Force Commissioner, who heads the Criminal Investigations Branch, said that the artiste and the other escapees are now on the run and are listed as "Jamaica's most wanted criminals."


Palmer, who has been in custody since October 1, has been charged with murder, conspiracy to commit murder, and illegal possession of firearm arising from the death of Barrington Burton, a St Catherine businessman/promoter. Burton was shot and killed while standing with friends in Gregory Park, St Catherine, in July.
Also, Kartel along with fellow Portmore Empire artiste, Shawn Storm, his designer/booking agent, Calvin "Moonie" Haye and Cayro Jones appeared simultaneously in the Corporate Area Resident Magistrates Court. Each of the men was charged with murder in relation to the killing of Clive "Lizard" Williams in Havendale, St. Andrew this past August.

Persons seeing or knowing the whereabouts of any of the escapees including the deejay are asked to contact detectives at the Spanish Town Police Station, Kingfish at 811, Crime Stop at 311 or Police Control at 119.