Review
Album Review: The Legendary Voice of UB40 Ali Campbell reunited with Astro & Mickey – Silhouette
10/10/2014
Silhouette recalls the heydays of UB40 music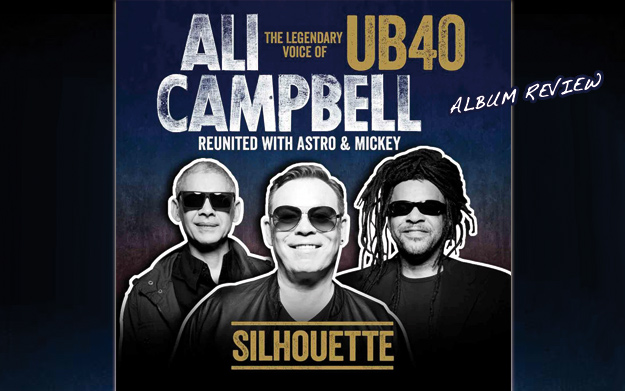 There's a certain magic to short band names such as UB40, and something deeply unsettling to explanatory monster phrases such as The Legendary Voice of UB40 Ali Campbell reunited with Astro & Mickey. Ever since Ali Campbell resigned from UB40 in 2008, fans – those who admit it as well as those who don't – of the world's most successful unemployeds have been dreaming of a reunification of this Birmingham collective. Continuous releases of both Ali Campbell and the rest of UB40 pointed at a different direction.

While the rest of UB40 has turned into a mere silhouette of the former giant, its albums mostly torn by the media, Ali Campbell has kept up the flame. UB40 was never the ingenuity of its musicians – as the legend goes, they taught themselves how to play their instruments after they set up the band. First and foremost it was Ali Campbell's unique voice, and furthermore Astro's toasting. The later, turned off by rest-UB40's 2013 country album Over The Storm, decided to rejoin Ali Campbell in November 2013.

With UB40's distinct voices reunited, and keyboard player Mickey on board, who was fed up with the rest of Birmingham's stars also, the writing of the interesting part of UB40's history can be continued. The first LP of this Chapter II, if you allow, is called Silhouette. This effort of thirteen tracks is named after Dennis Brown's track of the same name. As usually, the album mixes cover versions with original songs.

UB40 has done much to revive rocksteady and reggae classics through their Labour Of Love series that might have been forgotten by now if it wasn't for the attention UB40 drew on them. On Silhouette, the covers are mostly reggaefied versions of pop songs. Like the title track, which was originally written by American pop group The Rays in 1957. In this case, the reggaefication was done by Dennis Brown, though. Or Any Time At All, originally released by The Beatles on their 1964 album A Hard Day's Night.

Then there is I'm Missing You. Actually written by Lionel Richie as a tribute to Marvin Gaye, Ali Campbell based his version of it on a cover by Lee Roy Gibbons, who had mistaken the tune for a love song. Once Ali sings it, every note cries UB40. UB40 developed its unique style despite its various influences, as well as precisely through all those influences. Once they cover a song, it is reborn and becomes UB40.

Sha La La is yet another example. If you didn't know it was once a it for The Pioneers, you'd be quick to mistake it for a UB40 original. It's the same with Yes I'm Ready, the last track on Silhouette. Campbell took it from the B side of The Chi-Lites' seminal Have You Seen Her. In his words: "Have You Seen Her was a song that meant a lot to me in the 1970s. I used to listen to the seven-inch single on my Dansette record player in the dark. And, in Yes I'm Ready, there was also a great track on the flipside – a song that nobody has really heard of."

Somewhere in between of a cover and an original song lingers Tomorrow On My Shoulder. Ali's father Ian Campbell, a renowned Scottish folk singer, once penned the song, but never released it. "It's a song about parenthood. My dad gave it to me when I had my first son." he explains.

The original parts of Silhouette come with a few more gems. There's Fijian Sunset, a cheesy love song that somehow recalls Kingston Town, in as much as once your European middle class dreams have led you to Kingston, this is the only song left to feed your eternal wanderlust. Or the huge Who Will Remember Them and the slightly less convincing History. Both tunes nod respectfully towards the politically aware lyrics UB40 became famous for in its early days. Only Reggae Music disappoints somewhat. Kept in a style similar to that of UB40 and Aswad in their weakest chapters, the song blatantly goes like this: "All cool people love reggae music/anytime we play it/just can't refuse it/over any type of music/they're gonna choose it." Sure, so why state the obvious?

Silhouette recalls the heydays of UB40 music. Other than rest-UB40's Over The Storm, this album keeps up the group's legacy and continues it. All the elements are there – Ali's and Astro's distinct voices, Mickey's keyboards, and a full-blown brass section on top of it. This album is a must for UB40 fans and anyone who doesn't shy away from the more commercial side of reggae music. It's just that you can't call it a UB40 album, since there's a lawsuit pending over the right to the group's name – which explains the frightening long name of the artists behind this gem.
---
Release details
Ali Campbell - Silhouette
DIGITAL RELEASE / CD / VINYL [Cooking Vinyl]
Release date: 10/03/2014
Tracks
01. Anytime At All
02. Silhouette
03. Cyber Bully Boys
04. Reggae Music
05. I'm Missing You
06. Who Will Remember Them
07. Fijian Sunset
08. Sha La La
09. Tomorrow on My Shoulders
10. Our Love
11. History
12. I Want You
13. Yes I'm Ready