Review
Album Review: Tydal - Mission Incomplete
11/17/2014
by Dan Dabber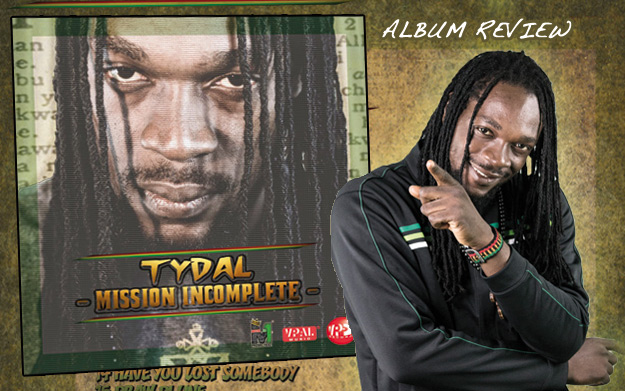 Any astute listener of Tydal's new album, Mission Incomplete, can quickly assess that, regardless of what the mission may be and why it remains incomplete, it is certainly not the artist's talent that is lacking. With over a decade of experience as a singer and songwriter, Tydal, born Navardo Graham, has developed into a versatile and mature artist with a positive message, strong songwriting skills, and unique baritone vocals. Although this is Graham's first full-length album, he previously released a mixtape, Weh Dem A Guh Seh, in 2011 and an EP, Journey Of A Young Warrior, in the spring of 2014, both of which contained multiple tracks that can also be found on the Mission Incomplete album.

Despite containing recycled songs, Tydal's newest release somehow avoids feeling cobbled together. The album's overarching tone reflects a carefully selected showcase designed to impress the listener with the phenomenal skills of the artist as well as illustrating the diverse applications of his craft. It's hard to listen to Mission Incomplete and not get the feeling that Tydal is on a mission to make a lasting impression with this record, not just on the reggae community, but on a broader musical landscape as well, as there are several tracks on the album that indicate Tydal may be attempting to impact other markets. Since he has yet to enjoy a breakout hit song that would establish Graham as a top tier contemporary Jamaican artist like Chronixx, Protoje, or Busy Signal, it seems likely that an iconic reggae smash, or possibly a genre-jumping crossover chart-topper, may be the mission that Tydal is hoping to complete with his new album.


As one might expect, Mission Incomplete has no shortage of crucial reggae riddims. Tracks like Mama Warn Him on Vikings Productions' popular Baby Mother Riddim and Have You Lost Somebody on the Street of Gold Riddim from powerhouse label Penthouse Records are the musical foundation for the album, providing stellar reggae grooves that set the vibe and that provide grounding for the album as a whole. Other notable one drop riddims on the album include Dalton Leith's Rock & Come Een Riddim (Lips Dem Seal), Justus Arison's Blessings Riddim (Wicked Woman), and the Oxygen Riddim (Draw Di Line) from Master One Productions, who, along with VP Records, also had a hand in executive producing the album.

Several songs from Mission Incomplete stray from the traditional reggae one drop style and venture into a variety of genres, however Tydal adapts incredibly well and never seems out of his element. For instance, the EDM/pop-inspired Give It To Me (originally released as part of the Weh Dem A Guh Seh mixtape in 2011) featuring Gyptian is probably the furthest departure for Graham, who plays the deejay counterpart to Gyptian's singing on the cut. Several other tracks such as Stuck In Your Mind, Ball Ground, and Jah Help Me lean more towards a laid back R&B or hip hop feel. However, the strongest "crossover" track is probably Piece of Mi Love, a melodic dancehall cut with a singjay style and catchy hook. It may not be a huge stretch for the reggae singer, but this fun and gyal-centric tune, which was released as a single late in the summer of 2014, is arguably the best song on the album.

Although many cuts from this album standout lyrically, the messages and melodies blend especially well on the Vikings produced Tell Dem Fi Farm, a socially, ecologically, and health conscious reggae tune that offers ghetto youth an agricultural alternative to crime and poverty. This song was originally released in 2012 as part of Vikings Productions' Focus Riddim, so despite being one of the all around strongest tracks on Mission Incomplete, it is unlikely that this re-release will take Tydal's career to the next level. Graham employs a similar theme in Coward, the result of a brilliant confluence of songwriter, producer, and riddim genetics. While Tydal's clever lyrics turn gangsterism and bravado on it's head, his singjay approach lends itself perfectly to Sam Gilly's skillfull production, which is an update of Sound Dimension's classic foundation riddim, Hot Milk. However, Coward was included on the Journey Of A Young Warrior EP earlier this year and, if it was going to be the hit that establishes Tydal as a global reggae icon, it probably would have already done so. The reggae tune that shows the most potential for elevating Tydal's profile as an artist is the fairly recently-released Burning, which first appeared this past August as part of the Loving Lonely Riddim release from Tee & JAA Records. The aforementioned dancehall cut, Piece of Mi Love, is also a close contender that may be able to win selectors, dancehalls, and even world pop markets over with its fun and distinct charm.


If Tydal's mission was to put together a full length album that highlights his strengths as an artist and showcases his talent in a more thorough way than his previous releases, then his mission is now complete. If his mission was to spread positivity, love, and upliftment through his songs, then his mission would have been over a long time ago. If the mission was to create an album that proves unequivocally that Tydal is a phenomenal talent and a force to be reckoned with in the reggae community, then he can check that one off too.


---
Release details
Tydal - Mission Incomplete
DIGITAL RELEASE / CD [VP Records]
Release date: 11/11/2014
Tracks

01. Somewhere In Africa
02. Silent Warrior
03. Mama Warn Him
04. Tears Like Mine
05. Tell Dem Fi Farm
06. Burning
07. Street Life
08. Try
09. Wicked Woman
10. Lips Dem Seal
11. Back Inna Mi Arms
12. Stuck In Your Mind
13. Ball Ground
14. Have You Lost Somebody
15. Drawn Di Line
16. Jah Help Mi feat. Mr. Diamond
17. Piece A Mi Love
18. Give It To Me feat. Gyptian
19. Coward
Featured artists
Gyptian