High Expectations Shattered at Sting 2015 - Di Offica Seh It Done!
12/29/2015 by Christian Moll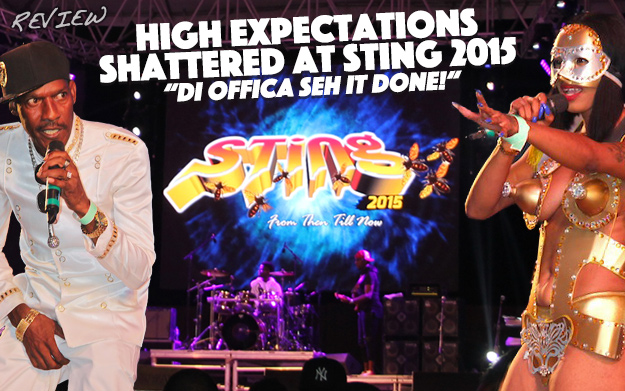 Holding in hand a meticulously planned schedule ranging from 8pm until 6:30am the next morning, I expected many things of Sting 2015 when I entered the Jamworld Entertainment Center in Portmore on Boxingday 2015. Looking at my script, I saw Beenie Man as a headliner followed by a three-the-hard way between Ninjaman, Gully Bop and Merciless. Also, I was looking forward to seeing Vershon perform Use to Hungry and Inna Real Life around 5am, expecting his performance to be one of the event's climaxes. Maybe I should have tamed my anticipation, knowing that schedules sometimes turn out unreliable friends.

The first name on the list that actually rang a bell was Queen Latesha who was scheduled for around 10, however, due to an unknown reason her performance was cancelled. And yes, there was this Japanese DJ named Triga Finga who I met at the Sting Launch four weeks ago and who was super excited about his performance. Inquiring about it, I received the message that he just went frantic backstage because his slot was dropped too.

At that time, still not too impressed by these minor deviations, I didn't know that eventually time would run out for the headliners. A few minutes after 6am, the police had to interrupt the performance of Starface, a brand new female artiste arising out of Lady Saw's mentorship. Starface was just about to buss another triple X rated tune after dissing Mr. Laing, Nuffy, Gully Bob and Alkaline in a not less vulgar Christmas acapella (see video below). It is not clear whether it was the progressed time or the vulgarity of her lyrics that made the police stop her performance. A sad end for many fans, who just like me were desperately awaiting the announced headliners.

Even though many of the contemporary dancehall stars such as Popcaan - who by the way was quick in adopting the sting flop in his brand new tune Homemade - were absent from the line-up, the festival had a couple of highlights. Around midnight the female duo Tabita and Abby Dallas delivered a number of musically appealing tunes, among those the single Extraordinary. Unfortunately the duo was interrupted by a few breakdowns of the PA system. Also worth mentioning is the far too short performance of the Japanese duo Ackee and Saltfish who with their comic appearance for the first time this night made plenty of horns blow wild around midnight. Also Raine Seville, who performed quite early considering the fact that she is not a newcomer in the business absolved a five-minute slot which made the crowd respond in excitement.

With an occasional "Ladies and gentle people" or "Hallelujah" Sample Man, the host for the first half of the night invited Sky Juice who happily included his bizarre appearance in a far too tight jump suit into his tributes to Buju Banton. The sad truth is that after more than 20 years of public discussion, Buju's most controversial Boom Bye Bye still earned the loudest forwards that night. Sky Juice also bigged up Buju with his Destiny and Driver A. Another tribute session to Vybz Kartel included dancehall queens who were supposed to wine on stage. However, due to some involuntary moments of silence which could be blamed on a sleepy selecta, the ladies had to start dancing without music until finally a Kartel tune kicked back the vybe to it's original level.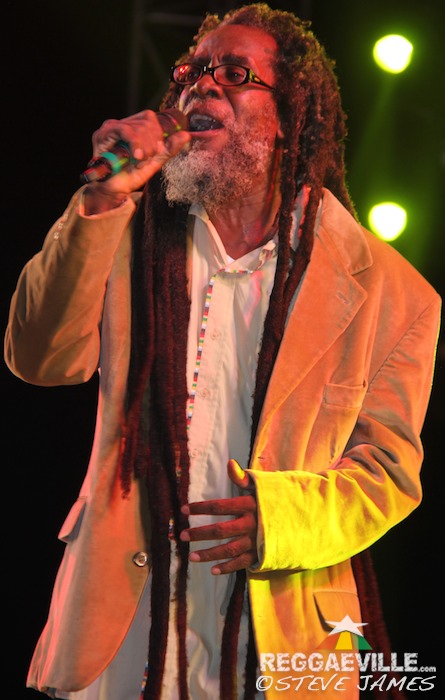 After Half Pint performed his hits One Big Family and Substitute Lover without his announced stage partner Frankie Paul, who couldn't perform due to health issues, Papa Demus made me sigh and shake my head again, disappointed of his abuse of the Answer Riddim for yet another battyman tune… Why?

The first act that MC Nuffy, who replaced Sample Man as a host sometime during the early morning hours introduced was the Gambian singer Essay, who although supported by live percussion couldn't live up to the standard deserved by Mama Africa. His poor lyrical and vocal performance left me wonder why it had to be this particular artist for Sting and not for example a much more eloquent and charismatic Tiken Jah Fakoly. Essay's desire for applause made him engage in a number of Kartel big ups which were grumpily refused by the massive. It was Lady G supported by Ladie Junie and Ladie P, her vocal partners from back in the days who brought authentic dancehall back on stage and did justice to the shows theme "From Then Till Now." Also worth mentioning in this context is a three-the-hard-way between Little John, who just like Ladie Junie and Ladie P is best know for his 1980s recordings, Courtney Melody (Key to your heart) and Pinchers who performed in a cowboy costume. Tony Curtis' High Grade and Jigsy Kings' Gimme The Weed payed tribute to Marry J, who other than Kartel and Buju is decriminalized for real... Around 4am, a time which is usually reserved for already established artistes in the business, the young generation had its few minutes of glory when Guidance, Little Dainjah, and Jahmiel did a good job in representing the youth. Along with them, Sophia Brown brought back the spirit from then to now.

Terror Fabulous who got far to little microphone time to perform his "Gangsters' Anthem" went on stage together with Louie Culture who definitely scored with Bogus Badge. Turbulence came in for Notorious and some me-nah-bow lyrics to the melody of Miley Cyrus' Wrecking Ball. Junior Cat, Silver Cat and Terry Ganzie are a few out of many names that got too little attention because of the limited microphone time reserved for them. To see Major Mackerel on stage with Burro Banton was definitely another highlight of the night, but unfortunately Mackerel's demands for more stage time had to be ignored. After that, Professor Nuts' performance made the audience demand him and his drunken alter ego Jimmy Bascombe back on stage. Stylysh and Starface – the former performing with a female dwarf dancer - would have built a smooth transition to the actual headliners, which to the disappointment of many were robbed of their performances. The bright full moon that shone over Sting 2015 was already setting, replaced by the sun of the 27th, when you could hear Mr. Nuffy say "Di Offica seh it done!"

Given the high number of dancehall veterans like Burro Banton, Major Mackerel, Flourgon and Daddy Lizard, who payed tribute to the late Red Dragon; Johnny P, Tiger, Mr. Wanga Gut and Terror Fabulous, Pinchers, Courtney Melody and Little John, Lady G, Lady Junie and Lady P, Jigsy King, Tony Curtis and Professor Nuts, one must agree with Dancehall expert Dr. Donna Hope, who was stating in an interview that "Sting 2015 is and epic moment in classic dancehall offerings." She also stated that the show was poorly supported, which was caused by a mix of several factors like the lack of sponsorship and adequate marketing in a highly competitive entertainment market, the insecurity of adherents about the line-up and a missing signature clash.

All in all, the festival flopped big compared to the expectations that were built at the Sting Launch four weeks ago. A small and angry, yet peaceful massive left unsatisfied a few minutes after 6am.

Big up Curfew and Ruff Kutt Bands for their endurance and their tight and dynamic musical performance!

MORE STING 2015 FOOTAGE: VIDEOS HERE # PHOTOS HERE!

Watch below the last moments of Sting 2015: