Review
Album Review: TriXstar - #TrixStylez
03/27/2020
by Gardy Stein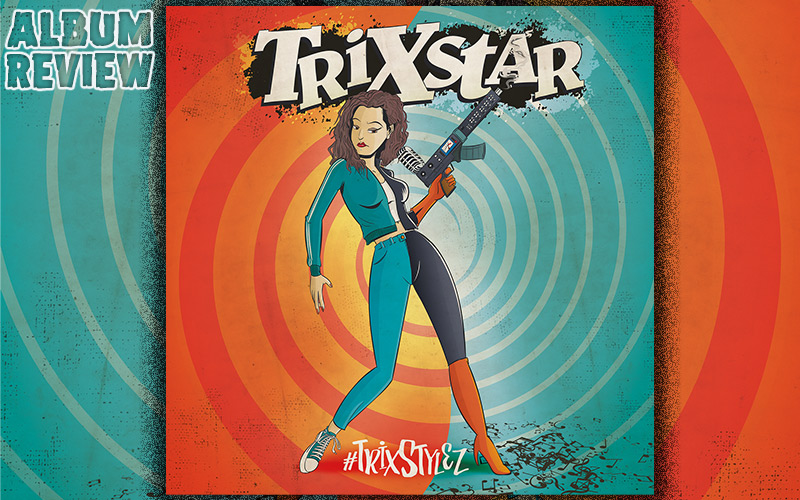 Watch out for the Dancehall Terrorist! To celebrate her 10-year-stage-anniversary, Ima Ghafouri aka TriXstar releases her brand-new album #TrixStylez. It is published under Boomrush Productions, the artist's new management and label team.
According to the press release, the album is "a collection of her best singles and some formerly unreleased songs", thus giving us a thorough impression of TriXstar. Born in Iran, growing up in Germany and musically socialised in HipHop (of which we are given a glimpse in the Fly Skit), there are a lot influences she draws from. How does it sound, then?
The first two songs make for an ideal start and are, in my opinion, among the strongest tracks of the release. Beautiful Day sets the mood right with a joyful, horns-heavy instrumental produced by Adam Lukas and Florian Richling (LukeRich / Bassrunner), talking about an ideal day and how best to enjoy it. Reggae a worldwide ting! With a simple but powerful riddim produced by Dox & Dizzie, Cyan't Get is ridden not by a vocally intense TriXstar alone but alongside Raggamuffin bedrock Skarra Mucci. Together, they paint a picture of the ideal man, one who is worthy of the female singer's love.
The two appear again in Love Nuh Easy, another fine production by Dox & Dizzie in a Rocksteady stylee. The potential to make it a hit, however, is not maxed out by the MCs due to a rather flat delivery of the lyrics and a missing catchy melody. That she can create this magic, TriXstar proves in Old Fashion Love. The song empowering women to leave a man who doesn't treat them right sits on a relaxed riddim produced by R4Nyte, and the singer's performance here reminds strongly of Tanya Stephens.
Drawing from Nas' seminal I Can, Believe tells us everything the rapper did back in 2003, but since these lyrics never get old, it is a joy to listen on the musical re-make of the Fireman Crew. "I know I can be what I wanna be, if I work hard on it I'll be where I wanna be!"
New Era is a strong song lyrically, but lacks a bit of finesse and versatility both in voice and riddim (but then again, this piece was recorded back in 2012, thus at the beginning of TriXstar's career). The Dancehall vibes are lifted on a higher level with Wha Do Dem (produced by Hard2Def & Deebuzz), while Stand Up (featuring the Getaway Crew) adds Ska to the genre-spectre.
The Giddimani-feature Good Over Evil keeps up a fast Moombahton pace and shows that Perfect is indeed a perfect fit for TriXstar's dark, smoky voice - and the slight madness both artists harbour!
Personally, I consider some of the tracks dispensable (Don't Worry and Firm Stand, for instance), as are the four remixes - unless you like DubStep (Beautiful Day Remix) or EDM (My Time To Shine Remix or Stand Up Remix) of course, then you'll enjoy these!
With When Lovin Take A Place the tense mood that has been building up over the last few songs softens again, bringing on the sweet vibration of the Party Time Riddim. Here, TriXstar convincingly presents her ability to transport pure emotion in the lower ranges of her voice, as she does so gracefully in her live shows.
#TrixStyles is an album that neatly sums up the exceptional, creative journey of a strong and independent female artist, which however is best listened piece by piece - hearing the album full length through is a bit overwhelming. With regard to TriXstar's social commitment (she works with refugees and always has and always will stand up for women's right), the release is highly recommendable to keep her up and running for the next decade!
---
Release details
Trixstar - #Trixstylez
CD [Boomrush Productions]
Release date: 03/27/2020
Tracks
01. Beautiful Day
02. Cyant Get feat. Skarra Mucci
03. New Era
04. Wha Do Dem
05. Love Nuh Easy feat. Skarra Mucci
06. Old Fashion Love
07. Fly Skit
08. Believe
09. Don't Worry
10. Stand Up feat. Getaway Crew
11. Blazin Fire
12. Firm Stand
13. Good Over Evil feat. Perfect Giddimani
14. Beautiful Day (Selec's Loaded Dice RMX)
15. My Time To Shine (Selec RMX)
16. Stand Firm (Selec's Cardio RMX)
17. Get Up (Majkizioom RMX)
Featured artists
Skarra Mucci
/
Perfect Giddimani