Review
Album Review: Rootz Underground - Red - Gold - Green
07/23/2020
by Gardy Stein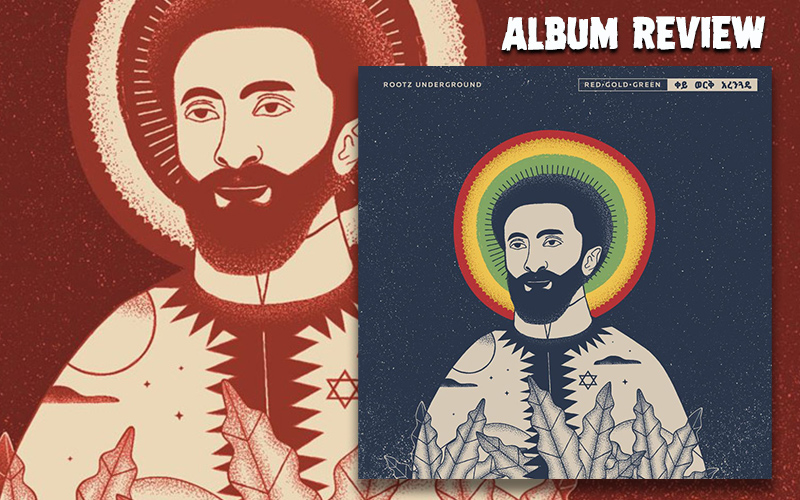 Behold the Trinity!
Red, gold and green - three colours, three energies, three... albums? Indeed, with Red - Gold - Green, Rootz Underground release a triple album on July 23rd, a significant date chosen because it is the 128th birthday of His Imperial Majesty, Emperor Haile Selassie. Just to make the numerical considerations complete, this year also marks the 20th anniversary of the band Rootz Underground, who formed in 2000.
Consisting of Charles Lazarus (guitar), Omar Francis (guitar), Salim Browne (bass), Kristoff Morris (drums), Aldaine Goodall (keys) and, oviously, the charismatic singer Stephen Newland (who has recently released his second solo-album Thunderground as Lightning The Magnetic), the band has a long history, a strong fan-base and a rich catalogue of songs.
The album Red adds to this catalogue, as it contains eight previously unreleased songs. Red represents the Ites, the fire, the rebel spirit, male energy and fierceness casted in songs like Judgement Day, the James-Bond-critical No 007 or Rise Up, a collaboration with Ansel Collins spiked with quotes of HIM Ras Tafari.
With Herb Green, the obligatory Ganja tune finds its place as well as the Bob Marley tribute We And Dem, more relevant than ever with the international protests going on against racism and police brutality. "Me no know how we and dem a go work it out!"
Outstanding tracks on Red are the opener Reggae Soul, incredibly performed by the intense, raspy vocals of singer Stephen Newland and energizing guitar solos, and the beautiful Across The Binghiverse. The latter is a slowed-down Nyabinghi-adaption of the Beatles' original Across The Universe, written by John Lennon in their Maharishi period over 50 years ago.
Gold now, the middle album, stands for bloom, beauty, the breadbasket of nature and womanhood. According to the press release, it is "a tribute to the Sisters, Mothers and Daughters, celebrating the feminine balance which is needed in modernity". To accomplish this balance, Rootz Underground has invited three powerful singers that join Stephen Newland on a choice of exquisite covers.
Brina X, a rather unknown but talented singer from Kingston who now lives in Dublin, Ireland, sings the Roots-Reggae hymn One Common Need, originally created by "Prince Lincoln" Thompson and The Royal Rasses.
No Fairytales, a song written by Stephen Newland, has found a perfect match in Nattali Rize, who brings the message across that real love is not what the likes of Disney put on the screen. "Don't you worry, I don't need no knight in shinging armour (...) I ain't no damsel in distress, me a no Cinderella!"
A tribute to the wonderful Nina Simone, Young, Gifted & Black in Reggae is a real treat. With Desiree Dawson, a Canadian singer who holds the lioness share of voicings on Gold, we are led into an irresistible realm of vocal beauty continued with the Crowded House cover Don't Dream It's Over and Amy Winehouse's Valerie. Co-producers Natural High Music did a great job mixing her velvety timbre and Stephen's roughness.
The golden peak of this combination and album, however, is reached on Lonely Stars. Another original creation by Stephen, it is a goosebumps-affair from beginning to end, one of those rare tracks that combine melody and lyrics in a divine, unforgettable way. Imagine that one live, sung to the flickering flames of a thousand lighters!
Finally, Green can be seen as a Rootz Underground anniversary compilation. Representing growth, the grounded self and the fruit of one's labour, it assembles the best of the band's twenty years of history in two chapters. In chronological order, 20 Centuries, Hammer, Rain (here: Still Raining) and Corners 2020 (originally dubbed Corners Of My Mind) were first released on Movement in 2008, followed by the album Gravity in 2010 which lent the track Time Is An Illusion. 2015's album Return Of The Righteous harbours Fret Not Thyself, New Tam and Kingston Town (a collaboration with Toots).
From his solo albums, Stephen Newland included Psalm 131 and Marching On (from The Lost Tracks, 2012) as well as the Akae Beka feature Frontline, Circus Music, Sign Of The Times and One Thing with JR Reid from Thunderground. A late addition from the latter is Long Time, as it speaks so fittingly of this time of social distancing.
Previously unreleased tunes are the Jubba White collaboration Potholes, Dub Line, Slo Motion and the touching Always, again in a meditative Nyabinghi style. All these songs have a story to tell, and since space doesn't allow to tell them here, you better listen keenly (or read the Interview Reggaeville did with Stephen Newland recently).
What remains to be said is that the triple album Red - Gold - Green is an enormous feat reflecting both the creative potential of the band Rootz Underground and the encompassing vision of singer, songwriter and executive producer Stephen Newland. Teaming up with Natural High Music, Rory Gilligan, David Pransky, Paul Smith, Derrick Scott, Neil Ferguson and Dean Fraser for the re-recording, re-arrangement and re-mastering of this immense number of tracks, the outcome guarantees a quality in conscious lyrics, replete sound and music that is rare to find today.
---
Release details
Rootz Underground - Red Gold Green
ALBUM DIGITAL [Thunderground Music]
Release date: 07/23/2020
Tracks
Album 1:
01. Reggae Soul
02. Strength Of Days
03. Judgement Day
04. Herb Green
05. We And Dem
06. No 007
07. Across The Universe
08. Rise Up

Album 2:
01. Where Do I Begin - Intro
02. No Fairytales feat. Nattali Rize
03. One Common Need feat. Brina
04. Inspiration
05. Young, Gifted And Black feat. Desiree Dawson
06. Don' Dream It's Over feat. Desiree Dawson
07. Valerie feat. Desiree Dawson
08. Far Away feat. Desiree Dawson
09. Lonely Stars feat. Desiree Dawson

Album 3:
01. Time Is An Illusion
02. 20 Centuries
03. Fret Not Thyself
04. Hammer
05. New Tam
06. Kingston Town feat. Toots & The Maytals
07. Frontline feat. Akae Beka
08. Psalm 131
09. Always
10. Marching On (Extended Flute)
11. Potholes feat. Dubtonic Kru
12. Circus Music
13. Sign Of The Times
14. Junior Reid
15. Dubline
16. Slo Motion
17. Still Raining feat. Sherieta
18. Corners 2020
19. Long Time
Featured artists
Nattali Rize
/
Sherieta
/
Junior Reid
/
Dubtonic Kru
/
Toots & The Maytals