Review: Reggaeville Weekender 2011
08/29/2011 by Valentin Zill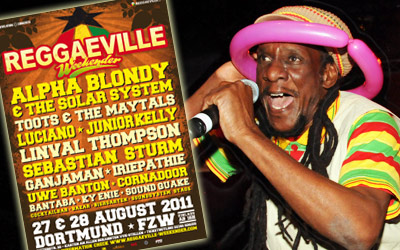 Review: Reggaeville Weekender @ FZW, Dortmund, Germany 08/27-28/2011
► PHOTOS OF ALL SHOWS HERE

Big things come in small packages, so they say. That certainly holds true for the Reggaeville Weekender. The first edition of this joint venture by Reggaeville and Revelation Concerts, Germany's second largest reggae event organizer, took place in Dortmund's FZW this weekend. A rather small location for a festival that includes reggae legends like Alpha Blondy and Toots Hibbert in its line-up, all the more intimate was the ambiance.

Most visitors agreed: the line-up was a unique mélange of legends, well-established artists and only the most promising rookies. Opening on Saturday was Ky-Enie. The Jamaican hailing from St. Ann already has a respectable following in the US, but is still more of an insider's tip in Germany, despite his big tune ambsbread that went straight to the top of the German reggae charts. His hard-edged vocal style and lyrical versatility captured the Reggaeville massive, as did his explosive stage presence. Ky-Enie started with an acoustic cover of Tracy Chapman's For My Lover, went on with Jah Will Never, Nothing But Love, Loneliness, Never Give Up and Her Name Is Music and closed with a moving version of Marley's Redemption Song. A good festival needs its share of local artists. Next up were three of Germany's most prolific reggae artists: the aspiring Cornadoor, the long-standing Uwe Banton and the ingratiating Ganjaman, all three backed by the great Signature Band from the Netherlands. Cornadoor presented mostly tunes from his stunning debut album Without Restrictions, including his big tune Long Road. A special gift to the Reggaeville audience was the not yet released Final Move, originally a combination with Kabaka Pyramid. Uwe Banton has a much larger repertoire to choose from. He picked, among others, Rightful Place, Ball Of Confusion, Race, his very strong contribution on Urban Tree's Youth riddim Thought I'd Let You Know and Cannabis. Berlin's best Steve a.k.a. Ganjaman called him back on stage later for Danke Jah. For W.H.A.D.L.F., Cornadoor and Goldi joined him on stage.

Thus warmed up, it was time for the real big shots. Linval Thompson is one of the very best roots veterans touring Europe this year. Backed by the brilliant Handcart Band from Marseille, France, he presented a fine selection of his greatest tunes, including I Love Marijuana, Africa, Six Babylon, Real Rock and Ghetto Living. His show was very well received. The Dortmund crowd is known for its love of high quality roots music. Junior
Kelly and the Roots Harmonics Band proved that they can also get into more modern reggae. They simply mashed up the place with one of the best performances they gave this festival season.

Saturday's headliner was no other than Toots Hibbert and The Maytals. The time-honored inventor of the very term reggae showed that despite his age and all the touring, he is still capable of elating his fans to the fullest. Those visitors that were willing to party hard could dance the night away with Soundquake, the cutting-edge sound from Germany.

Day two of the Reggaeville Weekender was somewhat shorter than the first one, but just as perfect. The local band Bantaba had the opportunity to present its music on a bigger stage. They call it organic reggae, and RIDDIM magazine stated in April 2010 that "associations with Groundation suggest themselves". Not too far away from them stylistically was Sebastian Sturm. He is back among the touring, with his third album Get Up & Get Going about to be released soon. His new band Exile Airline is even tighter than the Jin Jin Band with which he had been touring for years. Sebastian presented tunes from the upcoming album as well as a selection of the best tunes from his first two albums.

The Austrian brothers of Iriepathie geared up. They just played a short set as a warm-up for Luciano, with whom they and the Irievibrations band had been on tour for a whole month. Runde 3, Die Ganze Nacht, Hand Zum Himmel, Marianne and a medley of Steht Auf, Stop, Reggae Crowd and Ich Weiss Noch: the crowd sang their uplifting, politically aware lyrics along all the way. Although he had recorded his latest album with Irievibrations, Luciano a.k.a. the Messenjah just performed one tune from it: Rub A Dub Market. The rest of his energetic, highly spiritual and uplifting show consisted of older roots anthems that can already be called classics, such as Sweet Mama Africa, He's My Friend, Sweep Over My Soul and Who Could It Be. An acoustic set of Redemption Song and, sung over the same riddim, Buju Banton's Destiny added a nice variety to Luci's show.


It is impossible to say which show was better than the other at this consummate festival. Only the very best show can be singled out easily: Alpha Blondy's. The headliner from Abidjan is a beloved favorite of the Dortmund massive. With him and the Solar System in great shape, he delivered. While classics like Psaume 23, Jerusalem and Cocody Rock have been parts of his setlist for many years, Alpha chose to perform Course Au Pouvoir and Sebe Allah Ye again. Most interesting were Blondy's latest songs Massaya, Pinto, Ma Tête and Bôgô, all from this year's album Vision. One just cannot see Alpha Blondy live too often.


In the eyes of its attenders and the artists, the first edition of the Reggaeville Weekender was a full success. A great opportunity to get closer to your favorite artists than on most of the established festivals with their huge stages. Or, as they say back ah yard: "It likkle but tallah wa!"