Review & Photos: Rototom Sunsplash 2011
08/23/2011 by Valentin Zill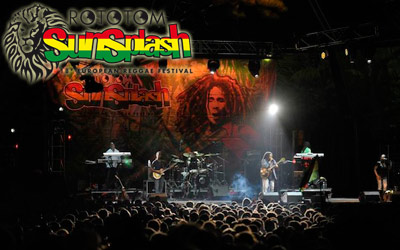 Rototom Sunsplash 2011
CHECK ALL PHOTOS HERE
DAY EIGHT - August, 25th 2011
Bob Marley is omnipresent at Rototom Sunsplash. But who talks about Peter Tosh? "Who of you has seen a Peter-Tosh-shirt here at Rototom", reggae historian Roger Steffens asked his audience before he started his second multimedia presentation at the Reggae University, this time on probably the most talented of the Wailers and certainly the most underrated of them: the Bush Doctah. Well, two people had seen someone wearing a Tosh shirt. But according to the number of people that had shown up for Roger's most interesting presentation, the Bush Doctah still has a huge fanbase. Steffens' rare insights into the life of Peter Tosh, garnished with exclusive video footage, were pure delight. Before him, renowned reggae author John Masouri had read from his latest work in progress, the first biograohy ever solely dedicated to the Stepping Razor. The excerpts of this overdue works were highly promising. UK historian Colin Grant had chosen a different, much more personal approach to write his I&I The Natural Mystics. Marley, Tosh & Wailer, talking about his personal experiences in Jamaica. Grant grew up in the UK. He was born to Jamaican parents, allowing him to take the perspectives of both an insider and an outsider back ah yard.

The aspiring Perfect and the already well-established Lutan Fyah opened the shows on the main stage. Both were backed by the prolific Austrians of House of Riddim. Tiken Jah Fakoly's slot was brought forward, as one of Ali Campbell's musicians had missed his flight. The legend from Côte d'Ivoire was tired, mainly due to heavy touring, but you could hardly tell, so energetic and refreshing was his performance. Tiken is still one of the very best artists currently touring Europe. Grab whatever opportunity you get to see him with Fariband! One of the sweetest voices in reggae music ever closed the shows on the main stage on this eighth day. Ali Campbell presented a nice set of lover's rock classics of various legends, and of course the very best from UB40.
DAY SEVEN - August, 24th 2011
Day seven of Rototom Sunsplash - if you have never spent that much time on a festival, you realize that a) that takes its toll and b) you can get accustomed to pretty much everything, so a) is not too bad. Plus day seven could be seen as the day of, as there was less to see, hear and do than on most of the other days. If you were at the right time at the right place, you could see Jamaram jamming together with Sara Lugo - in front of some toilets at the campground, waiting for the Rototom crew to fix some issues with the running water.

More than a reminiscence to the old days of Rototom in Italy was the appearance of Sud Sound System. The legendary Italian sound system from Salento presented a set of their own tunes, sung in Italian and the Salento dialect. They were backed by a band, but for those who had had the opportunity to see them perform live back at home or on other recent occasions agreed that their show here at Rototom was somewhat disappointing.

A very special treat for the Spanish crowd was Ojos de Brujo's show. The local band had already retired after ten years on stage, but reunited just this one time for the Rototom family. The repertoire they had prepared for this unique occasion was called "Ojos de Brujo turns Jamaican".

Certainly one of the festival's highlights was the original Fyahman Capleton. He attracted a huge massive and pleased them with a highly energetic, almost ecstatic performance, proving that he still deserves to bear his soubriquet.
DAY SIX - August, 23rd 2011
Day six of Rototom Sunsplash 2011 was dedicated to the Marleys. It started with Ky-Mani Marley, the second youngest of Bob's eleven children, reading from his autobiography Dear Dad. As always, there was an opportunity to ask questions, get a picture with the star or buy a copy of his book and get it autographed right away. Reggae historian Roger Steffens had come all the way from California for a multimedia presentation on the life of Ky-Mani's father. His presentation, peppered with anecdotes and exclusive video footage, was both sapid and entertaining. Roger is always sparkling with enthusiasm.

Two years ago, the Rototom Sunsplash had to move from Italy to Spain after being troubled by Babylon authorities. Thus the organizers like to book Italian bands and soundsystems. The longest standing Italian reggae band, Africa Unite, were the first to play on the main stage today.

The rest of the day was Marley night. First up was Ziggy Marley. He attracted the largest crowd since his brother Stephen's performance on the first night of the festival. Hearing Ziggy's tight band was a wonderful pleasure. His mother Rita Marley had also been announced on the line up. Ziggy called her on stage for One Love. The massive was disappointed to see Rita leaving the stage afterwards. Headlining was Ky-Mani Marley. His show was slightly rougher and more energetic than Ziggy's. At the end of his set, he went straight dancehall.
DAY FIVE - August, 22nd 2011
Most other festivals would be over by now, but at Rototom Sunsplash, not even the first half has been completed. Rototom Sunsplash celebrates reggae music in all its aspects, including rather loose associations that go with it. One of the strongest ones, if not the strongest one, is Rastafari. For those eager to know more about His Imperial Majesty, Emperor Haile Selassie, Ras Yared from the House of Rastafari, a gathering place for Rastas at the festival, taught Important Facts and Events in the Life of Haile Selassie I at the Reggae University at 15h.

More interesting for those already familiar with the basics was Louis Chude-Sokei's talk on Images of Africa. Louis is a professor at the University of Washington in Seattle, WA. With parents from both Nigeria and Jamaica, he has the perfect background to study notions of Africa in Jamaica and vice versa. The image especially many Rastas in Jamaica had of Africa, Louis said, was a highly simplified one, more or less out of touch with the way more complex African realities. He considered the role of ethnicity in shaping African identities more important than that of Pan-Africanist ideas often promoted in reggae music. Language barriers made it difficult for these ideas to catch on with reggae-loving Africans, Chude-Sokei went on. Luciano a.k.a. the Messenjah had been announced to join Chude-Sokei for the disscusion. A perfect choice, as the Messenjah has millions of supporters in Africa and regularly tours the continent. Unfortunately, Luciano had to do his soundcheck. He sent his manager Anthony Cargill instead, who did a good job representing the Messenjah. Another highlight was Prof. Carolyn Cooper interviewing no other than Rita Marley. Cooper was not afraid of asking inconvenient questions. Other than most of the questions the audience posed later, Carolyn's questions were enlightening. Earlier on, she had read from her book Chant Down Babylon.

Gappy Ranks was well represented in this year's festival circus, and he was not absent at Rototom. He delivered, as he had done at this year's Summerjam and Reggae Jam. A rare opportunity was the appearance of another fellow from the UK, Linton Kwesi Johnson. The dub poet had a full-blown band led by the great Dennis Bowell and featured a string section. Headlining was Luciano. He was backed by Irie Vibrations. The Austrians had produced his latest album, Rub A Dub Market. Nevertheless, the Messenjah also pleased
with some of his classical tunes.##
DAY FOUR - August, 21st 2011
► PHOTOS: GENTLEMAN - MAXI PRIEST

Day four of Rototom Sunsplash had more to offer for the dancehall lovers. It took off with a most interesting lesson in dancehall music by no other than King Jammy himself, who had revolutionized dancehall in the late 80s with the Sleng Teng riddim, the first all digital one. His unique, first-hand insights were enriched by exclusive mixes for this festival. Next up in the university was the reading of excerpts of Bob Marley. The Untold Story by its author Chris Salewicz. He was fortunate enough to have spent time with Bob Marley himself. Chris stressed that Rototom Sunsplash was the physical manifestation of Bob's spirit. Vivien Goldman, the famous British music writer, had taken care of Bob Marley at Island Records. She talked about punk and reggae music in Bob's exodus days in London.


Maxi Priest's performance on the main stage was mainly aimed at the ladies. The turnout was ratherdisappointing for his slot. Much better received was Gentleman's appearance. His band, the Evolution, ranks among the very tightest bands that are touring Europe currently. His combinations with Richie Stephens were especially moving. Stephens had supported Gentleman when he first came to Jamaica as an artist. Stephen's son recently died. Gentleman took him on tour to take care of him.

Two very special events took place in the Dancehall Area. Germany's best Silly Walks celebrated their 20thanniversary with a nice selection of mostly 90s dancehall and modern roots tunes, ending with the latest big tunes from Jamaica. After them, King Jammy's took over. He had flown in Fatman's son from London - a rare event not to miss.
DAY THREE - August, 20th 2011
► PHOTOS: ALPHEUS - INNER CIRCLE - JIMMY CLIFF
Day three of Europe's largest reggae festival featured some of its real highlights. Today's lectures offered by the Reggae University included the showing of the movie Bob Marley. The Making of a Legend, as always with an opportunity to talk to the directors. Later, Adrian Sherwood, one of the UK's greatest dubmasters and founder of the legendary On- U Sound label.

First up on the main stage were the incredible Lone Ark band, Spain's number one when it comes to roots. The twelve musicians backed two of today's most interesting artists: Roberto Sanchez, the Spanish king of reggae and the producer of Alpheus' last album From Creation, and the crooner Alpheus himself, who has done more than any other artist in Europe lately to develop and keep alive foundation music. Alpheus took theRototom family back to the good old days of rocksteady, and then even further back into the golden days of ska. Alpheus always delivers, but backed by this large a band (especially the brass section was stunning, to say the least), his performance was even more powerful. Alpheus brought out that real sense of oneness that makes Rototom so unique.

Next up were Inner Circle, one of the most revered as well as looked down groups in the history of reggae. While their new singer Junior Jazz is far from being a match for Jacob "Killer" Miller, their show caught on very well with the audience. Inner Circle presented covers from UB40, Eek A Mouse and John Holt as well as some of Killer's greatest classics. Another highlight was Jimmy Cliff's performance. Despite his age and being a little tired, he was still sparkling with energy. No one knows how long we can see this legend live on stage, so the rest of the vast festival area was pretty much empty while he sang his greatest hits along more recent tunes.
DAY TWO - August, 19th 2011
► PHOTOS: nc/festivals/festival-details/festival/rototom-sunsplash-2011/galleries/rototom-sunsplash-2011-8192011-6/ac/festivalPhotos.htmlDUB INC - QUEEN IFRICA - TONY REBEL - SHAGGY
The second day of this major festival started in even brighter sunshine. A sunshine so intense that it was almost impossible to sleep inside a tent after 9am. Even the sunshields covering most of the camping area did not help much. But who has time to sleep anyway with a program as supercharged as the Rototom's? Yoga at 6, meditation exercise at 8:15, classical Indian dance at 9:45, the social forum at 11, circus at 12, African cooking at 1pm, and today's first lecture at the Reggae University at 3pm - this examples show that whatever your interests are, you did not get bored.

A real highlight was the appearance of Shaggy and Donna P. Hope, PhD in the Reggae University's lecture at 6 pm. Donna Hope is a lecturer and researcher at the Reggae Studies Unit of the University of the West Indies in Mona, Kingston, Jamaica. She talked about her recent publication Man Vibes. Masculinities In The Dancehall, arguing that male identities in Jamaica often rely on exaggerated images of either shottas or gyalists. The real surprise though was Shaggy. He spoke freely about ambiguous lyrics that please adults without scaring their kids. No other than Carolyn Cooper, head of the University of the West Indies' department of Literary and Cultural Studies, joined the lively discussion that was open to the interested public.

Dub Inc opened the main stage today at 20:30h. For Spanish standards, that is quite early. But Dub Inc have not only build a huge following in their native France, they have played numerous well-received shows in Spain as well. It was just a matter of minutes to get the area in front of the stage packed. The high number of French festivalgoers at Rototom helped to get the party with France's number one in reggae music started. Next up were Queen Ifrica and Tony Rebel. Those two big names of contemporary conscious music never fail to deliver. The highlight of their show was Forever Loving Jah, which both performed together.

One of the most anticipated shows of the whole festival was Shaggy's. His appearances in Europe were rare this summer. He entered the stage much less ostentatiously than he used to, almost humble for Mr. Lover Lover's standards. Shaggy's music has changed and he has developed a lot, but he is still cool enough to get his audience screaming without the band playing, without him saying anything or even moving.
DAY ONE - August, 18th 2011
► PHOTOS: STEPHEN MARLEY - MR.VEGAS - TOOTS - DAVID RODIGAN @ UNIVERSITY
"Sun is shining/weather is sweet": if he would still walk the earth, Bob Marley himself would certainly headline this 18th edition of Rototom Sunsplash, Europe's largest and easily longest reggae festival. Thousands and thousands of reggae lovers from all over the continent and beyond arrived in all too perfect meteorological conditions in the village of Benicàssim on Spain's west coast. As all the necessary information on how to get there by plane, train, bus or car is available on the festival's website, the arrival was more troublefree than on most other festivals.

Mr. Vegas opened the ten-day festival on the main stage. He quickly convinced his audience that they were blessed indeed. Second up was Stephen Marley. The turnout was incredible for the first show that literally fulfilled this year's motto: Marley's People Love Tribut, chosen on the occasion of the 30th anniversary of the death of the great Bob Marley. With his balanced set list of some of his father's very greatest classics and a good selection of his own, more recent material, Stephen's energetic performance raised the bar way up for his brother Ziggy, their mother Rita and his brother Ky-Mani. All of them will perform Tuesday night. The first night's headliner was the legend often credited with coining the term reggae in 1968 with his single Do The Reggay: Toots & The Maytals. His daughter Leba opened with two tunes. Her rock vocal style did not catch on terribly well with the Rototom massive. Toots on the other hand was warmly received. He had the massive dancing even before he entered the stage in his black leather suit with applications in Ethiopian colors
and those of Marcus Garvey's UNIA.

In Spain, parties start late. The night was still young when the shows on the main stage were over. Setting priorities was (and is) very difficult here, as there are numerous offerings in dozens of venues on the huge festival site. Today's best pick was David Rodigan. He gave a highly interesting speech on the early history of reggae music at the Reggae University. This forum for a more academic examination of reggae is a particularity of Rototom Sunsplash and is run by Ellen Köhlings and Pete Lilly, both editors in chief of Riddim Magazine, and UK author and music journalist David Katz. For those fit enough to party the night away, Rodigan kept them going until the sun rose in the Dancehall Area.
Watch Stephen Marley feat. Jo Mersa Marley performing Traffic Jam: