Album Preview: Sly & Robbie vs. Roots Radics - The Final Battle
02/24/2019 by Reggaeville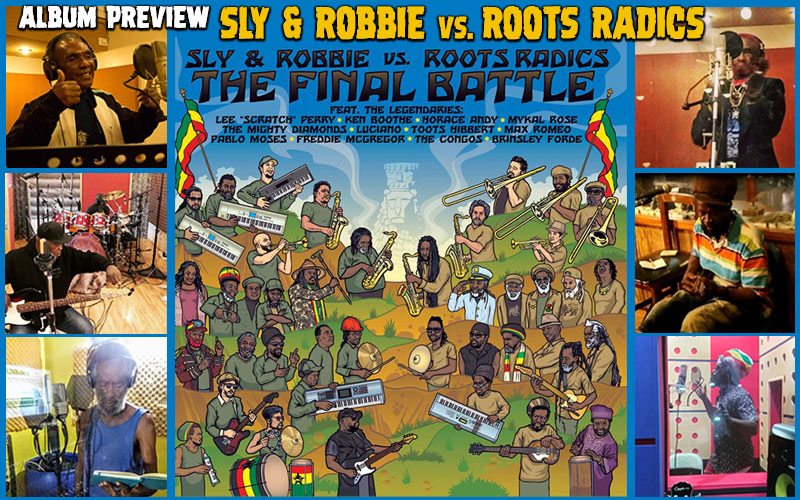 April 15, 2019 is the date you need to mark in your calendar. A new album with a stellar line-up of Reggae legends will be released on Vinyl, CD and all digital platforms: Sly & Robbie vs. Roots Radics - The Final Battle

Even the liner notes are provided by a legend himself: Roger Steffens!

Reggaeville has the privilege to publish the album's liner notes in advance and reveal the full tracklist:

"Imagine, if you will, a sort of "dream concert," a Reggae Woodstock that unites two of the finest Jamaican bands ever, playing behind a once-in-a-lifetime assembly of the music's foundational creators performing all new classics composed for the event.

Well, that's exactly what one of South America's most audacious and respected percussionists, Hernan Sforzini, has succeeded in creating. This amazing gathering began to come together in Hernan's Afro Studio in Buenos Aires in 2017, progressing through a variety of locations and concluding at the world famous Tuff Gong Studio, the Kingston facility built personally by Bob Marley at the height of his late-'70s fame.

It wasn't until the summer of 2017 that Hernan found himself roaming the verdant hills and powdery beaches of the Isle of Springs, in search of the true sound of Jamaica. Through a combination of advance planning and pure luck, he made contact with his wish list of artists, sometime recording them in their own home studios. The idea was to collaborate with Sly & Robbie and the remaining members of the '80s quintessential studio band, the Roots Radics. "The idea was: Let's make a Clash!" recalls Hernan. "Each would record brand new riddims and then add legendary singers composing original lyrics to make an album on which both bands are the stars. "I broached the idea with Sly & Robbie when they came to Argentina and agreed to do it." The next step was the bring the Radics aboard. "I had been a friend of bassist Flabba Holt's since 2005, so I wrote to him about my idea and he called back immediately and said, 'Hernan, I supposed that an album like this was going to happen at some point in history, but I never imagined that you were going to be the one who proposed it. So here I am – when are you coming to record us?'".

The day after the Sly & Robbie session, Hernan continues, "Lee Perry was in South America touring and I wrote to invite him to participate in the project. So on day two of the project Lee was recording the first song on it. Other singers coming to Argentina for the first time at this period included Ken Boothe and Horace Andy, who eagerly came aboard. "I chose only ones that I love and respect so we would have a solid foundation. I had to decide which riddim would work best for each of the singers, which is the essential work of a producer. It worked fine and no one turned me down." The spirit of a fist-to-fist rub-a-dub Clash, track against track, begins with Mykal Rose, the militant master, co-founder of Black Uhuru and recipient of reggae's first Grammy Award in 1985. "This Morning" tells of his awakening to a Babylon curfew and roadblock, signaling that the bloody furies of the 1970s remain unabated. Backed by Sly & Robbie, considered co-equal members of Black Uhuru, their reunion here provides a spectacular opening to this album, reminding us that "knowledge is power."

The Roots Radics rise to the challenge with Brinsley Forde of the British pop-reggae band, Aswad. On "Ulterior Motives." Mighty Diamonds' lead singer Donald "Tabby" Shaw lends his sweetly mellifluous voice on "Change My Mind," an end of the affair ballad, reminding one of the great Philly soul groups who inspired them. The Radics back one of the first Jamaican artists to appear throughout South America, Freddie McGregor. "Glory," reveals his continuing adoration of Haile Selassie I, Jah, the God of the Rastafarian faith.

Velvet voiced Horace Andy, famous for his classic hit "Skylarking," strings together a series of folksy aphorisms in "Mind Your Own," an effects-rich plea to leave other people's business alone. Similarly, Pablo Moses, among the most sophisticated of roots artists, melodically condemns the prevalence of gossip on "Gwan Run Up Your Mouth." Well into his 80s, the unstoppable Lee "Scratch" is underpinned by Sly & Robbie's inventive arrangement on "Full Moon Plant A Tree" inviting you to meet him at Heaven's Gate.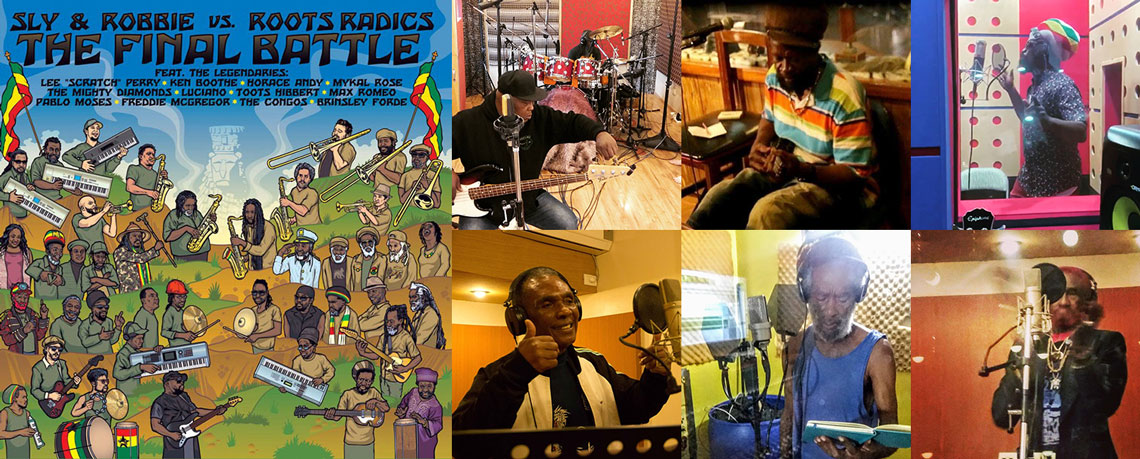 Reggae pioneer Max Romeo attempts to reveal why the world has gone mad, claiming that "they" have opened up "The Gates of Hell," releasing the bad and the good angels onto our diseased planet, "strengthening my foes and enemies." Rock Steady giant Ken Boothe has waited a lifetime to visit "Argentina" and here, he thinks of her as a woman he has fallen deeply in love with, and will carry her home (in his heart). The Congos, Perry's in-studio band, follow with "Things Must Get Better," a message song from deeply spiritual members of the group's original lineup. "There will never be a change until we change the way we're thinking and we'll all go down the drain unless we change the way we're living" – so urges roots-hero Luciano on "Make a Change."

Finally, there is hardly anyone more worthy of the title Living Legend that Frederick "Toots" Hibbert. The poet e. e. cummings wrote that "Love is the every only God," and Toots's closing pledge of Love is the perfect way to end "The Final Battle".

It is noteworthy the participation of great stars invited to the album, Dean Fraser, the authentic and legendary saxophonist of the island, Addis Pablo in melodica, son of the legend Augustus Pablo, the legendary percussionist Bongo Hermann, Earl "Chinna" Smith, "The"Jamaican guitar; Musicians from Steel Pulse, Culture, (ex) Groundation and SOJA among others."

Tracklisting
01. Sly & Robbie feat. Mykal Rose - This Morning
02. Roots Radics feat. Brinsley Forde (Aswad) - Ulterior Motives
03. Sly & Robbie feat. The Mighty Diamonds - Change My Mind
04. Roots Radics feat. Freddie McGregor - Glory
05. Sly & Robbie feat. Horace Andy - Mind Your Own
06. Roots Radics feat. Pablo Moses - Gwan Run Up Your Mouth
07. Sly & Robbie feat. Lee "Scratch" Perry - Full Moon Plant A Tree
08. Roots Radics feat. Max Romeo - Open Up The Gates Of Hell
09. Sly & Robbie feat. Ken Boothe - Argentina
10. Roots Radics feat. The Congos - Things Must Get Better
11. Sly & Robbie feat. Luciano - Make A Change
12. Roots Radics feat. Frederick "Toots" Hibbert - To You

Watch the official album teaser for The Final Battle here: