Reggaeville Riddim Corner #13
05/13/2016 by Dan Dabber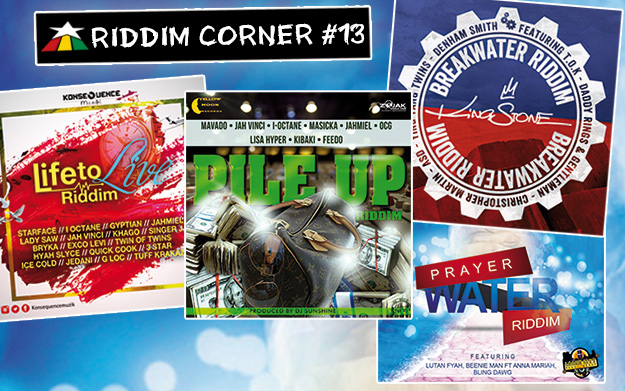 PRAYER WATER - LOCKECITY MUSIC GROUP
Readers might recall Lockecity Music Group's Bad Up Riddim from Riddim Corner #11, and if that column was your only exposure to Adrian Locke's productions, his newest project, Prayer Water Riddim, may take you by surprise. Unlike the intensely fidgety Bad Up, Prayer Water is a serene, ethereal soundscape. Sentimental guitar and sparse percussion create a soft, almost acoustic-like riddim - precisely the sort of instrumental atmosphere that tugs at the heartstrings.
Comprised of only four tracks, Prayer Water is small for a riddim juggling and, therefore, it is even more crucial that every song on the release earn its keep.
Locke accomplishes this by voicing veteran artists who know exactly how to approach a slower, lower-energy riddim, and they all deliver outstanding versions. Lutan Fyah's Please is a powerful anti-violence ballad, Beenie Man solves the world's problems through the power of prayer on One Psalms, and dancehall vet Bling Dawg focuses on betrayal and unfaithful friends on his version, Say Dem Love Yuh. Queen Ifrica's tune, Another Hit Song, is framed by a chorus about the frustration of writing conscious music in a capitalist system, but the majority of the song is about the problems that exist within that system. All of the tracks on the juggling are indeed of high caliber and picking a standout is difficult, but the richness of Queen Ifrica's songwriting persuades me to believe that she may have indeed written another hit.
LIFE TO LIVE RIDDIM - KONSEQUENCE MUZIK
Since their emergence in 2014, the Canadian production outfit, Konsequence Muzik, has managed to establish a modest foothold in the reggae/dancehall scene by producing solid riddims and working with the right vocal talent. The best example of this is 2015's Summa Escape, a riddim that featured versions from Beenie Man, Mavado, Konshens, Lady Saw, and I-Octane. Life To Live is Konsequence's first riddim of 2016 and, although Beenie Man and Mavado are absent this time, Lady Saw and I-Octane along with a myriad of other talented Jamaican artists like Jahmiel, Jah Vinci, 3 Star, Exco Levi, Gyptian, and Khago, contribute versions that take the overall juggling to a higher level.
The Life To Live instrumental is more R&B than reggae, employing hip hop-style drums and basic piano chord progression with a splash of electric guitar for emotional effect. Ice Cold's titular tune probably best utilizes the urban lean of the riddim, attacking it with an aggressive double-time rhyme pattern and hip hop swagger. Like most of the versions from the release, Ice Cold's Life To Live has a conscious vibe to the lyrics, but a few artists decided to take their tracks in a sexier direction. Such is the case for Jah Vinci's Something New, a raunchy tune that stands out as the most explicit on the juggling, as well as for being a quality version from one of dancehall's hardest working, most original singers. Do The Maths by Exco Levi, who is also based out of Canada, is another high point for Life To Live and possibly for the artist as well, as he deftly wields his math metaphor through the verses, culminating in a repetitive hook that will revisit the listener hours after hearing the tune. The lyrical singjay, 3 Star, may have contributed the best tune on the album, Secret Fight, in which he describes how some of the people closest to him have designs on his downfall.
BREAKWATER RIDDIM - KINGSTONE RECORDS
Kingstone Records is the imprint of a Cologne, Germany-based reggae sound system, also by the name of Kingstone (Sound). Their origins go back to the mid-nineties, but the label began pressing riddims about a decade later in the mid-2000's. While Kingstone Records has always stayed rooted in authentic Jamaican music, one need only trace back to 2005's Ghetto Bounce Riddim release to see that they have also taken some creative liberties with riddims before, pushing into international, genre-bending territory. Kingstone's newest riddim, Breakwater, has all the trademarks of reggae: a big, bouncy bassline, a skank on the upbeat, epic horns,yet it also touches on a rap vibe due to a distorted, fuzzy bass and the intermittent use of staccato, sample-like horns.
Perhaps it is the trappy edginess of Breakwater that attracted Ying Yang Twins to the project, unlikely contributors to any juggling, even a juggling with heavy hip hop influences. The Twins fit in with the other Breakwater versions quite nicely, or at least it would seem so to the casual listener. Their tune, Lighter, is a good track, but it feels like some of dancehall culture has been lost in translation, as the rap artists ignore the traditional, crowd-participatory role of lighters in the dance and opt to use their flame to burn some weed. Another hip hop artist, Maino, also makes an appearance on the juggling, featured on the T.O.K tune, Pour Some Liquor, which includes a verse from Junior Reid as well. There are contributors on the Breakwater release who employ a more traditional reggae approach, like Denham Smith, Daddy Rings, Gentleman, and Christopher Martin. Rings and Gentleman team up for their track, In The Streets, a top-down indictment of societal systems, and Smith issues a warning to would-be enemies and detractors on his tune, Don't Start It. Christopher Martin anchors the juggling with sweet vocals and pure vibes on his tune, Sugar Reggae.
PILE UP RIDDIM - YELLOW MOON RECORDS
My first exposure to DJ Sunshine's Yellow Moon Records label was in 2005 when Greensleeves Records, one of the two large pre-digital distributors of reggae and dancehall, dropped #69 and #77 in their Greensleeves Rhythm Album series. #69 was Sun Block. #77 was Justice. And they were both Yellow Moon productions. I also became vaguely aware of Sunshine as an artist when she started to occasionally appear on records in the years that followed Yellow Moon's emergence. It never occurred to me to connect this artist to Yellow Moon Records. Part of what I, as a reggae and dancehall fan who does not live in Jamaica, was missing was that DJ Sunshine, aka Katrina Irons, was and is a popular personality on Irie FM. It would take nearly a full decade of juggling Yellow Moon riddims - until the 2014 release of the smash juggling, Wul Dem Again Riddim - for me to finally search out the identity of this producer.
When I found her, I certainly took notice of her gender, as it is rare to find any track, regardless of genre, that credits a female with production. So rare in fact, that I had still not fully processed Sunshine's multi-faceted identity a year ago when I wrote about Yellow Moon's Wrangla Riddim in Reggaeville Riddim Corner #6, and I made the embarrassing mistake of calling her by the wrong pronoun. I am grateful that Yellow Moon's newest release gives me an opportunity to atone for my mistakes (I'm sorry, Sunshine) and absorb fully the totality of Sunshine's demographic information.
Sunshine's new juggling, Pile Up, is a riddim with a lighter, more feminine energy than what we have seen from Yellow Moon over the last two years. The instrumentation builds slowly on simple chords with layers of synths, drums, and percussion, creating a fun and danceable composition. There are also a few occasions throughout Pile Up when Sunshine uses filters to highlight impactful lyrics, a technique that is currently on trend for this brand of spacey, synthy, pop riddim. If you are curious as to who sets these trends, please refer to the Mavado tune Set The Trend, which is undoubtedly the top selection from the juggling and will likely be a full-fledged Jamaican chart-topper by September. Aidonia's Rude Boy Ting and I-Octane's Full Mi Cup are also exceptional tracks, and those three songs, in addition to other contributions from Jahmiel, Jah Vinci, and Masicka, make Pile Up a shoo-in for heavy rotation this summer.

LISTEN TO THE RIDDIM MIX