Interview with Bay-C
04/07/2016 by Gardy Stein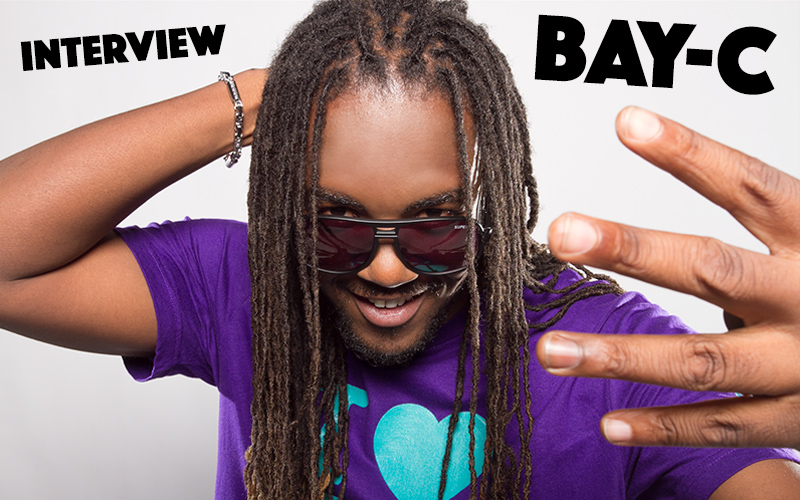 In touch with the idols of my early Dancehall days: this was an interview I've been really looking forward to. Bay-C, member of the legendary T.O.K, agreed to meet Reggaeville for a relaxed afternoon chat in the middle of Kingston. The high-flying young man has decided to pursue his solo-career after rumours of a T.O.K break-up went viral last year, and with the Better Must Come EP just released, his future as an artist looks bright indeed. His mission, however, is not one of chasing fame and fortune; Bay-C intends to create a legacy that he can proudly look back upon. With a sharp, analytic mind as well as a deep love for his country and its people, the exceptional artist shares with us stories of his music, the Blue Mountain Music Festival he started and the status quo of T.O.K:

Greetings Bay-C! We meet at the Nanook, 20 Burlington Avenue, and I was told that your studio is right around the corner?
Not even around the corner, it's right on the Nanook property (indicates a huge container on one side of the building). It's not really my studio, but my producer's studio, a bredrin called Icon. He is a business partner of mine, of a company we have. I actually do a show called Listen Mi News right here every week, where I take local, international, sports and entertainment news and turn it into a song. I basically sing the news every week on the TV in Jamaica, and it's online as well. It's cool because it engages the kids, they get more interested in the news and current affairs, and I do it like how you have a news person sitting in an armchair, but it's a lot of graphics and stuff, so it's quite interesting.

And it's produced right here?
We produce the music right here and then we shoot the video at our TV partner which is CVM TV. It comes on every Friday and then it runs for the entire next week. So, it's like a wrap-up of every week's news.

That sounds great. What about your EP, was it recorded here as well?
No. The EP was recorded between my home studio up in the mountains and Big Yard Studios, and the mix was done over there by an engineer called Kamal Evans and some of the respective producers as well. Each person kind of interpreted Bay-C in their own way, you know.

Before talking about the tracks in more detail, can you mention who else was part of the production, behind the scenes?
Well, we have Damalistic from Roots Survival, he is a French producer based in Spain, he produced the Eye For An Eye track along with my label, Bombrush Records. Then we have the track called Hold It Out which is produced by my guitarist, a really talented upcoming producer called Fatta 5, and his label is called Category 5, so that was done by him, he did the mixing and mastering and harmonies and everything. Straight Outta Portmore was recorded at my studio, produced by a bredrin called Crush, his label is Genius Sound from New York. The title track, Better Must Come, is produced by me, it's all my production. The guitarist is Robert Browne otherwise known as Dubz, and it was mixed by Kamal – he also mixed the Eye For An Eye track. I feel like I'm leaving out something... Oh, Star! Star now it's the last track on the EP and it was the only one I wasn't sure if I should put it. Everything else is following a certain kind of conscious, rebellious sound, but what I wanted to do is to make sure people don't put Bay-C in a box, to have them say everything that Bay-C does is going to be conscious. You know, I'm coming from a Dancehall background, from gal's songs and party records, so I wanted to have at least one track on the EP that has that. It's produced by a bredrin from England called Bassline Rock Music. It was recorded around here, at Icon's studio, and he did the mixing and mastering as well. So, it's a mixture of all kind of different people around me that I'm working with, some young, some more established. I was working on it for a few years, but now on the crossroads that I've come with the group, I thought it's about time to put out what I believe fully represents Bay-C.

The artwork was done by Green Eyes Design, one of my very good friends from Cologne. She is a German graphic designer based in Senegal and does a lot of work with musicians in Dakar. She does urban art, not just music, but urban art in general, and I reached out to her because I wanted that feel. I think she did an amazing job! Shout-out to Green Eyes, Sandy! (laughs)

And do you have a management team around as well or are you taking care of that yourself?
Right now, I'm kind of on my own, but I'm trying to build an army of recruits. I have some interns from Edna Manley College, and I have my record company, Bombrush Records, which has been around for a few years, so now I kind of structure it more in that I set up an office space where the interns can come in and work... they do administrative stuff once or twice a week, they answer emails or like when I did my acoustic performance at Nanook, I had one of them here to have a look behind the scenes and build the structures. I have the talent around me, but I'm still looking for an international manager that can carry Bay-C to where the brand should be. I'm not interested in a manager who is only limited to Dancehall or to the Jamaican market, but in someone who understands the global market, and the local market as well. A balance thing, seen. I'm keeping my eyes open. I had some good conversations with some established managers, but nothing has been sealed as yet.

Now talking about the songs... can you say something about Portmore, about your background there? How are the runnings?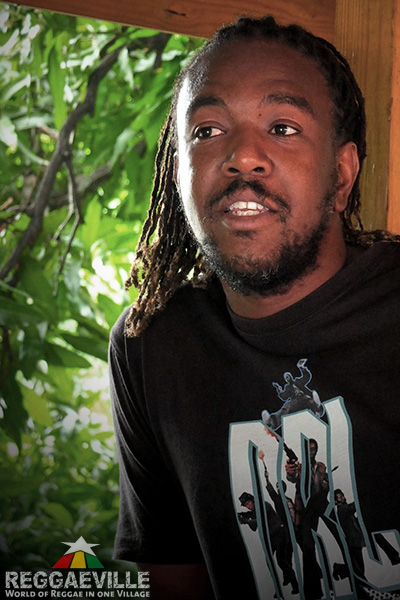 Portmore is actually the largest residential area in the entire Caribbean. It houses like 40.000 people, different sub-schemes if you will, or complexes. I grew up there from age thirteen, and I lived there a long time. So it's part of my socialisation, you know, when you are in your teenage years it's kind of... you define yourself, you learn a lot. So it's integrated into who I am. The group T.O.K started there as well, three members out of the four, everyone except Craigy T. is from Portmore, and a lot of times we used to practice at Alex' house, so Portmore has a lot to do with me in terms of a musical background as well. Our stamping ground where we really learned how to... before we became the sound that the world knows, we were singing Opera and R'n'B in the school days, in choir. When we decided to integrate Dancehall into our sound, Cactus Nightclub which is a famous nightclub and also a club that's based in Portmore, was our stamping ground, that's where we got to define our sound and performed for a real Dancehall audience. So, again, Portmore is critical in that sense. A lot of artists have come from Portmore, you know, Vybz Kartel, Buccaneer, Mad Cobra, a lot of people. When I did that song I kind of wanted to show... to create an anthem for Portmore. I had just watched the movie Straight Outta Compton and I found that it's a lot like T.O.K It is a US movie based on Dr. Dre, Ice Cube and some other US American Rappers. They had this crew called NWA and that group revolutionized HipHop at that time. They were very controversial, saying a lot of lyrics against police and ting. Basically the world knows them now individually, Ice Cube as actor, Dr. Dre as producer, you know, but this was where they started. So there is this famous movie that came out last year, Straight Outta Compton which is where they are from in LA, so when I watched the movie it kind of gave me the inspiration, so I had to tell my story. The beat was there, the idea was there, and it turned into Straight Outta Portmore. My wife heard the first chorus when she came back and said this is crazy, people like it! I shot a video for it there too, so it was good to go back where I come from, be on the block where I grew up and everyone felt so good to see me back. And I even found Buccaneer, people haven't seen him in a long time, and now he is in the video, he has a Cameo in it, so it felt good, it was a good vibe.

And which quarters are there, that you mention in the song?
Alex and Flexx are from Bridgeport, I'm from Hellshire. I went to Portmore Community College, I mention places like Newland, Cobra is from Brayton, Vybz Kartel is from Waterford, I mention all these places... I mean, the list goes on, there are probably 40 different complexes or more in greater Portmore. Now that I'm letting the world know who Bay-C is, I have to let everyone know where I'm coming from.

Between Portmore and Kingston, is there some kind of rivalry?
Yes, to a certain extent... I mean, back in the days, early nineties, there was a thing called Borderclash, a clash like Sting but it was done right on the border between Portmore and Kingston, and you would have Portmore artists and Kingston artists clash. And that's where like Ninjaman was up against Cobra and all these things. And I mention that in the song too, I say from Borderclash to the return of Sunsplash. That is a part of it, but I don't think it's a major rivalry, just at that time they had built something out of it, they created an entertainment thing. A lot of Portmore people don't necessarily even say proudly that they are from Portmore, before Vybz Kartel. He was one that came and made people proud to say that they are from Portmore. There is not really any rivalry between those two. Where you will find rivalry is Kingston vs. Country. You know, rural areas pride themselves to be not Kingstonians, and Kingstonians kind of have that thing where they think they are better than country people, but Portmore is kind of in between.

And what are pressing issues in Portmore, is it similar to Kingston?
The issue has always been… (laughs) it sounds trivial, but it's mosquitoes, that's what Portmore is mostly known for. When you check the history of Portmore, it actually was a lot of swamp areas that it has been built upon. And even when we were just colonized, during the British rule, their first entrance point was Portmore, so they had Portmore and Port Royal where they had their fortresses. But they couldn't manage the mosquitoes to the point where they moved up to the mountains where it's cooler, to Newcastle, so that issue has been going on for a long time, and yeah it might be a little uncomfortable. But now when you have these things like Chick V and all these mosquito-born diseases, that is something more serious, so that's a thing that needs to be addressed. Transportation, I mean... to me, Portmore is not that bad, there are other places that need a lot more attention. But within Portmore, what you find is that some people are well off and some people have hard times. So, if I was to speak to anyone over there, I would ask them to help the less fortunate to get a chance, you know, whether it's education or providing jobs, creating economic activities within the area, so that someone wouldn't have to come into Kingston to do whatever.

Are there projects that children can go to after school, cultural places and such?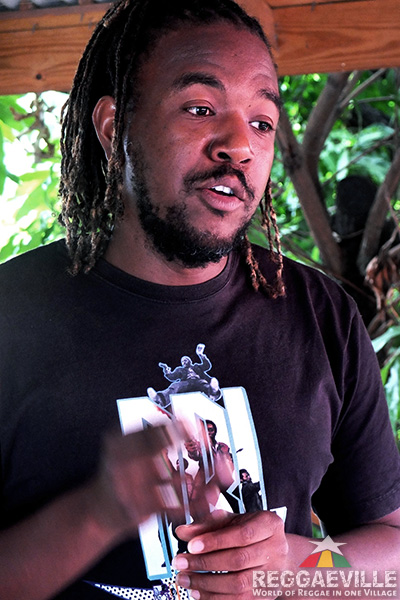 I don't know of that, I think we need more of that in Jamaica in general, not only in Portmore. Where I am, up in the mountains, I started a thing called the Blue Mountain Music Festival, and the reason for me starting that other than wanting to have a platform that I could use to showcase talent coming out from my label or even fellow colleagues in the music industry, is that I wanted to create an economic safe haven, an event that could create economic activities for the people. So that is what the festival has become, an event where people can rent out their rooms, little hostels, a guesthouse, it has allowed people to come to the festival, to sell their goods, sell their art, their food... so I think if people applied creative platforms or activities to help offset some of the challenges, I think that is the best way. Because what Jamaica is best known for is our culture, our music, our food and art, so we need to use what we have going for us.

Do you think the new Government would support that kind of thing?
I don't know. Government are politicians, and politician's agendas change based on what they want, you know. I am firmly of the opinion… it is controversial, but I am not really of the opinion that the music industry or the creative industry should look to the government for anything, because traditionally, our music came out of the inner cities, our music came out of the voice of the people, so the people are the ones who should empower themselves. And once you start to depend on the government, you give them the opportunity to make or break your future, to decide your destiny, and you don't want that. You want to be on your journey, so far ahead that the government is trying to keep up with you, that is how the people should be thinking. And again, it comes back to the creative industry, joining or pooling the resources and finding a way that we can help those who need help.

Yes, to create spaces like the Nanook...
Yes, this platform is a perfect example. It's not only music, you have a studio around here, you have art, food, people who come here to reason, knowledge base increasing, and you have people as well that come just to relax and get a good energy. So, we need more places like this and more activities, initiatives that engage the youth.

Coming back to your festival, is it every year?
It was. I did it 2014 and 2015, I pause for 2016 because I wanted to focus on my solo career. Also last year, coming out of the festival, I had a thought of changing the time of the year, but then everybody was saying, no, it has to be February, so I wasn't sure if I was to keep it or not. When I finally announced that I wasn't keeping it, within a few weeks after that, the former prime minister announced the date of the election which was three days before the festival. So if I had kept the festival, I would have been trying to promote it in the middle of two parties dominating the media and all that, so... it worked out perfect. I'll be back with it next year, no fixed date yet, but definitely 2017. This year is dedicated to push my career.

And part of that will be a tour?
Yes! When the year started, the first thing I did was to do a promotional mixtape with Big Mama Sound from Mannheim. It came out and had a really good response, so we decided to launch a tour, and some of that will be with Big Mama to give them some exposure, some will be with my booking agent from Cologne, Rodney Kingstone, and some will be me alone. Basically, for all of May I'll be doing Germany, Hamburg, Mannheim, Munich, Berlin, Cologne and some dates in the East. I might go to Austria or Poland too, dates are still coming in, but it's basically one month of me promoting the EP, a Better Must Come Club Tour. We just come over to show the European market what Bay-C is about and get them introduced to the new material, you know.

Are you booked on any festivals over there?
Not yet. I would like to do some festivals, but I want to do them at the right time, so I want to pace myself. The most important thing for me right now is to underpromise and overdeliver and not the reverse. I don't want to overpromise and underdeliver, and I know that people may have a high expectation, coming out of T.O.K, so it's important for me to get people acclimatized to what I'm doing and to just zone in, and those who like what I'm doing, we'll build from there. A lot of people love the T.O.K brand, and now I just want to introduce Bay-C to the world.

I know it's a delicate subject, but what is going on with T.O.K? There were rumours of splitting up, then coming back together, performing shows... What's the status quo?
I would say that the group is probably… I mean that's just me saying, each member might have a different understanding, but I would say that the group is on a break in terms of putting out new material. But we still do bookings for the show that we have, we have an extensive catalogue! What it is, even though some of the members may... all of us may not be on the same page, and even though we want to step out and do our solo stuff, we have also a great respect for the collective band and more importantly for the fans who have made us what we are. So, if our fans want to see us and it's not clashing with any of our individual schedules, we have to respect that, because they are the ones who put you there and they are also the ones who'll tear you down.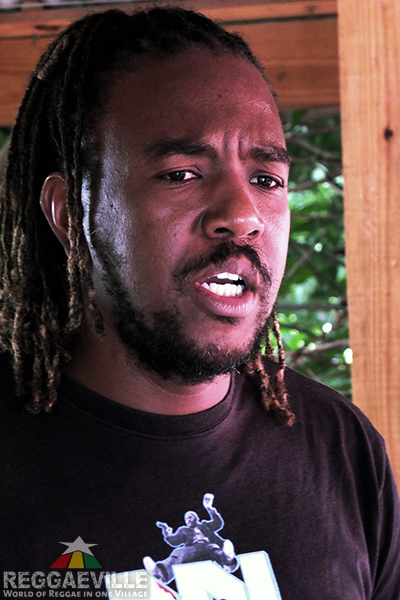 If they say enough of you that's it, it would even affect our solo careers, so I would want to always honour and respect that legacy that we took so long to built, you know. Yes, so, what we do is we've done a few Latin America dates, there is no Europe dates booked, but we did the Welcome To Jamrock Cruise last year... And also for us it was an eye-opener to how much the fans really love T.O.K, because most time when an artist dies is when they really… when the industry comes out to say we have respect for this person, you know. So for us now, once people heard about the break-up there was this big influx of people saying, no you can't break up, we love you! And I knew it would come from the fans, but I never expected it from people like Sizzla who called us and said Reggae music needs you! Sly and Robbie, Gyptian, you name them... Junior Gong had a long conversation with me about his respect and admiration for the group, people who you think are just fellow artists and not necessarily fans. It was really a humbling experience and we will always respect that, you know.

For some closing words, what do you stand for, what is your message?
Bay-C is a world citizen. Bay-C is an artist that is real, about using the music to better the world, about sending a message of positivity. I'm really concerned to leave a legacy, what will people think about my music 10 years, 20 years, 50 years from now, that's the primary thing. I also want to be real with myself, so I don't necessarily always want to be... not every song will have a message, but all of my song will be true Bay-C. So sometimes I just want to have fun songs and then sometimes me want to go on a One Drop and show my roots side. Funny enough, I even did a dance record a few years ago and I just heard now that it has been added to that popular video game Need For Speed. I don't play video games, but it's signs like this which show me that what Bay-C is doing can resonate around the world, introducing a different set of people to my name and my brand, you don't have to stay in one box. So it's really about having fun as well. I'm a musician, I love music, I love creativity, I'm a very serious innovator, I don't like to do anything that anyone else has done. If everyone is going left, guarantee that I'm going right. I'm not going to be one of the million, I need to stand out on my own, so that's why I do the festival, that's why I do the news, I try to do everything a little different. That's Bay-C.

I think you laid a solid foundation with the EP, so we are looking for what is to come!
An album will be coming soon, hopefully before the end of the year, it's called Journey To Greatness. So this is my mantra, my motto. The single is already out, but what I did now is just an EP to show people what's going on, to build that anticipation. Yes, we are constantly recording, doing stuff with Damian Marley and Sly and Robbie to put out a nice album.