Review
Album Review: Tippa Irie - Living The Dream
06/03/2016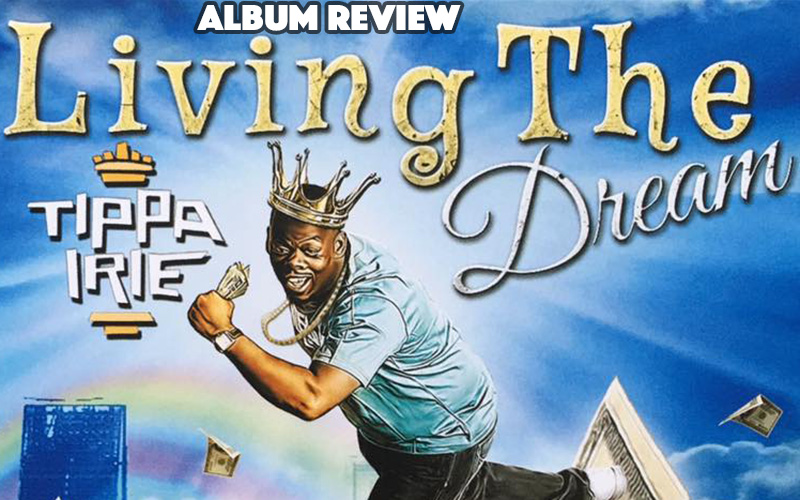 Tippa Irie is so rich, he can even ride a 100-dollar bill as though it were a flying carpet, use a bundle of bills as his mic, while more banknotes circle him randomly and a magic glistening light illuminates his stature — judging from what the cover artwork of his new album Living The Dream tells us.
But it is not just the money that makes him rich. In more than 30 years of his musical career, he is still rich with ideas, writing lyrics that blow you away, rich with melodies that make you move, and rich with power to invent his musical style all over again. All this is found in Living The Dream, released June 1st on his own record label Lockdown Productions.

The set of 15 songs opens with the hip hop track Big People, reminding us that we have the responsibility to watch over the younger generation and set an example for them.
Motherland is one of the strongest tunes on this album. While the Riddim is a killer in itself, the lyrics set one on top going like: "We're gonna step it, gonna step it out of Babylon, I'm gonna move it moving forward to the motherland […]'Cause every day we are chant and we are sing, but dem just nah change the system. Cause everyday it's the same old thing, we poor people are di victim." This is a modern interpretation of repatriation.

The British artist with Jamaican roots honors and hails Jamaica in several songs such as Morning Come and Jamaica Way. In Morning Come he puts an empathize on the benefits that nature provides for him in Jamaica like Ital Food, a little herb and a tea to find inner peace and set his mind free up in the hills. The focus in Jamaica Way whereas is the musical aspect that he appreciates while being in his mother land. That includes having good vibes with the people and "Rock the Reggae" all along.

In Free he feels relieved from a disappointing relationship and gets rid of some last words to his past love:"Girls like you are easy to replace, no more time me a waste! You talked about you want your space, you can have it on the moon if you like!" In Heaven Opened Tippa shows his sweet side and expresses his romantic feelings to his girl and longings for her when she's not with him.

Cool Me Down is another hip hop tune subjecting his favorite way of meditation: The one that cools him down, calms him down, simmers him down, and, surprise: it rhymes with seed. The album closes with title track Living The Dream, a slower-paced song and a declaration of his gratitude for life and his career.

There is no room for the determination of musical genres here. Everything from Reggae to Dancehall and from Hip Hop to Pop and Socca is well-mixed, and then reconstituted, with constant good vibes from Mr. Irie. For those who expect Tippa Irie's old-school digital raggamuffin style, they will be surprised to hear a new-school touch, with highly pinched effects on his voice and modern Riddims.
---
Release details
Tippa Irie - Living The Dream
CD / DIGITAL RELEASE
Release date: 06/01/2016
Tracks
01. Big People
02. Morning Come
03. I Felt Home
04. Heaven opened
04. One In A Million
05. Almighty
06. Big Jamaican Man
07. Ebola
08. Friends Will Say
09. Cool Me Down
10. Motherland
11. Free
12. Jamaica Way
13. Make A Living
14. Living The Dream