Review
Album Review: The Wailers - One World
08/21/2020
by Gardy Stein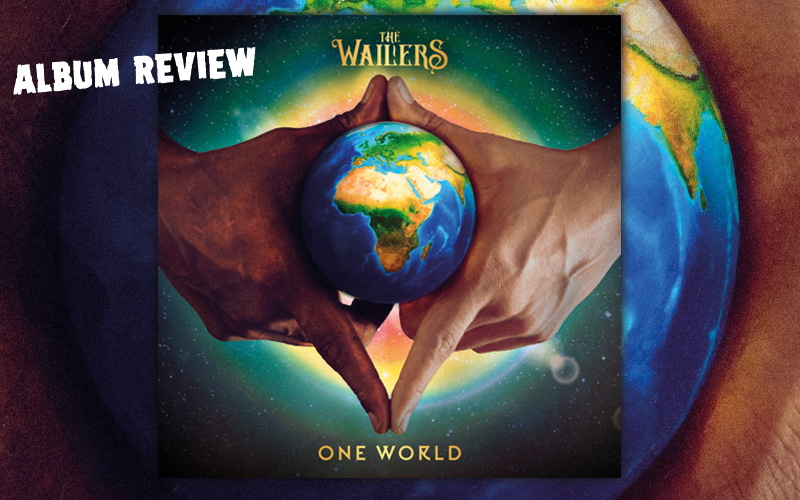 You have to dig deep into Reggae history to understand how "The Wailers" have continued to thrive and grow as a brand. Even without Bob Marley as central figure, the legacy continued and is surfacing in different forms today. OM Bunny Livingston Wailer, the only singer of the original Wailers trio still among us, passed the torch on to his son Asadenaki who called into existence "The Wailers Trio" with Blvk H3ro and Written (the planned July 2020 release of a 50-anniversary EP called Soul Rebels was delayed because of the personal tragedy of the disappearance of Bunny's wife, Sis Joan). Formed in 2008 by Al Anderson and Junior Marvin, "The Original Wailers" did some heavy touring with changing line-up, with Junior Marvin starting his own Wailers project at one point... all in all, it's too big and intricate a subject to discuss it in the present context.
Before these formations started out, The Wailers Band continued after Marley's passing in 1981, led by bass & drum brothers Aston Francis "Family Man" Barrett und Carlton Lloyd "Carly" Barrett. Until today they are active, "original members, children-of-legends and a host of immensely talented musicians (...) carrying on the mission", as their homepage informs us.
Almost 26 years after their last studio album Jah Message, here comes One World, a 14-track opus with 12 brand-new songs released under Sony Music Latin. Produced and co-written by 19-time Grammy-award winner Emilio Estefan, it carries both his Latin-influenced handwriting and that of multi-instrumentalist Aston Barrett Jr., son of the legendary bass-player "Family Man". Although the veteran artist retired from active touring, his signature sound can be heard on the album, on tracks like Can't Handle The Truth or Can't Get I Out.
On most other pieces, it's Aston Jr. who plays bass, drums and keys as well as singing background vocals alongside Astrid Marrufo and Tamara "Teena" Barnes. He even takes a solo lead in What A Shame, a position normally taken up by his distant cousin Josh David Barrett, lead singer of The Wailers since 2015.
Josh's voice excels in the pensive Philosophy, both flowing in melodious singing and rougher MCing, as well as in the reassuring Love Will Find You. Most impressive, however, is his performance in Stand Firm Inna Babylon, a beautiful Nyabinghi piece whose soundscape is enriched by the Wailers' guitarists Donald Kinsey and Owen "Dreadie" Reid.
Apart from the songs listed so far, the release is not as Roots-oriented as one might expect from a group like The Wailers. Walk And Talk, for instance, skanks in an accelerated, Ska-like rhythm, while It's Alright, It's Alright dips in and out of Swing, fueled by Dean Fraser on Sax and Dwight Richards on trumpet. And then, of course, there is the Latin touch brought in by Emilio Estefan... while I can't really warm up for the rather kitschy Pop-Reggae-vibes of Only In Jamaica and Good Times (despite a fresh guest appearance of Jesse Royal), his contribution unfolds its full potential in the first and title track One World, One Prayer. The underlying Reggaeton beat is ridden in style by featured artists Skip Marley, Cedella Marley, Shaggy and Puerto Rican Farruko, making it an exceptional opener that conveys the message of acceptance, tolerance and unity so important today. Forget about the hate!
Another stand-out track is When Love Is Right that comes in two versions. Featuring Julian Marley, Kush Gad and, in its second entry, the Brazilian band Natiruts, it is an ode to the universal love shared with this world by its creator as well as that special union between two human beings. Special appearances by Jazz harmonicist Frederic Yonnet and Brazilian percussion legend Carlinhos Brown make it a fit candidate for repeated plays, each round letting you discover new details.
Saving the best till last, let's now turn to Destiny. Before you press play on that one, please listen to Gloria Estefan's 1996 original and try to think of how a Reggae version would sound - certainly not an easy task! When Emilio Estefan presented his wife's song to Aston Jr., asking what he'd think about a Reggae take on it, he said he'll gladly "Wailer-fy" it. And that's what he did! The artist managed to translate the balladesque piece into a groovy, bass-heavy affair that became an instant favourite, a special touch of magic added not only by Braily Ramos' trombone and Aston himself on the vocals, but by inviting Gloria's and Emilio's daughter Emily, an accomplished musician herself, to voice it. Musical bliss!
One World is a fascinating piece of work, showcasing the musical talents of everyone involved. It is a bold step away from The Wailers' usual catalogue, and while the lyrics are not as profound and unique as they used to be in Marley's times, it sure is a promising blueprint for touring and global sing-alongs (let's hope that can soon happen again).
The gratitude for this achievement resonates in Aston Barrett Jr.'s words, who is quoted in the press release, saying: "My father Aston "Family Man" Barrett has been a great inspiration and teacher, who guided me to this point where we were able to meet Emilio Estefan. Now we have a first-class album which we are all proud of."
---
Release details
The Wailers - One World
DIGITAL RELEASE [Sony Music Latin]
Release date: 08/21/2020
Tracks
01. One World, One Prayer feat. Skip & Cedella Marley, Farruko & Shaggy
02. Philosophy Of Life
+
03. When Love Is Right feat. Julian Marley & Kush Gad
04. Walk And Talk (Never Go Astray)
+
05. What A Shame*
06. Destiny feat. Emily Estefan
*
07. Only In Jamaica
#
08. Love Will Find You
+
09. It's Alright, It's Alright
+
10. Can't Handle The Truth
+*§
11. Good Time feat. Emily Estefan & Jesse Royal*
12. Can't Get I Out (Rastaman)
+
13. Stand Firm Inna Babylon
+
14. When Love Is Right with Natiruts & Julian Marley

+ Lead Vocals by Josh David Barrett
* Lead Vocals by Aston Barrett Jr.
# Lead Vocals by Paul Anthony Thompson II
§ Background Vocals by Judy Mowatt & Marcia Griffiths
Produced by EMILIO ESTEFAN
Featured artists
Julian Marley
/
Skip Marley
/
Cedella Marley
/
Marcia Griffiths
/
Shaggy
/
Natiruts
/
Jesse Royal