Jesse Royal @ Reggaeville Yearbook 2017
01/17/2018 by Gardy Stein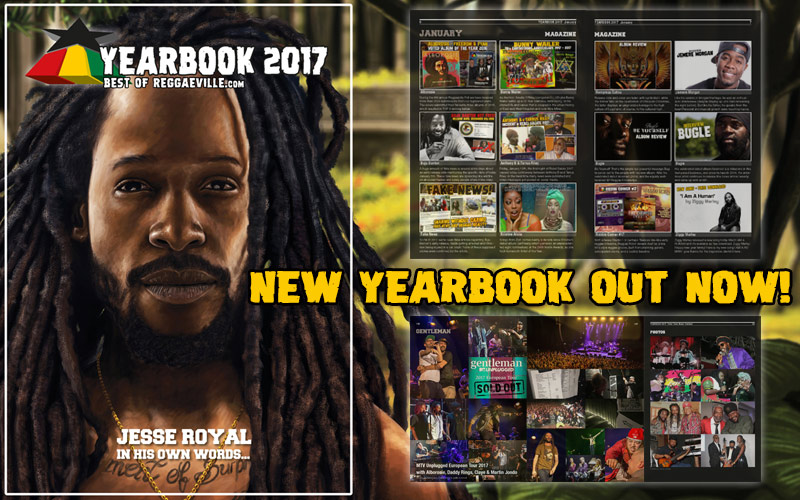 "Nuttn cyah out my flame, no it cyah quench, cyah cool, cyah tame!"
With these words from her debut single Burning, 17-year-old Koffee captures in a nutshell what can be considered our site's motto and motivation. Burning with passion for the music we love, we have yet again gathered as much information as possible about current releases, exciting festivals, international tour dates and stunning performances throughout 2017. It has been a fiery, fast-paced year indeed, flying by almost too quickly, and it's hard to believe how many things have happened in the last 12 months.

That's why we believe it is so important to look back on the treasures generously bestowed upon us before 2018 consumes our attention, and we invite you to (re)discover some of last year's highlights in our Reggaeville Yearbook 2017.
CLICK HERE TO READ & DOWNLOAD: YEARBOOK 2017

We'll travel to concerts and stage shows around the world, providing you with links to pictures taken by our talented photographers. We'll look back on fine albums such as The Soul Of Jamaica, Havana Meets Kingston, Chronology, Stony Hill and Jesse Royal's impressive debut Lily Of Da Valley, providing you with links to reviews written by our up-to-date authors.

And, of course, we'll feature the people who make us sing along, feel alive and jump around with joy – the artists! Find out who are the Top Albums of our Reggaeville Reader's Poll (the strongest poll we had so far, with more than 3.300 users voting), read what they told us in the interviews and accompany Jesse Royal on an extensive retrospective.
2017 has also been a year of setting records: we have published an amazing 466 video premieres, thus giving so-far unknown artists the chance to make their music heard. Our YouTube-channel is one of the most popular Reggae channels on the platform, generating around 240.000 new subscribers and more than 94 million views. Thank you for liking, sharing and following us, each and every one of you!

We also want to express our sincere gratitude to all artists, labels, producers, promoters, managers, festival organisers and behind-the-scenes all-rounders for their continued love and support. Let's make 2018 a year of understanding and growth – it is up to us! Or, to quote Koffee once more: "Everybody's born with a talent you fi feature!"

CLICK HERE TO READ & DOWNLOAD: YEARBOOK 2017 - BEST OF REGGAEVILLE.com