Interview with Junior Marvin
02/05/2013 by Larson Sutton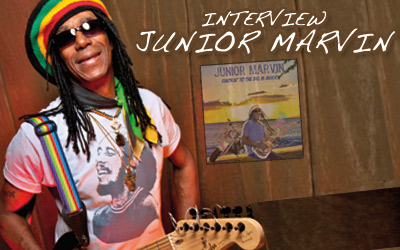 At an age when most are contemplating slowing life down, Junior Marvin, 63, is on the precipice of a very active 2013. With two albums slated for release on February 6th (not coincidentally Bob Marley's birthday), and a third in pre-production, plus touring and promotional appearances, Marvin is aimed at bringing his fiery brand of reggae back. Now over three decades removed from his stint as lead guitar player for Bob Marley and the Wailers, six years since his last studio record, and a year after his split with The Original Wailers, he also has plenty to say about his past, present, and future, as well as that of the music, itself.


You are releasing two albums simultaneously; Smokin' to the Big M Music and Lion to Zion Dub. Why two albums at once?
One is a compilation album with a couple of tracks from all the albums I've done as a solo artist and as a frontman for the Wailers over the years. Some of those songs are available on other albums, but it kind of shows my history branching from Band of Gypsys-type rock to Bob Marley-type reggae. The dub album is from an album I did in 2007 called Wailin' for Love. The engineer's name is Jim Fox. He is very well known in the dub music category and we decided to do a dub mix of the album. Dub is pretty new to a lot of people. It's not really mainstream, still pretty underground. I decided to put them out at the same time so people might be able to relate to the songs on the compilation album and see the difference with what is on the dub album.

So you want listeners to compare and contrast the styles?
Exactly. A lot of people don't know what dub music is or what it means. This would be a good idea to get a little history at the same time.

In a review of the Smokin' record I commented on how reggae is used more as an ingredient than as a main course. Is that reflective of your many influences?
That's exactly it. I grew up in England, although I have Jamaican parents and an uncle who had a Jamaican sound system. I listened to Elvis, The Beatles, Jimi Hendrix, Led Zeppelin, The Rolling Stones. People like James Brown, T-Bone Walker, Albert King, B.B. King. Jazz with Wes Montgomery, George Benson, and Weather Report. Lots of different types of music.

Are you still trying to incorporate those influences?
I'm definitely going to try in the future to blend different styles of music. I'm a big fan of Stevie Wonder, Jimi Hendrix, and Bob Marley. I think I'm right in the middle of those three people.

What can you tell me about your next record?
My next album will be out late summer 2013. I'm going to invite people like Lenny Kravitz, Santana, Eric Clapton, Steve Winwood, Wyclef Jean to come and do a guest spot on the album. We just narrowed 100 songs down to 30. Now we're going to narrow that down to 15, then record it.

You were featured in the Kevin MacDonald Marley documentary. What did you think of the film?
I enjoyed it quite a lot. I think Kevin is a good director/producer. They didn't cover everything, obviously, but they covered quite a bit of ground. They gave a good story to Bob's basic history. There's a lot that wasn't told about Bob, but it's pretty hard to get it all into one documentary.


Were there things you had forgotten about and got a chance to revisit as a result of the project?
I was kind of an amateur photographer, so when I joined Bob I took my first salary and bought the most expensive camera I could find- a Nikon. I took a lot of photographs. I'll put out a book sometime soon. So, through the photos, some of which are in the movie, I was able to recollect along the way; find the moments people wouldn't know about or see. Things were moving very fast. We were busy every day, either in the studio, or rehearsing, or on the road. We were pretty much together 24/7. He was a workaholic and everyone had to keep up with him.

What else did you learn from your time with Bob?
I learned that you have to keep a balance. You can't hang out with the crowd just because they want to hang out. Sometimes you have to slip away, make sure you get enough sleep, make sure you eat well, exercise. If you want longevity in music you have to very much take care of your body and your mind. Bob was very grounded. He never got into the star trip. People offer you things, and you realize you just had something that was spiked. People do crazy stuff like that. Bob always used to tell us, 'Don't eat from strangers.' People mean well, but rather than do you well, they're really doing you harm. And, you need to stay close to your family. When the party's over, there is nothing left if you don't have your family.

After Bob's passing, the Wailers band continued on, and then you left and with Al Anderson formed The Original Wailers. Can you talk about the circumstances behind that?
Aston Barrett was basically the leader. I did all the groundwork, all the organizing, all the paperwork, but the senior member was Family Man. He was never interested in recording or rehearsing. He wanted to play the same songs over and over which is a comfort zone for him, but was not very inspiring or motivating for myself. It was not moving forward or developing. It was a standstill. Also, the financial side was not being run very well. Family Man's girlfriend took over the band and she didn't really respect us for what we did coming up with Bob. It was all about Family Man and her. We put TOW together to put forward what Bob would've liked to have seen us do. Write new music. Create new songs. Still play his songs to the best of our ability.

In the fall of 2011, you left The Original Wailers. What happened?
For me it started to go back to the same mismanagement, not being properly organized financially. There was no accounting for money coming in or money going out. I was supposed to be an equal partner and I wasn't being treated like one. It wasn't a good feeling for me. It was very frustrating for me so I left.

Was the split amicable?
It wasn't a good split at all. Emotionally, it wasn't very good. Not for me, anyway. I wasn't happy and I didn't like the way I was being treated. I didn't want to play music and feel bad about myself. I wasn't enjoying it.
The Original Wailers released the Miracle EP in 2012. You were a member of the band during the recording of the album. What do you recall about the sessions?
A lot of my songs were overlooked. I guess I took it personally because I thought my songs were pretty good. It was just like a one-man show.

Was the writing on the wall at that point that you were not long for this group?
They had a producer, Karl Pitterson, and he didn't like any of my songs. I think he had a personal beef against me. One day in the studio I suggested an overdub and he just freaked out. It was just a suggestion, not an order. I figured if I can't even put me two cents in, and you're not even using my songs? That's not why I got involved with The Original Wailers.


And now?
I'm much happier now. I think I've had enough of Wailers. If the Wailers had started to write more songs, rehearse, and treat each other the way they preach… I can't understand how people preach one thing and do the opposite. Actions speak louder than words. There was no love there for me. I didn't want to be there. I kept my promise to Bob. I kept the band going for, like, 16 years after he passed, until Family Man and his girlfriend took over. Bob had asked me to keep the band together and make sure everything was of the highest standard. It came to a point where my input wasn't relevant anymore. It was like I was a hired musician. I didn't feel any love. It was all about money; who could get the most and put it in their own pocket. I don't want to say anything bad about my brothers, but that's the truth. One love, that we preached for many years, didn't exist. It was the real Babylon system coming in.

Over the course of your career the music industry has changed so much. What do you think about this new world of technology that dominates the business?
Music is great right now- to be a musician. You don't have to have a quarter-million dollars to buy a studio anymore. You can put out your own records without waiting for a record company to give you the okay, or being put on a shelf and told you are not good enough. There is a lot more freedom in the industry now that all the labels have stopped manipulating everybody. Now you can play anything you want, and I think that is great.

Despite all that is new in music, this year's Grammy nominees for Reggae Album are some classics including Jimmy Cliff, Sly and Robbie, Toots and the Maytalls, Sean Paul, and your old mates- The Original Wailers. What do you make of that?
The people who nominate the groups are friends of the musicians who are nominated. (Laughs) It ends up being who you know, not what you know or your ability. It's not the records that sell the most or sound the best; it's down to the old story of who you know. Unfortunately the entertainment business has been like that for a long time.

It seems roots reggae isn't nearly as prevalent among the young artists these days. What happened?
I very much agree with you. When Bob was alive people were writing songs. Dancehall moved in after Bob passed. The people who were financing dancehall were the drug dealers who wanted to wash their money. They didn't care if you wrote a song or not. They just wanted a beat they could nod their heads to. They didn't put any finesse or style into it to make it something special. There were one or two dancehall artists that were good, but the majority of it was, 'Let me go wash my money.' From there it went to hip-hop where reggae tried to crossover. Instead of writing good songs, they tried to create beats. They lost that distinct style of reggae, their foundation, their message. There is no message anymore. The young kids in Jamaica who are given this opportunity to create something with this music, they are looking for fast money. They jump on the bandwagon. It's good to mix music, but do it with class, not just to make money.

What do you think of reggae music today?
People who are doing reggae now, it's like a parrot fashion. I love the Marley kids, but their music to me is just like a copy of their dad's. I don't hear anything new in what they are doing. It's the same thing that we did 20 years ago. There is no album out now better than Exodus, and that came out in 1977. They sound like Kaya, but not as good. They sound like Rastaman Vibration, but not as good. Bob worked really hard at it. It didn't come easy for him. The kids now are copying, not creating.

Is a comeback for roots reggae possible?
Don't get me wrong, I think there is a future for reggae. There's a lot of young people who go to school, to music college, and think about writing songs that anyone could cover. Pretty soon we'll have music that is very strong. Reggae will have some more hits once we all decide that we need to write songs that tell stories and have a message. You can make it commercial and put something into it.


Maybe it's not the youth that bring it back, but people like yourself?
At one stage in time if you passed 30 you shouldn't be a musician anymore. Then it was 40. Then 50. Now it's up to 80. Musicians don't have to be like American football players when your career is done at 35.

How long do you want to keep doing this?
As long as I feel healthy and I don't look like I'm 200-years-old. I'm enjoying what I'm doing. My mind is healthy. My body is healthy. I don't need a walking stick, yet. As long as I can share my music at a very high standard I'll keep doing it.

Even touring?
I love going on the road and touring. If you can get good rest, a nice hotel, eat good food, travel in a nice tour bus, it can be a lot of fun. You just have to maintain a balance like everything else in life.
---
PHOTOS CREDITS: Jim Dorminy, Julie Collins, JamaicaGleaner