Review
Album Review: The Skints - FM
03/02/2015
by Gardy Stein
Tune in to this full-frequenced masterpiece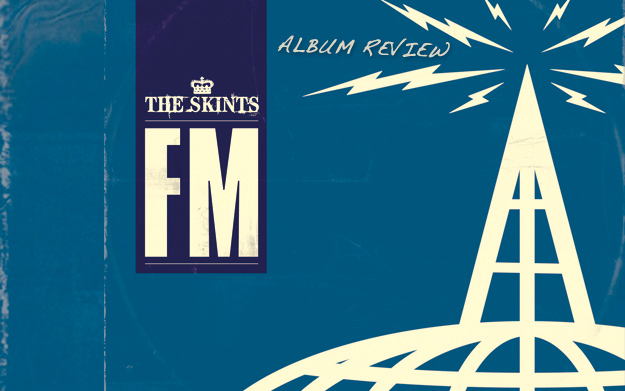 Hello - Turn Your Radio On, Nothing On But The Radio, Radio Ga Ga or Video Killed The Radio Star… what do these songs have in common? Exactly, they have as a subject the technical revolution that enabled mankind for more than 100 years now to transmit and receive airwaves worldwide: the radio! There are many more songs to mention, but I would have been hard put to cite but one album dealing with the matter. Until now!

Out of London's bustling music scene, we receive a heartfelt dedication to the phenomenon that has accompanied so many of us through childhood and adolescence: FM! From a fictional radio station, the four Skints Jon Doyle (bass), Jamie Kyriakides (drums & vocals), Josh Waters Rudge (guitar & vocals) and Marcia Richards (keys, sax, flute, melodica & vocals) broadcast 11 brand-new tunes that are presented by DJ Mr. Versatile, Dr. Ranking Pegasus and MC Rivz. These characters are fictional too, but the artists behind are more than real: Tippa Irie, Horseman and Rival lent their voices to the project, not only as formidable features on songs like In The Night, Tazer Beam or Eyes In The Back Of My Head, but also in four hilarious skits contributed by their alter egos.

Starting with Mr. Versatile's Breakfast Show, the first tune played is This Town, another dedication, this time to the city of London. I was at once enchanted by the sweet voice of Marcia, who makes the words sink right under your skin. And just you wait until Tippa Irie and Horseman join in... wicked combination! There is a video out as well in which you can see the whole bunch at work.

A fluffy feel-good-song is Come To You, bringing again Marcia's vocal qualities to the fore, while My War, the only cover of the album (originally performed by Black Flag) takes a more serious look on personal struggles.

Introduced by Dr. Ranking Pegasus' Dancehall Dillemmas, Friends & Business advises us to always make the distinction between these two. The excellent musical delivery of the band as well as the skilful mixing (all songs are great pieces of work, produced by and at Prince Fatty's The Ironworks Studios, but here some additional goodies like the choir are especially noteworthy) make listening a thoroughly pleasant experience.

The musical joyride is continued with tracks like Where Did You Go and Got No Say, melodious pieces in which all Skints except Jon (I think) pick up the mic. The Forest For The Trees is a philosophical discussion about sameness and difference to be followed attentively, as are all The Skints' lyrics. Without going into too much detail, you should listen keenly to Eyes In The Back Of My Head if you are a Game Of Thrones fan, or Tazer Beam for a strong statement against gun violence.

That leaves us with the last song: Tomorrow. It not only releases an instant rush of endorphines into my system, making my day a bit brighter whenever I hear it; this tune also serves as the nutshell in which this release could be summarized: audible perfection! Did I already mention that I really really love Marcia's voice and her style of singing?

With this album, The Skints have erected a monument for themselves and the radio. Not the mainstream media that drowns us with endless repetitions of un-innovative pop-songs and boring charts-trash, but the small stations that really make an effort to present us with fresh music and exciting artists from all over the world. Tune in to this full-frequenced masterpiece and let FM 103.Skints make you happy. Cause that's what it does.


---
Release details
The Skints - FM
DIGITAL RELEASE / CD [Easy Star Records]
Release date: 03/09/2015
Tracks
01. FM: DJ Mr. Versatile Breakfast Show
02. This Town feat.Tippa Irie & Horseman
03. In The Night feat. Horseman
04. Come To You
05. My War
06. FM: Dancehall Dilemmas with Dr. Ranking Pegasus
07. Friends & Business
08. Where Did You Go?
09. Tazer Beam feat. Tippa Irie
10. The Forest For The Trees
11. FM: Grime Hour with Rivz
12. Eyes In The Back Of My Head feat. Rival
13. Got No Say
14. FM: DJ Mr. Versatile Evening Session
15. Tomorrow
Featured artists
Tippa Irie
/
Horseman