Concert Review: The Skints in Hamburg, Germany - October 14, 2019
10/16/2019 by Gardy Stein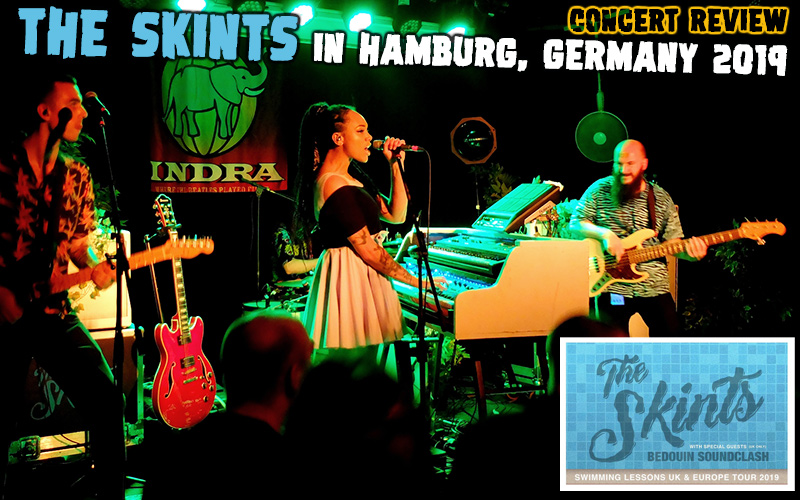 Ready to go for a swim? No, I don't mean taking a walk in the rather wet Northern autumn. On tour for their current album Swimming Lessons, The Skints stopped at Hamburg's ancient music-pool Indra. The British band of four was on home waters here, as the club hosted the first ever Hamburgian concert of compatriots The Beatles almost 60 years ago.
Reaching the place around 8 pm, the big tour-bus infront of it indicates that the group is inside already, and a romantic stage-setup welcomes the visitors upon entering, white piano and flowers and all. Roughly 120 people have assembled, a heterogenous mix of young and old, Rocksteady-, Reggae- and Ska-lovers as well as a few Punk-Rockers. They all will get their money's worth, as we will see!
Without opening act or further ado, Jamie Kyriakides, Joshua Waters Rudge, Marcia Richards and John Doyle enter the stage to (at first) reserved applause and jump into an intro of Can't Take. During the unfolding concert, it is guitarist and singer Joshua who keeps up a constant interaction with the crowd, making everyone feel comfortable and, soon after the opening song Restless, loosening us up enough to dance.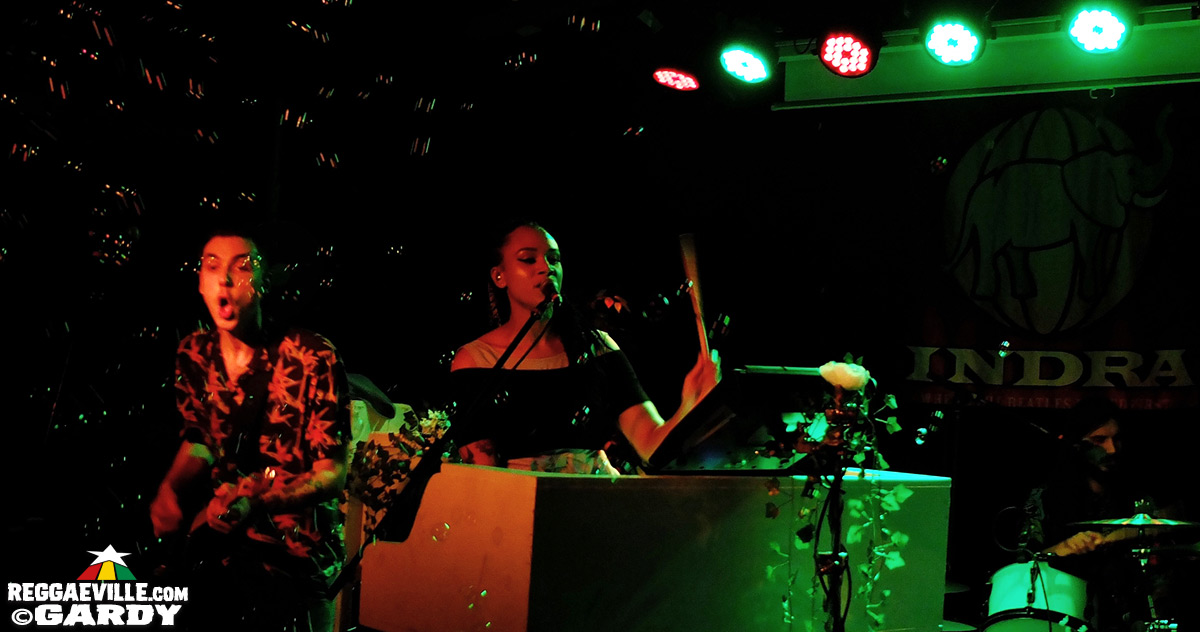 "Thank you for coming out on a Monday night. We are The Skints and we came here to make you sweat!" Joshua introduces the fast-paced Ska-beats of Lay You Down and Ratatat which give way to the punky What Did I Learn Today, bringing movement to the audience. Soap-bubbles and a transverse flute played by multi-instrumentalist Marcia provide the perfect mood for the softer notes of Forest For The Trees and Where Did You Go?, some of the older pieces played, culmulating in the well-known This Town. Most other songs come from the new release Swimming Lessons (a must-have for old and new fans alike!), Lalala, Armageddon and the beautiful I'm A Fool among them.
The latter is sung by drummer Jamie, barely visible in the back of the scarcely but colourfully lit stage. His vocals are definitely one of the pillars of the band's sound, the next two being Marcia's angelic voice and Joshua's rougher, Brit-accented delivery. We are lucky that pillar number four, John and his bass, are here tonight, as the Berlin show had to do without him; he had cut his forehead just prior to the concert and, after bravely attempting to stay on stage, had to get his laceration sutured in the emergency room, a fact of which only a plaster bears proof today.
Joshua now opens his arms wide and asks who came with his or her significant other tonight. A few loud shouts and raised arms answer him, prompting him to proceed: "The next track is not for you. I revoke all dedication for lovers in Love Is The Devil!" The song is the second last one played, and when the band leaves stage after Culture Vulture, immediate shouts of "Zugabe" (German for "play some more") rise from the crowd, now obviously hungry for more. After a few minutes, the band comes back out, and Joshua makes everyone laugh when he asks "What did you shout there? All I understood was 'Two brown eggs'!"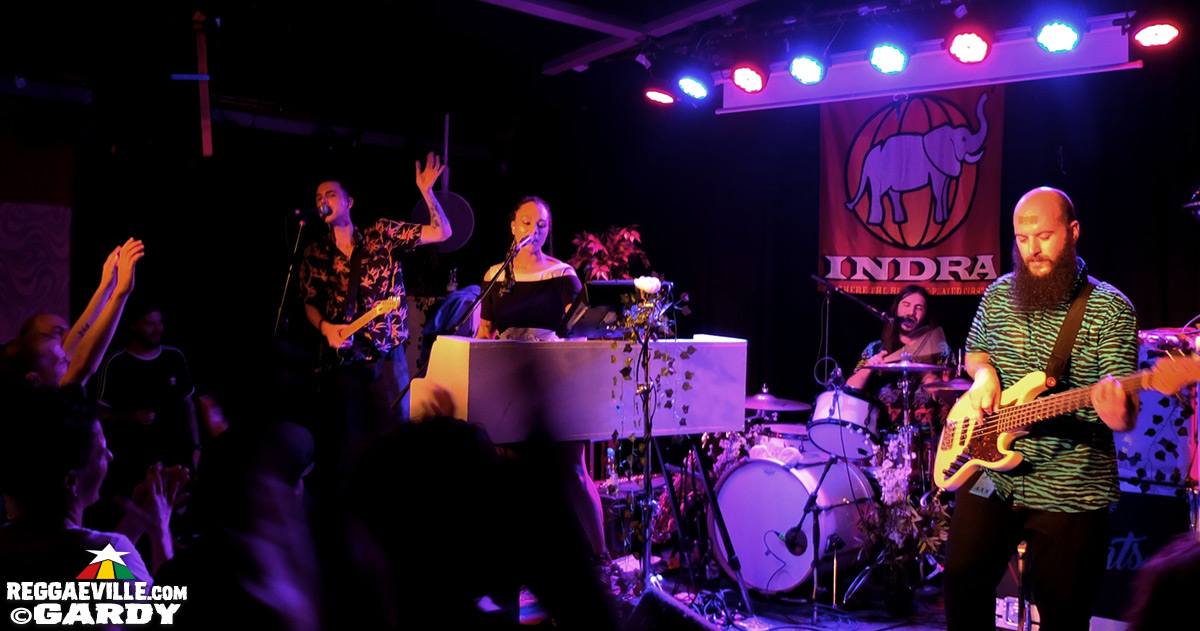 All four Skints are standing now, with Jamie on guitar singing Sunny Sunny followed by the equally melodious Al Green cover Let's Stay Together, during which Joshua takes a bath in the crowd thanks to his wireless electric guitar. The concert peakes in another soap-bubble-shower during the final and title track Learning To Swim, and by now everyone present is under the band's spell, jumping in unison with the artists.
Visually as well as musically, this evening was a perfect night out. These four Londoners are all true masters of their craft, with Marcia deserving special mention as she effortlessly juggles keyboard, loop station, flute, guitar, melodica and vocals. Little excursions into Reggae's history (e.g. No No No or Big Ship) connect the band's musical output to the global Reggae community, without however losing their unique take on things. If you can, make sure to experience The Skints on a stage close to you or, if you can't, get one of their albums and make it play loud! No water wings needed, promise.