Interview: BB Seaton - The Gaylads Together Again [PART II]
07/21/2012 by Angus Taylor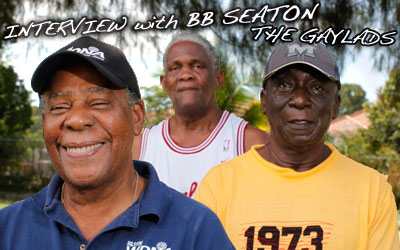 In part two [read part one here] of our exclusive interview with BB Seaton we hear about his solo success in the 1970s. We also chat about how he created one of the perennially versioned roots reggae rhythms; had a runaway UK hit which lead to him settling down there; his reconnecting with Coxsone; and how the Gaylads finally got to reform.

You went solo in 1972.

I recorded my first solo single Accept My Apology which was a massive hit. When people would see me on the road they would say "Why you telling the Gaylads to accept your apology" and I'd say "It wasn't them." It was my wife! We as Jamaicans in those days had that chauvinistic mentality where we were too big to say to women "I'm sorry". So when I did that song I used to put it on in the house whenever anything went wrong and said "That's me talking to you babe!" This is the reason behind when I write my songs. I try to have that influence on people. The second song I recorded was produced by Lloyd Charmers Lean On Me and that was a big hit in Jamaica too. I did a couple more songs with Lloyd Charmers like Thin Line Between Love and Hate which was a big hit here in England. But Charmers was more interested in recording Ken Boothe.

In 1974 you produced an instrumental called Something New for the group Conscious Minds which a lot of people know from the later Sly and Robbie cut with Ernest Wilson as the I Know Myself rhythm.
Yes I was the one who created the rhythm. Freddie McGregor used it too. I used to write songs for him too. When he was at Studio 1 we used to put him on a box to reach the mic! But that song has become such a classic that people say to me "Why don't you record something on the rhythm?" and I say "Nah!" But the Conscious Minds band was the first show band in the history of Jamaica. We rehearsed a one hour showcase for three months. That band consisted of Joe White, Gaylads and Ken Boothe. The show would start with Joe White, then Gaylads and then Ken would close the show. In those days in about 1969 we were interested in Otis Redding and Stax in America and that was what influenced us.

Like a Stax showcase?
Yes. I remember one night we were playing a club called the VIP and it was the first time Conscious Minds played anywhere. We couldn't even afford the right instruments. Byron Lee was going to play after us because in those days the band used to play for people to dance but we weren't into that because we were artists who had rehearsed a one hour show. When we started our one hour show you had people dressed in suit and tie sitting on the floor in front of us because the beat was so tight! Byron Lee was in trouble when we finished. He was nervous! Because no one had ever seen anything like that in Jamaica before. I have a write up I can send you about that. The only reason why that went down and didn't work was because we didn't get the right management.

Tell me about how you came to record the 1978 song Is Life produced by you and Errol Brown. It has the line "It's all in the game" which is the title of a Four Tops song.
Well that was when I used to run Treasure Isle - Errol Brown and myself and Neville Reid - between 1976-80. This was when we were did a song with Claudette Miller called Tonight Is The Night which was a cover of a classic Betty Wright song. I used to audition the artists and pass them. When Justin Hinds was doing his song Sinners I was the pianist on that. I used to run the sessions and show his backing vocalists how to do harmony. I used to do the same thing with Culture when they came and did Harder Than The Rest album. And when Peter Tosh did Legalize It I had the studio for one of the sessions and we were the engineers. Most of these companies I worked for them as an A&R man. I don't know what they saw in me but they always wanted me to do that. Even Randy's too in the early days. I used to run the studio.

What about Is Life?
I was trying to avoid it! (laughs) It's not a song I like that much.

Having missed the chance to go to England in 1967 you did get a chance to come a few years later...
I came here on tour in 1976 because I had a big hit here the previous year with a song called Born Free which almost went into the charts. Before that my album 1972 Dancing Shoes was the first reggae album released by Virgin Records. When I first came to England I approached them with an album I had produced called Colour Is Not The Answer and Richard Branson said he was interested and took me up to a place called Oxford where they had a studio. They listened to the album and decided they could work with it and offered me three thousand pounds.

But me with me stupid self refused the three thousand pounds thinking "I'm bigger than this" which was a load of crap! Maybe if I had had a manager dealing with my thing I would have been all right. So instead I gave the album to a friend who I used to hang out with in Jamaica called Pat Rhoden who had a company called Jama Records and then the song Born Free kicked off and sold about 52,000 copies! It came second in a competition on Capital Radio where I was beaten by Do It Any Way You Want by the Fatback Band. So that prevented me from going into the chart as a solo artist. Born Free was never released in Jamaica but it was massive here.

How did you decide to put roots down here?
I was going back and forth. I went back to Jamaica and then came back with another album called Every Day People which I took to Creole and had a nice hit with Every Day People. Then I met my wife who was the manager of the hotel I was staying at. We started chatting and that's where it all started! We got married and we have been together for 27 years. She is my foundation and my everything.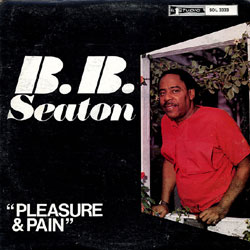 You went back to Coxsone and Studio 1 in the late 80s to record the album Pleasure and Pain. Tell me about that.
In the 80s I used to go over to New York a lot and I used to go and see Coxsone. Because I was so close to Jamaica and I used to go and help him out with publishing - organizing agreements and getting the artists to sign up and stuff like that. So I went to Jamaica and he said "Come in man. We do something" and I was a bit apprehensive but I said "OK". I wasn't planning to do an album. I was just planning to do a couple of songs. I did a classic one called Sharing Love and one on a rhythm by Leonard Dillon from the Ethiopians called It's A Sign. We were actually close. Because I was in England and had set up my publishing company and my Soul Beat records label and we still exchanged thoughts and all of that. I actually did an album that I took to him to release and the irony was I did done a version of Sharing Love which he said was better than his! This was the kind of rapport we had. I love him to bits man.

As a songwriter, which other songwriters do you rate?
When people talk about songwriters out of Jamaica they talk about the Three Bs. Who are they?

Bob Andy. Bob Marley. And... you?
Yes. But I say now there are 4 Bs. The other one is Beres Hammond. There are some young artists coming up where I like their approach. I like that guy Busy Signal. But they haven't got the track record of writing for other artists. Because I think I have written for more artists than any other in Jamaica. I'm going to be a bit cocky now and mention some of the songs I have written for other artists.

Go on...
I've written Freedom Street, Drums of Freedom, Love Come Tumbling Down, Lucky Me, I Remember Someone, Who Really Care, Can't You See and these are for Ken Boothe. I have written for Marcia Griffiths. Dennis Brown did Funny Feelings which is mine and of course Africa. I wrote five songs for Delroy Wilson - Give Love A Try, Gave You My Love, Show You The Way, I'll Never Hurt You originally named Soul Resolution. I've written for the Chosen Few, Freddie McGregor in the early 60s and I did a song for Aswad called Noh Bada Wid It. UB40 covered a couple of songs that I write like Just Another Girl which I co-wrote with Ken Boothe. Beats International did one by us called Whole World's Down On Me. I wrote for Jimmy London, The Melodians, and for the Uniques I did Let Me Go Girl and People Do Rocksteady. I did a song for Ruddy Thomas called Time To Leave Daddy. Joy White, AJ Franklin, you name them.

You've also been writing your book for a while now. How's that going?
It was almost finished about a year ago and I did it on Windows 95! I still have it on the hard drive but I'm trying to get it back! I've been writing some things to add to it. When I get it back on the system I would give it another year. Because now I've teamed back up with the Gaylads I want to add that part to it. This Gaylads is going to be BB Seaton and the Gaylads. That's how it's going to be. I have a title but I'm not going to say what it is! It's incognito!

You've tried more than once to get the Gaylads back together haven't you?
I've been trying to get the Gaylads back together for years. In 1991 I was trying to reform them with Delano and Maurice and we got some shows in Japan. I went to Delano and he was ready and I got his advance but when I asked Maurice he said he couldn't come because he was doing backing vocals for Bunny Wailer. I was a bit disappointed because we had a group that could be massive like Bunny Wailer and he wanted to do backing vocals instead! Then Winston had a stroke so I took Winston Francis and a guy called Diego Sensation who used to be lead singer for the Sensations as my backing vocals for that tour. Then I tried again in 2008. I was doing a show in Jamaica and suggested to the promoter that it would be nice to have the Gaylads but that it would have to be BB Seaton and the Gaylads. Everything was advertised and I came down but Maurice and Randall who we had brought in the group did not turn up so I was disappointed again.

How did the Gaylads reform this time?
Well I say "Nothing beats a try but a failure" so I came back to Jamaica last year when I heard that Randall's brother was singing with Randall and Morris and that he had died. So I sent condolences to his family and then Maurice said it would be nice if they had a third man. I said "You could have a third man easily but it wouldn't be a third man doing backing vocals for Bunny Wailer. It would have to be the Gaylads". The irony of it was that Bunny Wailer did not even say anything to the wife of the guy who died or contribute to his funeral so I was a bit annoyed with that. So what I did was wrote a song. I have a friend in Switzerland called Marc Ismael who came to Jamaica and we teamed up and wrote a song called Together Again. We recorded the song using live musicians because that was the way we wanted to go. The song wasn't a big hit but a lot of people appreciated what we were trying to do. There's a guy called Adil Nadri who is our manager now and is the leader of the Roots Harmonics band which I was working with as BB Seaton in Europe. I love him to bits.

You are about to go on tour. Will there be an album?
We have decided to do an album. I am not going to write all of the songs. We are going to redo some of the songs from the old days like I Love The Reggae and What She Do Now which I sang when we went to California on 9th March which was the Gaylads first appearance and it was sold out. People heard me singing songs I had never sung in 40 years because they weren't hits in Jamaica and it went down very well. The promoters weren't proper promoters because I was helping them out a lot but it turned out all right. We just did that for an experience. Now we are getting ready to do this mini tour. We're playing in Sweden at Oland Roots on the 14th July, then Garance in France on 25th and then London in the Indigo2.

Is Europe the place to be?
Well the world! But the Europeans seem to really love this music and a lot of Europeans are being a part of it which is great. But I love going to Japan too and Australia and New Zealand. Most of these people love reggae music. The thing about reggae music and I see it inclined to go that way is that we have to see the business side of it a bit more. We have to have our managers and people like that in place because 10% of something is better than 100% of nothing! This is how I look at it. It's more presentable. I mean, a lot of people won't do business with some of us because we are not organized and not doing the business properly. I'm not perfect but I can see some of the misfortunes and mishaps that have happened!

What is the most important thing you have learned in your long career?
My God! What a question! I think you just have to learn to be yourself and believe in what you're doing. Faith alone can't move mountains. You have to have faith in the instrument you are using to dig down this damn mountain! In other words - I am a practical person and I think action speaks louder than words. In Jamaica they have a saying "Mouth make fi say anything". This was one of the reasons why in the 80s I went into the union - the Jamaican Federation of Musicians and was the vice president for 3 years. I was the guy who called a strike on RJR to play reggae music in Jamaica getting Willie Lindo, Nambo and Dean Fraser and all these guys to join the union. This is my contribution. When you give up yourself you truly give. When you give to gain recognition it is not good. I was also the executive member of the Prime Minister's Performing Arts Committee in 1977 and I served on the Festival Committee in 1981. I go the Jamaica Cultural Development Award in 1981 or 82 for pioneering Jamaican Music and received the IRWMA too. Money is good but sometimes when you contribute and people recognize your contribution nothing is better than that.


THE VIEWS EXPRESSED HERE ARE THE VIEWS OF BB SEATON AND DO NOT NECESSARILY REFLECT THE OPINIONS OF REGGAEVILLE OR ITS WRITERS IN ANY WAY!