Review
Album Review: The Amharic - Stop And Search
12/21/2012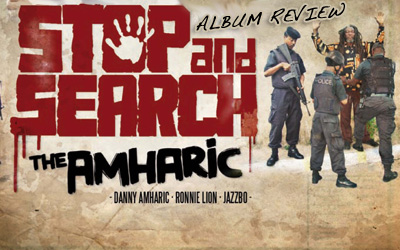 UK roots reggae has become mythic, in a way: few people who can discuss it today without a glaze in their eyes, and yet it seems to have lost much of the mainstream significance it used to have one or two decades ago. From the Brixonites of The Amharic comes a fresh album now, their fifth, that underlines that it is not the quality of the music which is responsible for that decline. It is called Stop And Search and recalls the golden days of Misty in Roots, Matumbi and others.

The Amharic evolved in the early 1990s in Brixton, around the St. Catherine, JA born lead vocalist Danny Amharic, bass player and backing vocalist Ronnie Lion, and keyboard player and backing vocalist Victor "Jazzbo" Downs. Some of the UK's most prolific reggae musicians, including Black Steel, Horseman, Bubblers, and Henry Holder have skipped in their skills to record Stop And Search. The album has been recorded both at Tuffwize Studios in London and at Big Yard in JA. The production credits go to Donald Henry.

Stop And Search comes with 13 tunes, based on carefully handcrafted roots riddims of classic grandeur. The lyrics are deeply spiritual, socially conscious, smart and deal with issues both topical and timeless. War On Man critizises the so-called war on terror as well as the one on drugs and asks why nothing is done to fight down AIDS instead. The title track talks about a slightly less serious issue most of us have probably encountered in our lives: being pulled over by the police for one of the most embarrassing ways of forcedly wasting precious time of one's life.

It is mainly the smaller and bigger wars Babylon leads every day that The Amharic deal with. As in Call To Solomon, in which the group dreams of a wise man to negotiate between war mongers and rebells. Or in Skull And Bones, an outcry against the war in Iraq. Just like the title track, Skull And Bones is an example for what, in my eyes, made UK roots reggae great: it is deeply rooted in current events in Britain and highly socially conscious, and yet the legends from the other side of the English Channel manage to wrap the message in a way that its relevance is far from being limited to the UK. It is universal.

Stop And Search is an intense album of finest musical and lyrical quality, free of let-downs. It is the adequate sound track for the upcoming apocalypse and way beyond.
---
Release details
The Amharic - Stop And Search
CD / DIGITAL RELEASE [AL.TA.FA.AN, African Postman Records]
Release date: CD 2012 Jamaica | Wordwide 6/12/2013
Tracks
01. War On Man
02. Stop And Search
03. Eden Forces
04. Call To Soloman
05. Politicians
06. One Or Two
07. Too Rought
08. Good Saints
09. Skull & Bones
10. Long Road
11. High Grade
12. Dolly The Sheep
13. King Of Kings