Review
Album Review: Suga Roy, Conrad Crystal & Zareb - Honoring The Kings Of Reggae
11/04/2016
by Gardy Stein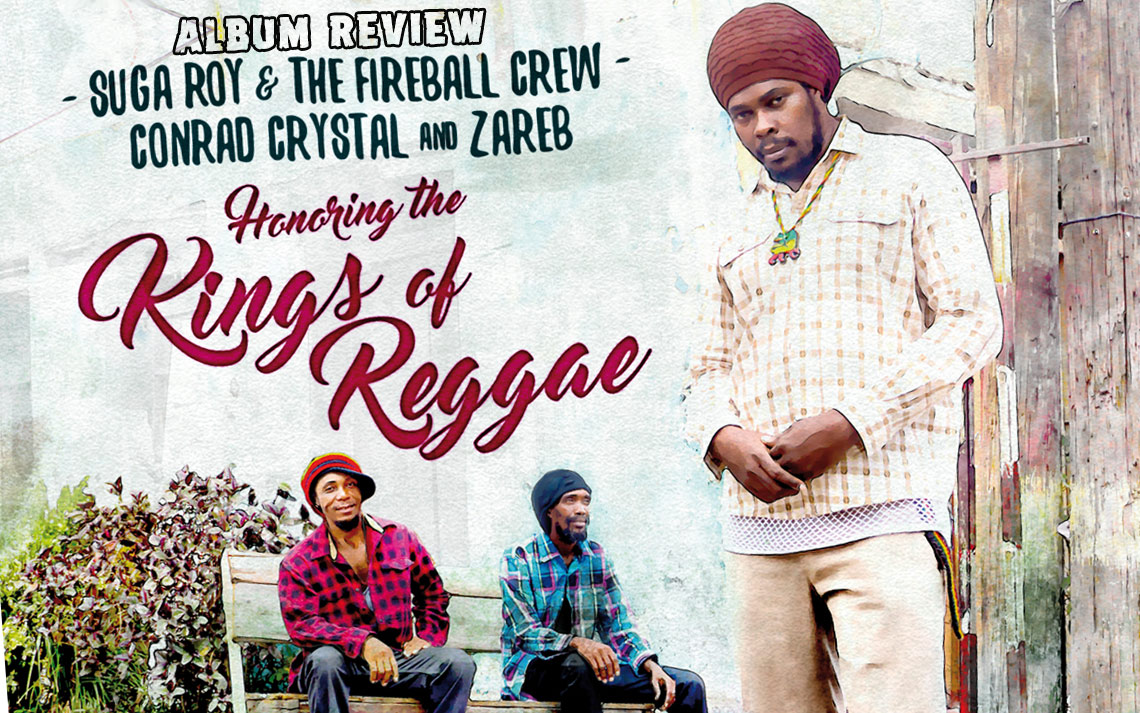 There is this thing with cover-versions... either (and rarely) they are so much better than the original that you can't stop listening to them, or they are so bad it makes your toes curl. Honoring The Kings Of Reggae nestles comfortably in between these two extremes. It is the fifth release of dream-team Suga Roy and Conrad Crystal who, along with Zareb, managed to assemble an illustrious round of artists, including Sizzla & Jah Mali (Trouble), Gyptian (Jah Jah See Dem), Terry Linen (Sun Shining Day), Krymist (The Ball Room) and Burro Banton (Moving On To Creation). Who they honour, however, is not as obvious, as the titles of the original songs have been altered, out of "respect for the original authors and their historical version", as the press release explains.

All tracks are recorded live through the joint efforts of the Firehouse Crew, the band Suga and Conrad have been working with during the last decade, as well as other first-class musicians such as the House Of Riddim Band, Natural Selection Band, Kirkle Dove, Stanley "Barnabas" Bryan, Anthony Watson, Robby Lyn, Dalton Brownie, Shane Greenswords, Hugh "Bobo" Hall, Errol "Flabba Holt" Carter, Alvin Haughton, Bongo Herman, Dorian Green, Dean Fraser, Nambo and Everald Gayle.

These icons assure an extraordinary quality of instrumental deliveries, and this is without doubt what constitutes the distinguishing feature of this album. Songs like Do You Remember The Days (Burning Spear's Slavery Days), We All Singing The Same Song (Same Song by Israel Vibration) or Gregory Isaacs' beautiful lover's hymn All I Have is Love (here: Love Is All I Have) shine bright with haunting brass sections, bubbling organs, body-shaking bass and all the little percussive gimmicks that make a track truly interesting. Mixed by yet another master of his craft, Bobby "Digital" Dixon, the tracks are destined to run on biiig speakers.

One of the most outstanding tunes is Shanty Town (Desmond Dekker's 007) featuring Busy Signal who, with his unrivalled flow, adds to the kick of freshness the interpreters bestow on this classic song. Country Roads, on the contrary, is a track that should have been left out, despite the Jamaica-related lyrics. I still wonder which Kings of Reggae are honoured here - Toots & The Maytals did a version in 1973, but it was only a cover of the original song written by US-Country-singer John Denver.

Another remarkable feature, and the fact that has contributed immensely to the success they enjoy, is the combination-style-delivery of Crystal the singer and Suga the DJ. They don't always reach the vocal splendour of the original legends they cover (Musical Hot or the umpteenth version of Jimmy Cliff's I Can See Clearly Now are definitely a matter of personal taste), but with exciting twists and turns and lyrical additions, they make evergreens such as Satta Ganna (Satta Massagana by The Abyssinians) a new listening experience.

The album Honoring The Kings Of Reggae is a bit like cake - not necessary to survive, but a sweet thing to have on the shelf. And the efforts taken by the producers to make these foundation tunes shine in new glory deserve recognition and respect. Yes, the legends are living on in our memory, and with works such as this one, they are brought across to yet another generation of listeners.
---
Release details
Suga Roy & The Fireball Crew, Conrad Crystal and Zareb - Honoring The Kings Of Reggae
DIGITAL RELEASE / CD [Fireball Records]
Release date: 11/04/2016
Tracks
01. Mix Up Attitude
02. Trouble feat. Sizzla & Jah Mali
03. Take Me Home Country Road
04. Shanty Town feat. Busy Signal
05. Do You Remember The Days
06. The Ball Room feat. Krymist
07. Sun Shining Day feat. Terry Linen
08. Satta Ganna
09. We All Singing The Same Song
10. Jah Load
11. Moving On To Creation feat. Burro Banton
12. Leopard
13. Musical Hot
14. Jah Jah See Dem feat. Gyptian
15. Love all I Have
16. Be Careful Stealing
17. Suspicious
18. Rock Rock Steady
19. Carol Am Depending On You
Featured artists
Busy Signal
/
Burro Banton
/
Gyptian
/
Terry Linen
/
Sizzla
/
Zareb
/
Suga Roy & Conrad Crystal