Review
Album Review: Skarra Mucci & The One Love Family
04/26/2018
by Gardy Stein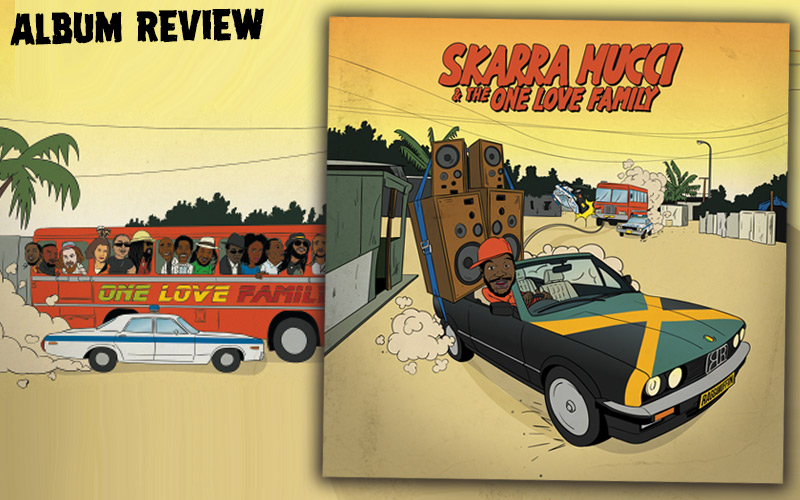 Ooops, he did it again! Skarra Mucci surprises the Reggae world with a fresh release that explores all corners of it. The artist who first stroke my attention in 2005 with the good-mood-tune Bonx It Pon Me featuring Switzerland's Ganglords now presents his seventh studio-album. Skarra Mucci & The One Love Family is title, description and mission statement at once, as it hints at the fact that there are more than one or two people involved here. Indeed, taking a look at the track list you'll find that, from the 15 tunes included, 15 are features!
According to the press release, this is what happens when someone like Skarra tours the globe: connections are made, creative ideas exchanged, and – rrrring – 'Hey, let's record a track together!'.
Impressive is not only the who's who of the featured artists (we'll come back to them later), but also the producers represented. From good old Germany, Oneness Records (12, 14) and Soul Force (5, 6), from neighbouring Switzerland Weedy G (02) and the Austrians House Of Riddim (09) are as part of the dynamic diversity as Sicily's Jah Sazzah (03), Poland's Dreadsquad (10) and France's Irie Ites (04), Diversité (07) and Old Capital Records (11). All other tracks are produced by Undisputed Records, who kept a watchful eye out on the whole thing.
This internationality is perpetuated from riddim to vocals. We hear Spain with Little Pepe in Follow Me, New Zealand's Moana & The Tribe in Fire In Paradise and Treesha from Germany in Love You Like 123. Both power and tempo are considerably stepped up with our French friends from Dub Inc, whose They Want is one of my personal highlights, and Yaniss Odua with Raggamuffin School (the riddim of which you might recognize as the Maad Sick Reggaeville Riddim). Of course, the UK mustn't be left out, and with junglist Navigator, the track Warning! Warning! receives a perfect lid.
Hardly surprising, Jamaican compatriots have a prominent role, too, starting with Teacha Dee in Telephone Love and Phantom IMC with True Gyalist, which is out on video since 2016. Hawkeye (Can't Stand It) and King Kong (Old Time Guerilla) continue with some old-school Dancehall-vibes, but that's not as veteran as it gets. With a remake of their 1967 hit Tonight, Keith & Tex appear in Gimme The Luv, and in a similar feat, Ken Boothe transports his millennial When I Fall In Love to the sound-killa-tune When We Kill (however, a bit less lyrical slackness on Skarra's side would have been appropriate in the face of these two masters). The unmistakable voice of Echo Minott (Wicked & Wild) adds as much to the release as does Horace Andy in It's For Real, another favourite of mine. Sunny, a cover version of Bobby Hebb's 1966 original, has Chezidek closing the illustrious round and, without revealing too much, it's worth letting this piece run til the end! Thing called hidden track…
Nothing to hide about this release, though. Skarra Mucci & The One Love Family is a fun, diversified album (graced by an equally fun cover-art-work by Florian Weigel) that owes its allure to the well-chosen artists and producers who are a part of it, and to the man who brought them all together – Calvin C. Davis aka Skarra Mucci!
---
Release details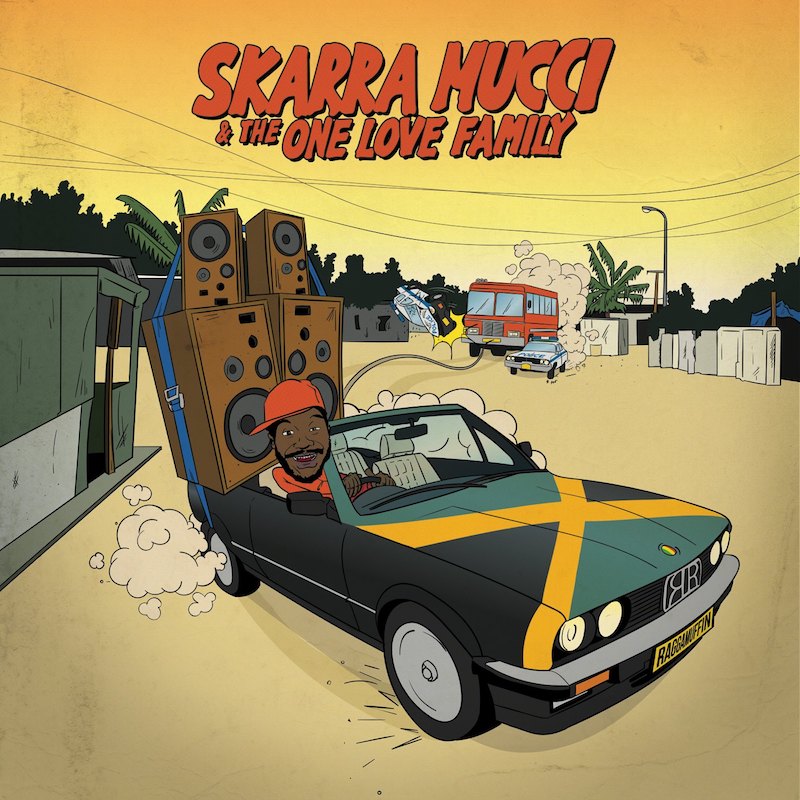 Skarra Mucci & The One Love Family
DIGITAL RELEASE [Undisputed Records]
Release date: 04/20/2018
Tracks
01. Telephone Love feat. Teacha Dee
02. True Gyalist feat. Phantom IMC
03. Warning! Warning! feat. Navigator
04. Wicked & Wild feat. Echo Minott
05. When We Kill feat. Ken Boothe
06. Gimme The Luv feat. Keith & Tex
07. They Want feat. Dub Inc
08. Raggamuffin School feat. Yaniss Odua
09. Can't Stand It feat. Hawkeye
10. Follow Me feat. Little Pepe
11. Old Time Guerilla feat. King Kong
12. It's For Real feat. Horace Andy
13. Fire In Paradise feat. Moana & The Tribe
14. Love You Like 123 feat. Treesha
15. Sunny feat. Chezidek
Featured artists
Keith & Tex
/
Chezidek
/
Dub Inc
/
Yaniss Odua
/
Teacha Dee
/
Phantom IMC
/
Ken Boothe
/
Hawkeye
/
King Kong
/
Horace Andy
/
Treesha
/
Echo Minott