Review
Album Review: Skarra Mucci - Greater Than Great
05/19/2014
by Gardy Stein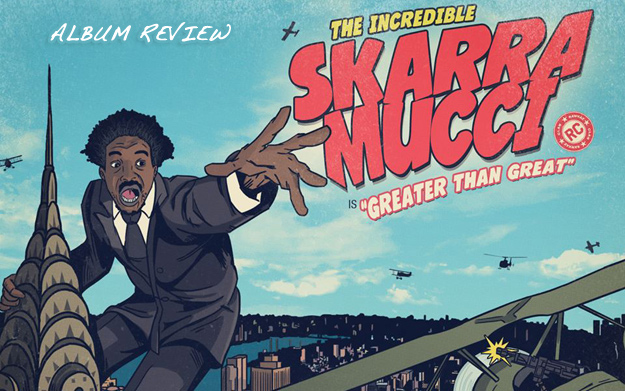 There are some artists everybody has heard of and who have been in the business for decades, but who still seem to linger in the background of the international Reggae-Radar somehow. One who is on his way to jump on stage, grab the mike and claim his well-deserved crown is the Lyrics Millionaire a.k.a. the Dancehall President a.k.a. the Raggamuffin a.k.a. Skarra Mucci.

Having recorded countless features, singles and four full-fledged albums so far, his number five is on the way to your attention. Greater Than Great is the modest title, an assertion aptly illustrated by the cover-art, depicting the singer as a human King Kong on the front and a stage-hungry Hulk on the back.

On a very powerful riddim (remindful of our beloved Under Mi Sleng Teng – awwww, that bass!), the album starts off with the title track Greater Than Great, a crisp production from Dreadsquad. Its unmistakeable 90s-Dancehall-flavour is kept alive in the next two tunes as well. With a clear homage to Sister Nancy's Bam Bam, in Not Impossible To Me we follow the juicy story of a man who prides himself to have the ladies fight over his "Long John" (and he is certainly not talking about his tall cousin). Parental advisory!

Bim, kill him, di Raggamuffin... Another Bizarri production, Come Fi Tek Ova is the perfect backdrop for Skarra Mucci's rough vocal delivery. It's so nice to hear this original oldschool-style again in a time where too many new productions are either auto-tuned, digitalized and over-computerized or so grimly conscious and accusing that smiling seems out of place - let the playfulness take over! As you might sense from these first three titles alone, Skarra presents himself with extremely self-conscious lyrics: he is greater than great, has come to take over and nothing is impossible to him.

Moving on to the next tune (produced by Mucci's own Rawkaz Clan), we are boarding the Love Train. Intended to be the next Summer Hit (and definitely not without the potential to become one, at least in Europe), the tune loses a bit in its appeal due to the vocal insufficiencies of a singer called Alex. He is featured twice (again in Tear Drops along with a strong performance of Mandinka Warrior), and although this might seem like a questionable choice, the remaining collaborations have been well picked. In Bomboklat, Perfect and Skarra on the Stop That Sound riddim are an utterly pleasant experience, but then again it's self-evident given that the French Irie Ites Records is by now well reputed for its high quality productions.

As a second compatriot, Teacha Dee adds a nice flavour to the equally nicely produced Forward Ina Di Dance (on a recycled Swing Easy riddim) and the dubstep-infused Red. While Get Gal, Dancehall Energy and Marihuana have left me rather unimpressed (be reassured that Ganja-songs are NOT compulsory on a Reggae-Album!) and War Dem Get is a great tune but just a bit too martial lyric-wise, Life So Rich, Bubbler and especially the Soulove-produced Boxing are just right if you are in a dancing mood. "Feel di bassline ina u middle center!"

Now, what makes my middle centre explode is My Sound. Probably the most exciting tune of the album, upon listening it will make your colours a few hues brighter, your air a few degrees warmer and your day a bit better. Mainly, this effect is the achievement of the underlying original of Wendy Rene (After The Laughter), but apart from that, the whole arrangement is just audible perfection.

All in all, the album is a fine, mood-lifting little thing that doesn't take itself too serious. Most of the tracks have been around for some time, so you might well get the impression to meet an old friend. Let's hope that Skarra Mucci can touch base and find recognition in his homeland Jamaica once more. Well, he can be certain of the recognition of international listeners I guess - hard work always pays off!

It go so: "Stingdingdingdingdingdingdingdingdingdingding…"


---
Release details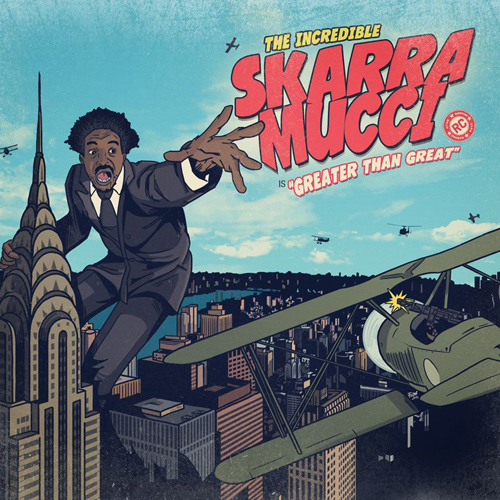 Skarra Mucci - Greater Than Great
CD / DIGITAL RELEASE [Undisputed Records]
Release date: 05/19/2014
Tracks
01. Greater Than Great
02. Not Impossible For Me
03. Come Fi Take Over
04. Love Train feat. Alex
05. Boxing
06. Motherfucka
07. Bomboclaat feat. Perfect
08. Forward Inna Di Dance feat. Teacha Dee
09. Life So Rich
10. Dancehall Energy
11. Get Gal A.K.A. Mr. Pleasure
12. War Dem Get
13. Red feat. Teacha Dee
14. My Sound
15. Tear Drops feat. Alex & Mandinka Warrior
16. Bubbler
Featured artists
Mandinka Warrior
/
Perfect Giddimani
/
Teacha Dee