Festival Report - Reggae Jam 2019
08/02/2019 by Gardy Stein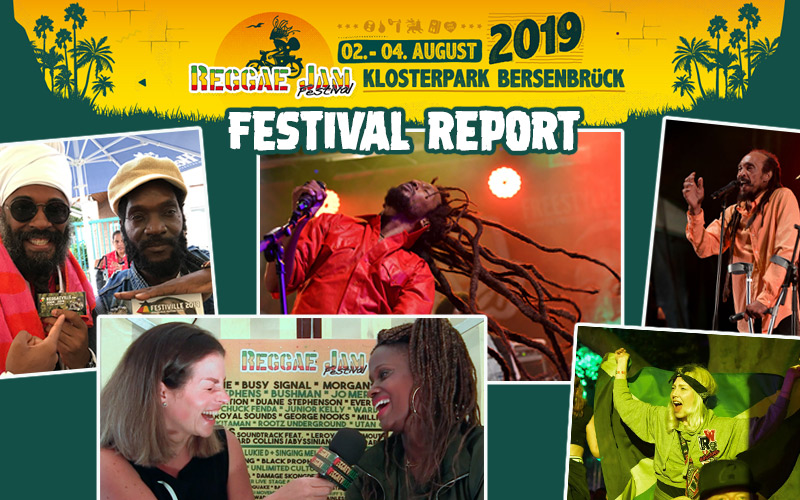 With warm sunshine, picturesque white clouds, a fresh breeze and an occasional refreshing drizzle, the small northern city of Bersenbrück welcomes us for the 26th edition of the one and only Reggae Jam. Starting Thursday, August 1st, Germany's favourite Reggae Festival (according to Riddim's Reader Poll) once more opens its treasure chest, presenting 40 bands and artists on two adjacent main stages, more than 50 soundsystems in the Soundsystem Tent and at Riverside Disco as well as Da Sandwichmaker and Roostplague Dubcamp, which are very special worlds of their own.
THURSDAY, AUGUST 1ST - KICK-OFF WITH BERSENBRÜCKER HOSPITALITY
Excitement hovers. The town is invaded by guests from all over Germany, probably even beyond. From the cashier at the supermarket to the ladies who run the accreditation office, everyone makes you feel welcome here, and nobody seems to mind that the annual state of exception has settled in. In a symbiotic relationship, the festival has grown with and through the acceptance and support of Bersenbrück's inhabitants, resulting in a special vibe which is one of this weekend's very unique features.
We'll take you on a daily runthrough, inviting you to accompany us on some of the many golden moments of each day (and night). Feel free to add your personal highlight in the comment section below!

WATCH ALL VIDEOS HERE & PHOTO REPORTS HERE!
6:31pm
To the sound of Samba drums provided by the city's band Bloco Sambanale, we erect our tent at the Crew Camping grounds, kindly offered to press, security, staff and soundsystem-crews alike by the festival (shout-out to Joanna and Volkmar!). From here, the hot weather convinces us to stop by for a short visit at the public swimming pool, slide and springboard and all, so the holiday feeling gets an early chance to take hold firmly.
8:12pm
Chalwa Sound is still rocking the speakers. With a slight delay due to a shower of sweet summer rain, iLLBiLLY HiTEC and Longfingah open the Dubcamp Stage. It will be their last performance at Reggae Jam, as the formation announced that it will cease at the end of the year. Until then, only a few chances are left to see them perform, so this one has to be taken! Gidi on drums, Alex on the controls and Longfingah on the mic have enthused audiences all over the world, and it's no hard task to bring this across to the little crowd hungry to dance on the patch of straw-covered field. From The East To The West, Higher Calling and Keep Rolling are well received, inciting movement under the setting sun. A big surprise is the introduction of Alex' follow-up project SISA ME, a vocal marriage of singers Avia and Ben, backed by Alex and Gidi. "You are great!" shouts a man when Avia takes a final bow, handing the mic over to Longfingah again. He sings a couple more songs before Zion Garden takes over, flooding the place with bass.
10:30pm
Waiting on some friends under the Ferris wheel (which looks a little out of place here), we get to meet Jürgen and a group of his friends, all of them living or born in Bersenbrück. They tell me how they went to school in the building behind us, how one of them lives right behind the hill of the camping grounds and how they always enjoy coming to this festival which started as a small soundsystem on a truck with 150 people. Jürgen says that on his way here he saw some of the older inhabitants enjoying the spectacle by propping up chairs in their garden or on the balcony. Those who live in direct vicinity of the festival grounds are even offered free tickets to attend concerts of artists they might have never seen or heard before. Good to see this positive cultural exchange - and to know a collaboration like this can work!
11:22pm
A small detour to Da Sandwichmaker is rewarded with bumping into a bunch of people you often get to meet once a year only, these encounters being another beautiful feature of festivals such as these. Steffen, Ellen, Pete, Lisa, Unlimited Culture, Fabi and crew - big up! In the Dancehall-Tent, something nice is cooking sound-wise, and Team Reggaeville is almost complete, celebrating the reunion backstage. The tasty Rum Punch (the exact number of glasses consumed eludes me and anyway doesn't really matter) is certainly in part to be blamed, but a much more important reason for the ensuing dancing craze among us is the fine 90s selection of Sheriff's Soundpatrol. When artist Teacha Dee entered the backstage, it took only a few minutes for him to get ready for an unplanned appearance on stage, where he performed two songs [Watch the video below!]. Festival organizer and reason-of-its-existence, Bernd Lagemann aka Sheriff is in his element as MC of his sound, and he passes a warm welcome on to the people present. "Enjoy the festival, take good care of yourself!" he says before handing over to Sensi Movement.
Until 3am, Bass Station keeps up the Dancehall vibes at the tent, while Sunfire Sound and Roots Plague Soundsystem make people dance at Riverside Disco and Dubcamp respectively. Thank you, Bersenbrück people, for allowing us to thus gather in your beautiful city!

FRIDAY, AUGUST 2, 2019 - CIRCUS, ECOLOGICAL TRAINING AND LIQUID SUNSHINE
Friday morning is warm enough to start the day with a round of swimming in the pool. Since there is plenty time before the concert program starts at 6pm, we take the chance to walk around the premises, eating a light breakfast at Bersenbrück's friendly Bakery Overmeyer. While most people get in gear slowly, diesntangling themselves from tents and sleeping bags and fatigue alike, a group of African drummers is already wide awake, accompanying us with a variety of riddims on our way to the Dubcamp.

3:23pm
When Subtone Circus takes over the controls, the Roots Plague Tent is cleared for the youngest visitors. With hoops, juggling equipment, mats and fascinating infinty rings, the Circus Workshop starts to the delight of around 50 children of all ages (and some grown-ups who join in the fun, too). In high demand is also the Rootsplash Waterslide, leading into the Hase river which however is so murky that a subsequent shower is necessary.
6:11pm
Refreshed, fed and expectant, Team Reggaeville has assembled to set up the backstage "office", from which you are provided with a constant flow of festival impressions. Joseph Blue Grant opens the stage today, playing with his Stillcool Band of eight. It is a laid-back intro into this first concert day, and the steel drums add an exotic touch to their performance during which they present their new album Help This World Survive. "Don't destroy this world, save it for our children!"

7:04pm
Backed by the fine Evolution Band, three artists are set to share the next slot. Denham Smith takes the first 30 minutes, introducing us to songs like Waiting, Catch A Vibes or Rub-a-Dub Man, the latter resulting in a vigorous dancing movement. His cover of Dennis Brown's Revolution is beautiful, and to those who are as intrigued by the singer's remarkable voice as I am, need to check out his new album Old School!
The musical embrace provided by the band intensifies when the next artist steps up: Treesha! It is clearly audible that band and artist know each other for the longest time, as both Evolution Band and Treesha have been on many a tour with Gentleman. Here, the then background singer presents her solo qualities, and what she makes us hear so far is great. Don't Do It for instance, a cry against police brutality on a militant marching pattern, stress her likeable stage presence and her strong, soulful voice that works fine with both slower pieces and the Dancehall vibes she ends her show with.
These are immediately picked up by Damage SkongDem, a Jamaican artist who invites what must be his son on stage, a little boy of 3 or 4 years of age, not much bigger than the mic he holds. We follow the rest of his show on the screen backstage, where a deep spiritual conversation is going on between Stephen Newland and the legendary Everton Blender. They follow how a lightly dressed dancer wines up on stage, and Stephen's comment when, for the last song, Treesha appears alongside Damage SkongDem, is: "He bring out the daughter now to save him with culture!"
8:33pm
Ees and the Yes-Ja! Band take over the main stage with their dynamic mix of traditional Namibian rhythms, Reggae and whatever it is that makes their show such a nice experience to follow, despite the drizzling rain that has started. "Stop exploiting our country, stop killing rhinos!" the singer pleads, and many hands are raised in support.
9:05pm
For those who follow our Facebook Live Stream, the show of Rootz Underground is started from the band's backstage view, documenting their preparations. What follows is a deep musical trip that owes a lot of its power to the commanding Rockstar-attitude of singer Stephen Newland. Lightning The Magnetic is his alias, and thus the skies feel inclined to oblige as lightning strikes, thunder rolls and rain falls again. It suddenly seems to be a very good idea to have some tasty diner right now at Ivan's Jamaican Cooking Stand, since their benches are roofed over.
10:50pm
With Israel Vibration, two of the formerly three Roots singers are guests here again, their last visit dating back to 2013. In respectful awe, the audience follows their 45 minutes slot, applauding especially the Ska-section and the crutchet-dance interlude of the veterans. With the melodious Survival, they set the mood right for the rest of the night (one day, you'll get this report in rhymes).
11:23pm
Ready to plunge into the Ward 21 craze? The crowd is thick by now, thickest between the ancient tree and the stage, where we dare to venture. Their second song Mic Magician is my mobile ring tone since I don't know when, and it won't change anytime soon. Kunley "Kunz" McCarthy, Mark "Mean Dawg" Henry and Andre "Suku" Grey know how to run a great show, and theirs is the most humorous so far. For instance, when Suku announces that they have a very special guest straight from Jamaica, leaving stage in order to bring him out, then jumping on again, singing Slew Dem with a Sizzla-voice and cracking up with laughter. Or, when they start to sing the cussword-song Spot The J (for the album review Still Disturbed, I counted the word f**k 125 times). Their show contains probably more swear-words than we hear during the whole festival!
00:17am
The moment many waited for since news of Raging Fyah's break-up became public: Kumar and his new backing band the Habaneros bring back many of the tracks that have become dear to us. "It's been a while, Germany!" Kumar says, leading through his show in an expressive, stagy manner. Milk & Honey, Jah Glory, Brave or Dash Wata sound good in the new line-up, but both Try Again and Judgement Day lack the intricate harmonies and sheer momentum they had before. But since they belong to a more or less recent past anyway, Kumar looks ahead with a few brand-new pieces, the beautiful Dem Nuh Real for instance. Looking forward to that album coming up!
1:22am
Tanya Stephens is in high spirits. The way she rules the stage and toys with her vocal abilities is a pure pleasure to watch, and it's obvious that she enjoys this show. Celebrating strong women with tracks like These Streets or Handle The Ride (on the Lecturer riddim). It's A Pity is, of course, a pull-up business, and when she takes her leave after roughly 45 minutes, an aura of satisfaction and fulfillment hovers over the crowd.
2:09am
Alborosie and his Shengen Clan nestle comfortably in these vibes, adding their very own glow to the setting which feels similar to last year's show. But instead of being the headliner of the festival's last day, as in 2018, this is only Friday and we still have the whole weekend ahead of us! Also, for some mystic reason, today's performance seems so much better than any I've witnessed from them so far, with both singer and band members in best possible shape and mood. The energy seems to intensify with each song, starting with Poser and gaining momentum with Rock Di Dancehall. In between these, the bassie does some crazy things with his instrument while Albo keeps up a constant exchange with the crowd, telling us that "Do you see the fun we have on stage? One thing you have to remember, you have to love what you are doing!"
Another memorable moment is when he calls Kumar on stage and, together, they sing The Unforgiven. In combination with the summer air and the well-orchestrated light-show, this is pure goosebumps! Leading the audience through a sing-along, Pupa Albo ends up in a scorching delivery of Kingston Town, sending the people out into a fragrant night full of promises.
4:44am
Yes, Silly Walks, this is a worthy finish of an eventful festival day. Taking over from Barney Millah for one last hour of dancehall madness, they play Sizzla, Buju and of course some of their own riddims (Brigther Days and Honey Pot). The tent is filled to the brim, hot and smokey but enjoyyyable to the maxx, with people from all walks of life celebrating together the music they love. Unity!

SATURDAY, AUGUST 3rd - WHAT A BAM BAM!
It was a long night, so there is not much pre-festival-activity we could report about. The morning is a quiet one, a bit cloudy, which is a blessing for all those camping (as it becomes impossible to sleep when the sun turns tents into bakeries). Obligatory start of the day is Ganjaman's breakfast show, so we make sure to be there on time!

1:31pm
"It's so nice that you are here!" are the welcoming words Ganjaman sends out after the first few songs of his set. His pensive, emotional lyrics are in best hands possible with the Evolution Band, and so this early concert experience is a very touching one. After tracks like Lass Sie Los, Alphabet and Wir Gehen Diesen Weg, he invites everyone for an open church service for people of all confessions held on Sunday with the words: "There is so much more that unites us than religion. Let us come together and celebrate the absence of hate, which means peace!"
He sends out a shout-out to Bersenbrück's mayor, who is there watching, and thanks sound engineer Helmut Philipps, as well all other technicians and crew members who make this festival possible. After sharing out the traditional breakfast-snack lovingly prepared by the kitchens, surprise guests Toké and Memoria's Chaski and Inti join the artist to make a song each, rewarded by loud applause and shouts from the crowd, remarkably big for this early morning hours. Well, it's actually noon, but as Ganjaman says, we have a different chronology during the Reggae Jam weekend.
3:05pm
Unlimited Culture have just finished their refreshing set, and, as always, singer Lenny managed to bring a smile to people's faces with his Reggae inna Bavarian stylee. Meanwhile on the Main Stage, a group of instrumentalists has comfortably assembled: the Sofa Connection is here! It looks cozy, with most artists sitting and children added to the line-up with rattles and shakers, only singer Gracy and the saxophonist are standing on their mics. They take turns performing: right now it's Moses singing about Money Worries, after him Sebastian Sturm takes over, accompanied by Dr. Ring Ding on trombone. The high musical level makes their show a pleasant one to follow, ending it with the covers International Herb and The Harder They Come.
Turning left again, a gloriously attired Black Prophet starts his show. The Ghanaian artist has released his last album Stories Of Life in 2016 and is now busy recording more music with the likes of Dean Fraser, for which he travels to Jamaica frequently.
4:26pm
Time for a field trip: gathering at Da Sandwichmaker's, we witness what will become one of my personal highlights so far. Tóke and his percussionist Cookie are already set up and start one of the legendary Sandwichmaker Jam Sessions, presenting some of his own as well as freestyle songs. "You are precious the way you are. You don't have to buy or possess anything to be of value!", "We have to show solidarity to the people who help refugees at the sea rescue!" and "Fire pon Inlandflug!" are some of the messages put across by Tóke, while some fellow artists line up behind him during a tight cover of Bam Bam (no. 1!).
Lenny of Unlimited Culture, a young Berlin artist called Jon Moon and the Memoria-brothers Chaski and Inti join in the fun, impressing with excellent vocal and instrumental skills and showing us the core of what music is able to do. Unity, messages and communion!
5:12pm
Back to the Main Stage, we catch the last conscious tunes of Uwe Banton, a veteran of Reggae in Germany. He plays Love Light and Sweet Sativa, and people once again sway happily along to these flowing riddims. When we turn to the Special Stage next, I-Fire from Hamburg explode on the audience, which had a pretty relaxed day so far but are challenged to move now. Champions and Dubadubade are two of the dance- and jumpable tracks from their repertoire, and, according to an announcement by singer Dub-ill-you, this is bound to expand with an album released over the next months.
6:51pm
For those who are awake by now and hungry for more, Millon Stylez has the right dose of Dancehall-infused Reggae music. Backed by the Fireman Crew, he jumps from World Crisis via Equal Rights & Justice and Revelation Time, disappearing from stage after the first two seconds of Miss Fatty Fatty. This is not accepted of course, and the applause brings him out again quickly to make us happy with his hit. Guest singer Danjah gets another spot as well before both artists wave goodbye.
8:01pm
In a criss blue-and-white outfit, Utan Green continues the program. His strong voice rides classic riddims provided, once more, by the Evolution Band, and he covers the likes of Rebel Music or Heathen as well as some of his own songs. Fellow Jamaican artist Teacha Dee joins him for one surprise piece, and Utan takes his time to "big up Bianka, Kathrin and the whole crew!" before he leaves. Appreciation is so important!
8:36pm
By now, the place is full, and still more and more people stream in. Veteran Everton Blender has taken the Main Stage, and it's into this "golden hour" before sunset that his distinct vocals drop, creating a beautiful atmosphere as colours and lights are intensified. "For 20 and more years now, the good songs in Reggae were put aside and they promote only the fun songs, the party songs. This has to change! Reggae is message music and I am the messenger!" Everton states, delivering classics such as World Corruption, Ghetto People Song and Lift Up Your Head. Vibes as people move and groove along!
The rain is kindly absent today, which is nice on the one hand, but makes dust clouds rise whenever people dance or just walk past. That's why, half into the show, I opt to take refuge in our "office", where Teacha Dee happens to pass by and tell us about a family trip he did with the kids today, horse-riding and all, and how surprised he was when Utan Green asked him on stage for a song.
9:29pm
With a spectacular light-show, Mono & Nikitaman start their concert. I am told later that they brought along special lighting equipment which has swiftly been installed by the stage technicians, and all this effort has been worth it. Their music enrichens the festival with yet another accent, making people go wild both with outtakes from their current album Guten Morgen Es Brennt and older pieces. Oh what a state of exception!
10:15pm
A little detour to the Riverside Disco powered by Sunfire Sound, where Silly Walks play yet another set (but this time from their Afrocentric treasure chest), reveals that this is a very nice spot to hang out as well. You can either join the dancing action going on right infront of the speakers, or you sit on the bank of river Hase, watching the lights' reflections and taking a moment to digest all the input this day has provided already. Sentinel Sound is up next, but we can't linger, as Jahbar I already started playing on the Main Stage.
11:07pm
It's a special treat to experience artists live that, hitherto, you only wrote an album review for, especially when it's as gripping as the one Jahbar I delivers. Every time he starts a song from his recently released album Jahbar I Deya, I look around to see people's reactions, and what I see is positive throughout.
11:47pm
Announced as an artist whose great-grandfather was German, Junior Kelly unfolds his energies on the Main Stage, going from acoustic through Rock-infused to his signature tracks such as Smile. It's full everywhere by now, and the audience obviously enjoys his little excursion into Bam Bam (no. 2), Rebel Music and We A Push Di Fire - Sizzla fans deya!
00:21am
For Bushman, we squeeze our way throught the crowd for a rewarding close-up experience under the tree. The artist has a full 45 minutes set ahead of him, as the Reggae Jam organizers have set up a strictly organized time schedule, and make sure that it's kept. From his most recent album Conquering Lion, he presents the title track, followed by a brand new song produced by Don Corleone called So Me A Say. He ends his set with a tribute to Peter Tosh, leaving the people in a happy state and handing over stage and backing band to I Wayne. Titles such as Living In Love and Can't Satisfy Her from his debut album Lava Ground made him a person of interest in 2004, and since then he is known over here as well. Towards the end of his set, he presents newer stuff as well, including the bedroom-lyrical Golden Touch and a song against abortion on the Waiting In Vain riddim.
1:50am
Morgan family ina di house! A deserved headliner, Morgan Heritage sing to a maximum crowd after some technical difficulties have been sorted out. Strictly Roots begins the ride, and they have the audience's full attention with the subsequent Don't Haffi Dread. "Make some noise for Gregory Isaacs, Alpha Blondy, Dennis Brown, Burning Spear and Peter Tosh!" demands singer Peetah Morgan, a demand the people duly meet. Always remember the foundation!
The Liberation riddim drops into the perfect atmosphere at this moment, and people sing along loudly to its different versions Liberation, Jah Jah City or Mount Zion. When Gramps brings up his son Jemere next for an intense delivery of their song Try Jah Love, I can't help but smile at the thought of how nice it is to build something like this with your children (the Morgan family affair is further on display in the band's set-up, as Mojo's son Esh Morgan plays guitar). When asked if Jemere can play another song, the answer is an unanimous "Yes!", and Morgan Junior presents Troddin from his recent album Self Confidence. Reggae Bring Back Love does exactly that, and in a subsequent medley, we are led through a Dancehall-medley with Bam Bam (no. 3), Heads High and Gimme The Light. With an extended Dem Gone riddim excursion, they remind us that we have Works To Do and, closing with a powerful flourish, send us home (in my case) or into the waiting sonic arms of Soundquake and Sentinel in the Dancehall Tent or Roots Plague Sound at the Dubcamp.

SUNDAY, AUGUST 4th - WHEN THE DUST SETTLES, WE'LL GO TO THE PROMISED LAND!
First Sunday of August, last day of Reggae Jam. Music, friends and fine weather made this weekend pass by much too quick, but we still have a full festival day ahead of us. None of Team Reggaeville got up early enough to make it to the inter-religious church service at 10:30 am, but we hear that it was a wonderful event with almost 500 visitors, including pastors Jan Wilhelm Witte and Jürgen Kuhlmann as well as special guests Ganjaman and Bernd "Sheriff" Lagemann. Equipped with such divine blessings, this day must be a celestial one!
12:13pm
With a musical summary of the adventures of Reggaehase Boooo, the stage program starts with the traditional puppeteer special for the youngest festival visitors. Children of all ages have assembled and follow, smiling, open-mouthed or with brows furrowed in concentration, the songs the little rabbit Boooo and his friends present in part 4 of this loveable play. A full band called Yellow Umbrella has assembled to provide music, dressed up as frogs, while Ska-Bird and Panda-bear aka Dr. Ring-Ding appear as guest instrumentalists.
1:02pm
Only a few kids remain for the next act, most of them fleeing the hot sun in pursuit of icecream or swimming pool. The Special Stage now hosts a more grown-up act anyway: Vuyani Mbutuma aka Vido Jelashe from Berlin, backed by the Evolution Band. Despite his thorough musical training (he studied Jazz in Kapstadt) and years of band experience, the South African singer never really got a breakthrough-hit, but his and the band's talent make his show a relaxed start into the day.
If it wasn't for the bis screen in between the stages, I would have missed it, but a camera reveals that Sheriff is in fact standing on (the darker parts of) the stage with Vido, and then, another surprise, artist Rasta Benjie takes over the mic for one song.
2:29pm
Yes, I've heard of them before, and I've seen brothers Chaski and Inti perform a nice set at DaSandwichmaker's yesterday, but to experience this band in full effect is a whole different thing. Memoria are definitely my discovery of the festival! Having missed them at SummerJam, I made sure to be there from A to Z this time around. The eight band members lower the age average considerably, as none of them is older than 24, and the remarkable thing is that they have started already five or six years ago already! Time enough to mature into serious musicians, as sisters Eva, Alma and Greta on guitar, keys and saxophone, as well as Emil, René, and Rafael on drums, bass and guitar definitely have. The frontmen not only sing, but play instruments as well: while Chaski grabs the trombone now and again, Inti picks up the trumpet to add to the brass section.

Their lyrics range from inter-religious understanding in Royal Soldier via Marijuana in Legalize My Mary to Babylon in, well, Babylon. Latin flavour is spicing up their music as well, as part of the band has roots in South America, and in an Afro-Peru-Venezuelan interlude with drums and call-and-answer singing in Spanish, they give a much more authentic impression than during the aforementioned, Rasta-inspired texts. "We are so grateful for this opportunity - thank you Sheriff, that we are allowed to be part of this!" says Inti halfway through the set, and we all feel that he really means it.
3:08pm
Watching Memoria means missing out elsewhere, but so it go. Luckily, my colleagues Eljer and HoRo didn't shy away from the hot and dusty trip to the Dubcamp, where Sankofa Soundsystem and Red Stack Sound welcome the Jamaican vocal trio Kushart. Before they dive into some of their own harmony-driven songs (a great complement to the area's Dub concept!), they start with a few well-known Ska & Rocksteady tunes, e.g. 54-46 Was My Number.
Meanwhile over at the Special Stage, Dr. Ring Ding covers that same Toots original, calls both the doctor (Call Di Dakta) and to say I Love You and then moves on to cover Bob Dylan. His good-natured, humorous way of interacting with the audience are not only the reason for his popularity among them, but also for being asked to be the festival's moderator along with Ganjaman and D-Flame.
3:32pm
The latter announces newcomer Lila Iké on the Main Stage, and when she steps out into the torrid sun in a dazzling iridescent white suit, my first thought is "Wow, she looks fly!" directly followed by "Damn, she must be hot in there." Accompanied by her band of four, she first sings an extended version of Biggest Fan, followed by Gotti Gotti and the brand-new I Will. On the Promised Land riddim, she then delivers Love & Affection and continues with the as yet unreleased Sweet Motivation, proving her songwriting skills in lines such as "When she speaks to me, I hear a song." Her set ends with a cover of One Love, during which she lets several spectators in the first row sing along through the mic.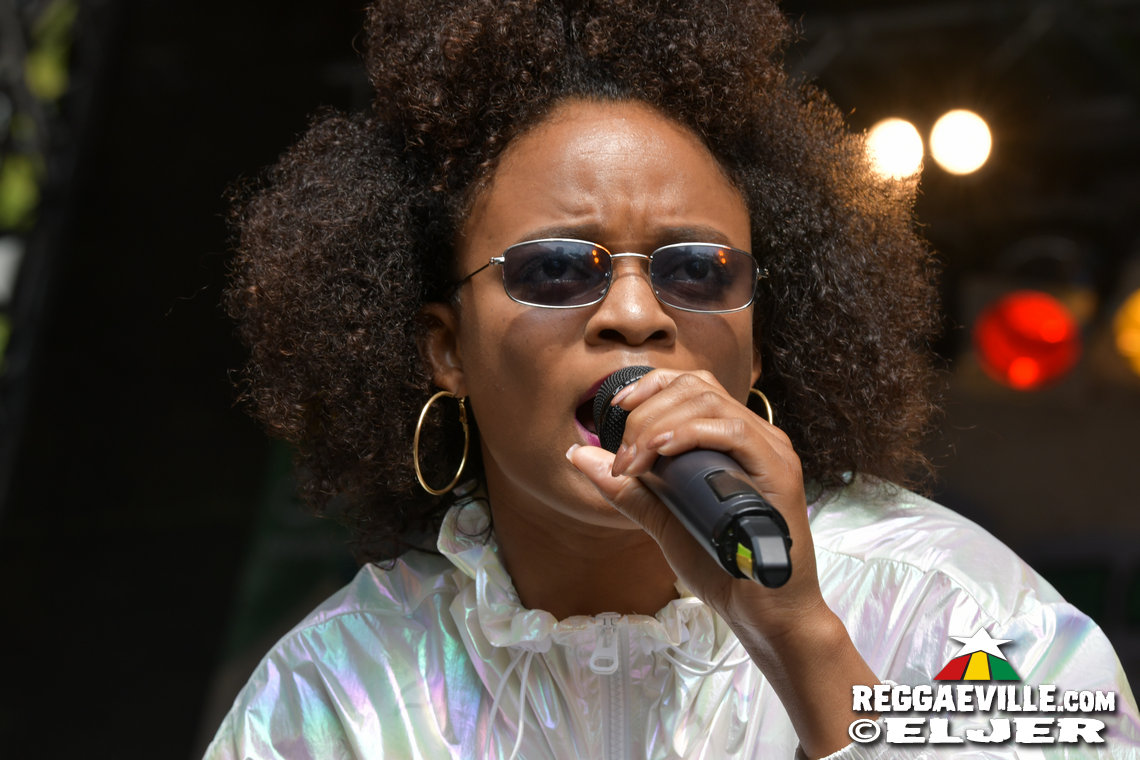 With Lila, Sheriff invited a true bomb, not only because she is a great female artist outta Jamaica, but also because she adds yet another unique touch to the festival, giving the younger festival visitors something to hook onto: strong, urban, confident!
4:24pm
Sadly, Jo Mersa Marley couldn't make it to the festival; luckily, Micah Shemaiah and the Dreadites are there to substitute for him. On stage with Matthias on percussions and backing vocals, Giant on drums and Ela on bass as well as two keyboarders and a guitarist, they bring some deeeep Roots vibes across, visibly enjoyed by those present. Original Dread, Zion Trod or Roots I Vision are three of the many original tracks this exceptional artists has created over the last years, and since he is clearly on the height of his productive phase, we can certainly expect many more from him in the future.
Wishing that I could freeze time, I enjoy the peaceful picture of this moment, watching the scene from behind the FOH: a colourful crowd dancing to the sound of Micah's warm, soulful voice, while other artists such as Uwe Banton watch from the side of the stage, rocking and swaying along. Pure vibes, pure love!
5:34pm
The fire that Micah has thus lit is failed to be kept burning by the next band, Royal Sounds. Although they have conscious lyrics and fervently bring their message across ("Too much violence all over the world, it has to stop!"), both musical and vocal delivery lack the oomph to engage the audience - to be honest, I've never seen the place so empty this time of the last festival day.
Joining some friends on the hunt for food, we use the occassion to stroll around the vendor's stalls. You can find everything from T-Shirts and hats via jewellery and drums to crafts and vinyl, and of course there is a wide range of culinary delights to choose from. Jamaican Jerk Chicken, Hanseatic Fish Burgers, Arabic Falafel, Thai Noodles or Senegalese Mafe - there is something to meet every taste.
The HELP! Jamaica stand has just sold their last 10 lottery tickets, making a man very happy with an admission pass for Reggae Jam 2020, and the Riddim tent hosts singer Duane Stephenson for an extensive Meet & Greet. All smiles!
6:22pm
George Nooks starts his show with yet another delivery of the beautiful Promised Land riddim, played by the House Of Riddim band who is backing him. The singer who has turned to Gospel rather than Reggae after his grandmother passed away in 2001 continues with a string of cover songs ranging from Dennis Brown's Money In My Pocket via Someone Loves You Honey (originally written by Don Devaney) to Jacob Miller's Tenement Yard, and his silky vocals make his performance an agreeable experience. When, however, technical problems increase (there is a constant feedback) and the cover-business turns boring when Mr. Nooks reaches Bridge Over Troubled Water, we decide to check what's going on at DaSandwichmaker's.
7:08pm
In session: Lenny of Unlimited Culture, an African daughter at his side, and Harry on drums and guitar in turns. After a while, Jamaica's Amlak Redsquare takes over, freestyling to the cheerful little crowd that has assembled. Steffen Prase aka DaSandwichmaker is quite busy serving the hungry customers with yummie Sandwiches (and the thirsty ones with Red Stripe or Rum Punch), but in between he comes out to follow the musical art on display here, smiling.
7:35pm
Smiling also, we return to the Main Stage to give Duane Stephenson the chance to make us fly away - a chance he more than takes! With wonderful tracks such as Rasta For I, Ghetto Pain, a song he wrote when he was only 14 years old, or the brand new Empress Sativa on the Buff Baff riddim (big up Real People Music!), he makes me realize that his music should feature much more on my playlist, and the news that he will release an album called Exile To Dreadites later this year are welcome indeed. Duane says "Let me take you back to House of Leo, Kingston, the original days of Dancehall. Stone Love!" and dives into yet another sweet delivery of a conscious livication to the good old days, mentioning Buju and Freddie McGregor and so on. Only the continuous technical problems diminish the sonic joy of this concert slightly (there is a constant low buzz on stage, and the background singer's mic is much too low), so get a grip on that, Mr. Engineer!
8:01pm
Chuck Fenda almost throws himself into the crowd when he starts his show, telling people why he is called the Poor People's Defender, The Hottest Man On The Planet and The Living Fyah. Attitude! While the gaps in the crowd are closing as people keep trickling in for "la grande finale", more and more arms are raised when the singer presents his well-known hits like I Swear, All About Da Weed or Murderer. His powerful interaction with the audience (which he even manages to wake enough to jump, kicking up the dust that had been allowed to settle before) turns into a deeply touching encounter when he talks about his poverty-stricken background, growing up without mother and father, and the struggles people face in Jamaica's Ghettos. Overcome by emotion, his voice breaks and he is unable to continue for a moment, sinking into a compassionate hug by someone in the first row. "I love you!" he continues to say, taking his leave with This Is A Warning, the acoustic Oh My Lord and a big-up to the organizers, the artists who performed before him and Busy Signal, who is up next.
9:19pm
The "Turf President" aka Busy Signal starts his show with an energetic intro, ploughing through Hustling and Unknown Number which is followed by a medley of Bedroom Bully and Gyal Yuh Good. Being the women's darling he is, of course tracks like One More Night and Night Shift can't be left out, and Reggae Music Again finally loosens people's tongues. Come Over is pulled up instantly, and the slow-mo passage in it is a sweet treat, livicated to "my ladies". By now, night has almost completely fallen, and the stage is enchanted by the colourful lights during the Ska-excursion 007. "Ain't nuttin like feeling welcome somewhere - you are the reason why I am here tonight. Thank You!" Busy says, leading us to a stormy final with Dreams Of Brighter Days that has a sea of lighters and phone screens flashing up, Watch Out Fi Dis and the Major-Lazer-collaboration Jump (more dust rising during the jumping frenzy here) and the final Jamaica Love.
9:57pm
Lukie D, Thriller U, Singing Melody and Tony Curtis - together they are L.U.S.T.! Formed at the dawn of the 21st Millenium, they've had plenty opportunity to grow together and blend their differently flavoured voices which have, prior to this joint venture, impressed as solo artists already. Starting with an acoustic Let It Be, their intro is turned into the unforgettable Zion Gate riddim by the House Of Riddim Band. Remarkable is a full 25 seconds of holding the note in "Oh Loooooord!", by who I think must be Singing Melody. It's kinda hard to tell who is who from the distance, but it doesn't really matter as their sonorous vocals wash over us. I just wish they wouldn't do so many covers, as today has been full of that already, and, honestly, who wants to hear Wind Of Change at a Reggae Festival?
They are back on track with deliveries of sweet originals like My Love, I'll Prove It To You on the Things And Time riddim as well as their latest single as L.U.S.T., produced by House of Riddim, called Mama Africa.
11:00pm
As "the cherry on the cream of the cake", moderator Dr. Ring Ding announces the next and final act: Rockers! Considerable efforts have gone into the preparation of this performance, both on the side of the artists and musicians involved, who have worked on it for over a year now, and by the organizers who have managed to bring these veterans here. Starting with Ska beats (during which technicians try to correct the feedback), almost the full and original Rockers crew is on stage: Kiddus-I, Leroy "Horsemouth" Wallace, Big Youth and Bernard Collins of The Abyssinians, accompanied by KushArt and Lloyd Parks & Band.
The first full song presented is the unforgettable Satta Massagana, followed by Junior Byles' Fade Away, a heartfelt livicatin to an artist who, sadly, is in no fit shape to perform himself. Next we hear Police & Thieves, in which Lloyd Parks himself sings (almost reaching the high-pitched notes the original, but deceased singer Junior Murvin so effortlessly hit) while simultaneously playing bass, followed by We Are Mafia, a fine section by Kiddus I including a rebellious rendition of Stepping Razor and then Big Youth. Clad in a sparkling golden jacket, he brings across Boris Gardiner's Every Nigger Is A Star in his unique, eccentric way. "Hello, Reggae Jam!"
After a fine delivery of Marcus Garvey, Big Youth causes an awkward moment of consternation when he says "Marcus Garvey said, Germany is for Germans, so hail up all Germans. And Africa is for Africans, those home and abroad! Hail Mama Africa." Of course, we all know the Pan-African context of these words, but still, with all that Nazi bullshit going on in Germany right now, that's not a good thing to say, even if it's a quote by a historic figure such as Marcus Garvey. Lets rather move on to the other quote we all can agree on, "We need to live and love each and every day!"
Horsemouth takes over now. With the words "I am a drummer, I am an actor and I am a singer. Who's seen the movie Rockers?", he acts a scene of the movie, after which he says "I represent all those who are gone, Gregory Isaacs, Dennis Brown, all of them. Now I represent Burning Spear." To the sound of wind (or waves), he sings an acapella-version of Jah No Dead, then taking his place behind the drums to continue singing (and playing) Rockers. "I'm rocking, you're rocking!" is the track that closes their show, uniting all artists and even Sheriff on stage again. And even though the curfew has already been outrun, they give an encore of The Book Of Rules - no vocal highlight, but certainly an emotional one!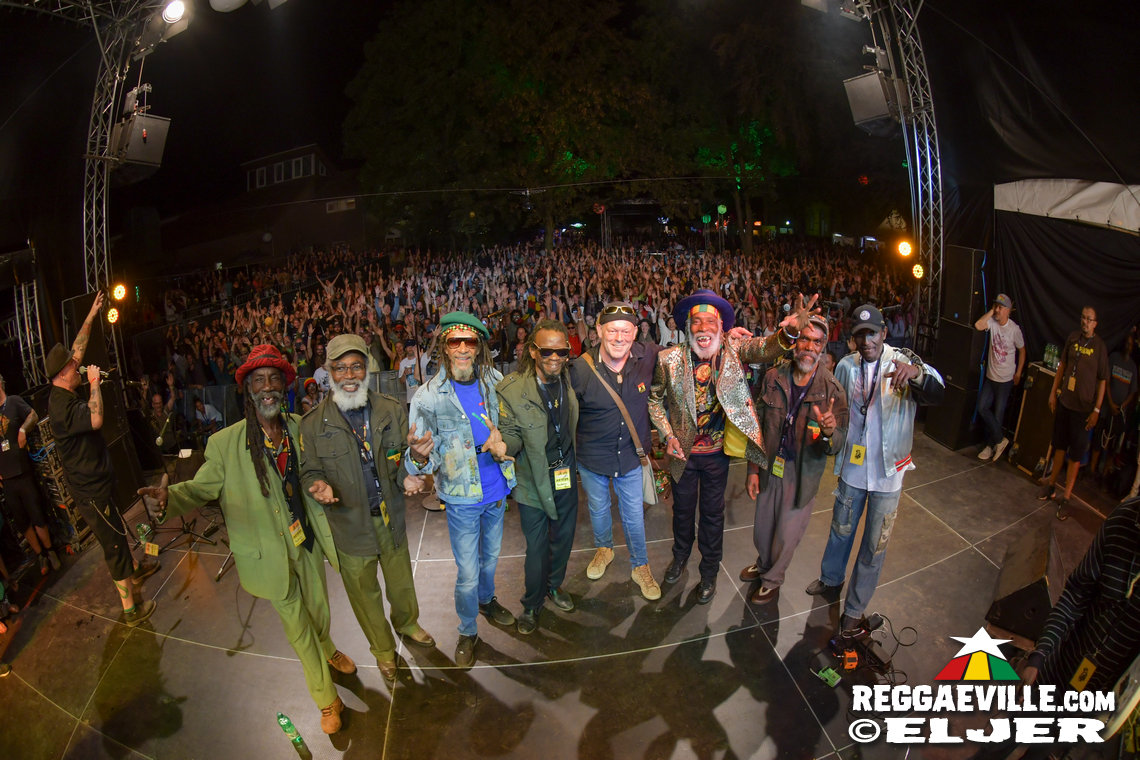 0:26am
Sheriff then addresses the visitors, expressing his gratitude to all the video, light and sound engineers, to technicians, moderators and volunteers, to caterers and securities, in short, to everyone involved, and especially to the city of Bersenbrück. Its mayor Christian Klütsch bestows a huge certificate to the 25th anniversary of the ReggaeJam Festival, stressing that it is for every one present. It is an official recognition of "the festival's contribution to the enrichment of cultural life and the tolerance of many people, as it is a symbol of supranational understanding and togetherness. I am proud to be part of this!" With a part of the helpers on stage, the traditional jump-picture is taken, and then attention is shifted to the other side where the brass band Rote Heide is ready, playing Three Little Birds.
For the first time ever, I realize that there is indeed a polonaise in the crowd. A few people at first, soon about a hundred dance in a circle around the ancient tree - a beautiful sight and a fitting conclusion for this exciting, magical, musical weekend. Team Reggaeville returns to our backstage office for a last round of exchange, for packing up and saying good-byes to the ReggaeJam-family.
1:05am
And thus it ends. Roughly 10.000 festival visitors leave the old Monastry Park, chatting, smiling, commenting on the shows they have seen, digesting the experiences they have made. If they feel anything like I do, head and heart filled to the brim with beautiful moments to take home, they are happy. As always, we manage to put into words just a fraction of what has been going on (I missed the Yoga sessions and most live acts at the Dubcamp, for instance), so please add whatever you feel has been left out in the comment section below. Team Reggaeville says BYE til next year!

REGGAE JAM 2019 VIDEOS & INTERVIEW HERE!
REGGAE JAM 2019 PHOTO REPORT HERE!