Review
Album Review: Set Up Shop Volume 2
12/23/2014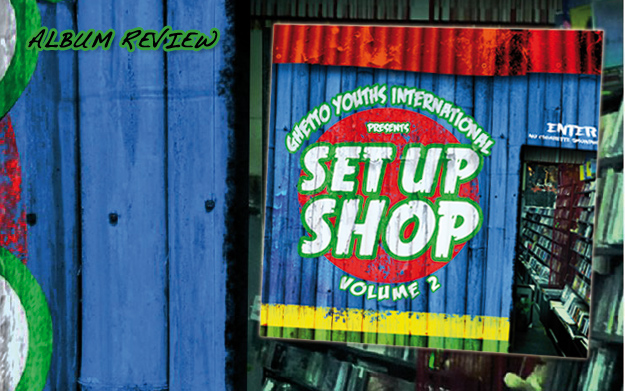 The Marley brothers release Set Up Shop Volume 2 on the heels of their highly successful venture into the pleasure cruise business and the Welcome to Jamrock Reggae Cruise triumph in October. The first volume released in early 2013 and included the theme song Set Up Shop that emphasizes the cultivation of various, scaled income streams. Continuing the themes of economic development and progressive movements that were put forth on the song, Damian continues to explore wealth building and self-reliance on the Volume 2 lead track, Hard Work. One of the best tunes of 2014, the groove is tight, the artist rides the rhythm effortlessly and the poetry in the lyrics is classic Jr. Gong - accessible, respectful and full of imagery that can reach the ears and penetrate the psyche of many types of listeners.

The consistent elements here are welcomed and familiar in terms of the Marley brothers and their production techniques. Cinematic builds open each tune like movie trailers, multiple acoustic instruments are added like seasoning to a pot of ital stew. The moral standards "set up shop" with no offensive language or questionable arguments made, its like a love letter to Marcus Garvey, and a tribute to the "Black Lives Matter movement rolled up in one big grabba-wrapped spliff.

An admirable pursuit, self-determination and encouraging others to follow the path despite the resistance. Its the central thesis of this compilation which features the various "youths" in the Ghetto Youth camp. For Living Breed the smoldering bridge with African-influenced chorale vocal tones sets the mood for reflection in a post-colonial Diaspora. The artists featured include Damian Marley singing the chorus while these artists trade lines - great new upstart Black-Am-I, son of Stephen Marley: Jo Mersa, and rappers Illustr8 and & Biggz General. Damian explores territory he and Nas ventured in their groundbreaking 2010 album - Distant Relatives with scathing lyrics delivered in a first person slave narrative about the horrific Middle Passage, "On the journey, rudders and bows, brand and burn me just like a cow. I might catch scurvy but anyhow, there is no gurney. And he's seasick bruised up and sore, and he couldn't take it and jump overboard, now I must worship a foreign god and pray in a foreign town." Biggz General breaks up the tension using a film script line, "Ain't nobody here but survivors, ain't nobody here but us," as the African chorale tones serve as salve for these festering wounds.

Singjay Wayne Marshall sings about life choices and coming off of the corner in On The Corner inspired by the REM tune Losing My Religion". Reminding us that we "live with our decisions" he aims to mentor the youth. Christopher Ellis, son of ska and rocksteady titan Alton Ellis, uses the classic Jamaican idiom, "If you can't be good than be careful" and expands on it in Roller Coaster -a morality tune about life in a world so cold. Ellis chants to "be very wary of your vibration " and "when full of pride there is no space for wisdom" and ultimately if "you can't be good than please be grateful…." Set to the smoking hot ska grooves of yesteryear, it is this artist's individuality as the son of a vintage artist that shines on the rhythm. What strikes the listener about both Wayne Marshall and Christopher Ellis on these particular songs is the use of auto-tune. What is missing is the rawness, the heights that the live show and analog style recording can reach musically without the use of modulation or using auto tune to expand on reggae vocals rather than turn them into something like pop.

But then again, the Marleys are very "tuned" into what is happening in hip-hop and pop music and incorporate these trends in their studio sessions in the quest for that top 100 spot. There are times when we need to hear the reggae in its fullness without any filter and this album feels like one of those times. Case in point is Bongo Nya a Stephen Marley masterpiece which released through Soundcloud in June, 2013. It blazes pure patois on the attributes of true Rastas, or at least those that are in the Nyabinghi order. Stephen is not alone on the track, he just inspires others, Damian and Spragga Benz to further explore principles like procreation while at the same time promoting the upliftment of the "queens". In his lines Spragga lays out the practices of the "real" Bongo Nya including a great rhyme about being "properly attired" while you "hail up the Messiah".

Damian chimes in again in Is It Worth It (Gunman World)" which explores the eery corners of a killer's conscience. Instead of trodding the worn path of gun violence in Jamaica, Damian creates universal imagery in an innovative short film-style music video set in Morocco. Directed by Nabil Elderkin who has videos with Kanye West, Nicki Minaj and Frank Ocean under his belt and his co-director Francesco Carrozzini, they explore the essence of this song. Featuring actor Saïd Taghmaoui (American Hustle, La Haine and Three Kings) who takes on the role of a hitman-for-hire we go through a day in the life of a North African who happens to be both a father and an assassin. Although it appears to complicate the issues, perhaps it simplifies them by providing a glimpse of humanity. Its message being that the hit man is not a rich man but part of the system that devalues life in favor of profit.

The song itself is chanted over the Rootsman rhythm that does not actually come from the Ghetto Youths mixing console. It is familiar as the Here Comes Trouble groove for the Chronixx tune. There were several other gems that came out on it back in February 2013, produced by Winta James and Overstand Entertainment they included those by Jesse Royal, Jah9 and Iba Mahr.

Riding a smooth one-drop Black-Am-I preserves culture and music industry and commerce with In The Ghetto an ode to the sound system and street dances that sprouted dancehall and the reggae movement as a whole. With its adorable chorus, "In the ghetto, more dance fi keep, things tough but the music sweet", Black-Am-I implores, "Don't lock off the dance, give the youths a chance, love is what we need, let the people be." It's the answer tune to the great Joseph Hill and Culture classic, Peace and Love (In the dancehall). With keyboards that echo the Culture tune and as the centerpiece of this classic roots groove, Black-Am-I shines!

Possibly the most pop tune on the album is the love song sure shot Sunshine by Stephen's son Jo Mersa. It is just a wonderful roots and culture dancehall-pop song. A flawless chorus bookends lovingly written lyrics that reject violence against women with "we argue but we avoid the scuffle, upon your face I won't place my knuckle." Although it released back in June on Jo Mersa's Comfortable EP, message straight to the bigger heads at Ghetto Youths, push this a tune ya to the major pop leagues, a shaat!

Julian Marley wears the crown as the King of patience in the Ghetto Youths camp. His rumored new album production being squeezed in and around Stephen Marley's Revelation Part II: The Fruit of Life, which has had several reported release dates as Ragga records his own opus to his highest standards and they group their releases in succession in order to set up shop properly. On Never Too Rough we get a healthy dose of what is to come in terms of musicianship and songwriting with that Bob-style vocal delivery. In combination with the eminent Junior Reid who opens the tune and trades lines with JuJu in the chorus, they sing a prayer or chant their own psalm. An encouraging hook rallies "Stand up in the Gideon it neva too rough". Julian chants, "Jah bless this earth, all daughters and sons of man, for Jah we'll do the best we can" and "Jah comfort my soul and keep I from pestilence, strengthen my heart and comfort me. Right through my trod, guide I on this journey, never give the enemies strength to conquer me." The groove seems to spring right from the live stage.

Jo Mersa, again comes in with a pop-styled jam, this time he chants elegantly, inna ragga muffin style over a driving vintage tinged one drop on "Rock and Swing". Gwan youth, sing out, "I don't want no, and you shouldn't want to be outside of Zion gates…."

Damian and Stephen Strike Hard inna nice dancehall style bashment devoted to the dancing ladies, pointing out all the attributes of her wardrobe, how she smells, and how she "heed every step I step, you done win di race when dem can't reach yet." While hailing the healthy body gals and conscious ones Damian connects dietary habits to "body good a vegetarian lunches." Girl vocals shout "strike hard" encouragement - like cheerleaders in the background. This song was originally released as part of a crowdfunding campaign in support of the Jamaica Women's National Football Team aka the Reggae Girlz.

Wayne Marshall and Tarrus Riley sing a glorious ballad, unfiltered and boundless in Nah Give Up with its wonderful vocals, shared by the combination and a stunning grouped chorus that evokes a church choir. Tarrus leads the charge, singing this line two times for emphasis: "You lose the race before you start if you doubt yourself." The groove drives and builds and resolves itself beautifully as the gospel vibes move the message and set up shop in the heart and mind. The song closes simply with Tarrus chanting…"I was down until triumph came."

To complete the compilation, the brilliant Black-Am-I sings Dwelling over a militant Nyabinghi pounding heartbeat produced in this epic major motion picture style that leaves a final impression of confidence on the soul. He provides a simple closing prayer giving thanks for shelter, a place to lay ones head, the joys and refuge that nature can provide and gratitude for "still feeling healthy lord".

This compilation has something for everybody, Garveyites, entrepreneurs, world citizens, lovers, dancers all will be inspired to Set Up Shop again! If there is a volume three it may have to be in the form of a motivational DVD complete with speeches and dance instruction to prepare for the Gideon!




---
Release details
Various Artists - Set Up Shop Volume 2
DIGITAL RELEASE [Ghetto Youths International]
Release date: 12/23/2014
Tracks
01. Hard Work - Damian Marley
02. The Living Breed - Damian Marley, Black-Am-I, Biggz General, Jo Mersa & Illestr8
03. On The Corner - Wayne Marshall
04. Roller Coaster - Christopher Ellis
05. Bongo Nyah - Stephen Marley feat. Spragga Benz & Damian Marley
06. Is It Worth It? (Gunman World) - Damian Marley
07. In The Ghetto - Black-Am-I
08. Sunshine - Jo Mersa
09. Better Than Love Remix - Christopher Ellis feat. Irie Love
10. Never Too Ruff - Julian Marley & Junior Reid
11. Rock and Swing - Jo Mersa
12. Sh@t - Cham
13. Strike Hard - Stephen Marley & Damian Marley
14. Nah Give Up - Wayne Marshall feat. Tarrus Riley
15. Dwelling - Black-Am-I
Featured artists
Damian Marley
/
Black-Am-I
/
Wayne Marshall
/
Christopher Ellis
/
Jo Mersa Marley
/
Spragga Benz
/
Julian Marley
/
Junior Reid
/
Tarrus Riley