Review
Album Review: Tarrus Riley - Healing
08/27/2020
by Gardy Stein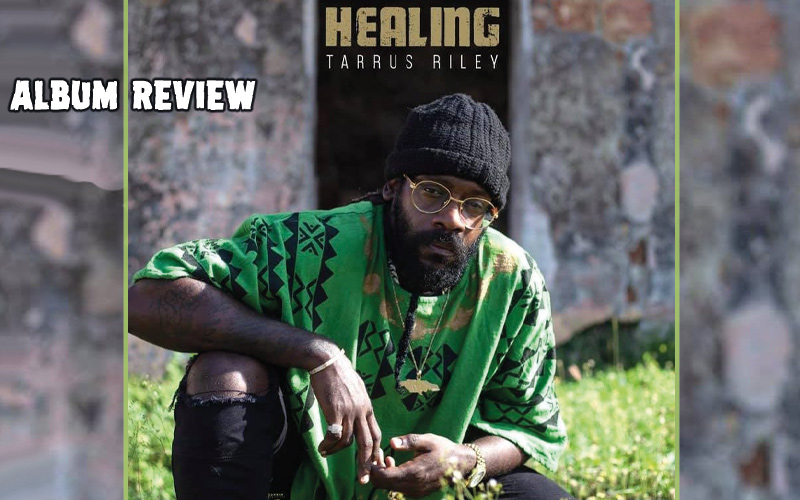 "There's a time to love, time to feel, time to hurt and a time to heal." (Tarrus Riley, The Week)
What do you lack most during lockdown and social distancing? For me, it's live music. Standing in a dense crowd of smiling people, jumping or singing along to favourite songs is a crazy, intense, collective energy thing that's really missing these days. Especially hard to substitute is the pure musical bliss high-quality concerts of the likes of Tarrus Riley and The Blak Soil Band staged on a regular basis, leaving their audience rapt with joy every single time.
That this feeling is mutual was revealed at Tarrus Riley's appearance on the virtual Reggae Sumfest, where the artist said that he misses his fans. Channeling the energy not spent on stage into a constructive project, Mr. Riley came up with a brand new album called Healing, created exclusively during the COVID-19-lockdown.
All tracks but one were produced by Shane C. Brown, with essential input by Dean Fraser and Tarrus himself, skilfully recorded by the instrumentalists who usually accompany the artist on tour: Glenroy Browne (bass), Mitchum Chin (guitar), Dean Fraser (sax) and, a new addition, Kirk Bennett on drums and keys. Thus reveling the live feeling, let's just pretend to listen to this fine album in concert style!
The stage is set, musicians ready, lights slowly fade in, the intro starts... and here comes the unmistakable voice of Tarrus Riley, guiding us through The Week! A calm piece assuring us that there is a time to heal from any blow life might dish out, it's a perfect start into this experience.
Up next, we hear the more challenging beats of The Great Equalizer, a funk-tinged affair both in tone and arrangement that gets the audience moving. Guest artist Okeil McIntyre contributes a shiny trumpet while we try to figure out who this Equalizer might be that levels all differences - God, the virus, the lockdown?
Out on video since June, the title track Healing asks what this new world of social distancing will be like, testifying that "love is a vaccination, stronger than medicine". The song sits on a saturnine beat, reflecting all the insecurities, fears and dangers of these demanding times, the disquieting feeling reinforced by a low-key humming and marching steps in beginning and end. The grim atmosphere is kept up in the subsequent Babylon Warfare, a track that sees Timoy Jones aka the UpTopBoss aka Teejay enter the stage, an up and coming Dancehall artist managed by Romeich Entertainment. His melodious, casually slurred delivery presents an energetic contrast to Riley's lower, raspier voice.
Despite an equally serious topic, Poor Immigrants (a cover of and tribute to Jimmy Riley's eponymous song) lifts the mood considerably due to the vibeful riddim that brings instant movement to our imaginary crowd. Can't you just see the band skanking as one infront of your inner eye? Likewise, Family Tree, an appeal to embrace your extended family and strengthen ties to your relatives, has that signature, bright and balladesque instrumental that seems predetermined for Tarrus Riley's emotional singing style.
After a short break, the concert continues with a different sound, provided by star-producer Rvssian. Lighter features the great vocalist Shenseea, and coupled with Tarrus' wicked MCing, this fast Dancehall-beat throws us back to the great combination tunes of the late nineties. Pull up and come again!
That we are, however, firmly rooted in the present is brought across by Connect Again, not only by its Trap-influenced beat, but notably by the lyrics everyone can relate to: "I can't wait til the world opens up and we touch and connect again!" An incredibly versatile Konshens dips the tune in his vocal honey, making it one of many stand-outs of the album.
Featuring Dexta Daps (who himself has just released his album Vent), My Fire is a self-motivating track relying on samples and EFX by Shane C. Brown. The lights are now dimmed to be Together In Moments Everlasting (T.I.M.E.), a quiet track accompanied by Wade Johnson on keys, Glenroy Browne on bass and, once again, the formidable Dean Fraser on saxophone. Close your eyes and let Tarrus' voice lead you astray!
Outside, it started to rain and thunder - good thing we are assembled all cozy in front of the speakers. In a most beautiful Nyabinghi style, enhanced by a dreamy flute by Zoë Brown, Remember Me is an ardent prayer to The Most High, asking him to guide us through these days. A sweet surprise is the appearance of Riley's children Akilah Joy, Tsehai and Mekiem in the chorus. Family ting! With this treat, our listening session is almost over, but before Tarrus leaves the stage, there is - of course - an encore.
Gathering the powers of everybody involved, the final track Blessings boldly defies the possibility of a negative outcome of both your personal and our global situation: "There is a blessing coming, when you least expect it!" No better way to close this exceptional release - a true Healing and living proof that challenging situations have the potential to bear something great! Thank you, Dr. Riley, I do feel much better already.
---
Release details
Tarrus Riley - Healing
DIGITAL RELEASE [JukeBoxx Productions]
Release date: 08/28/2020
Tracks
01. The Week - Weak
02. Great Equalizer feat. Dean Fraser
03. Healing
04. Babylon Warfare feat. Teejay & Dean Fraser
05. Poor Immigrants
06. Family Tree
07. Lighter Feat. Shenseea
08. Connect Again feat. Konshens
09. My Fire feat. Dexta Daps
10. T.I.M.E. (Together In Moments Everlasting)
11. Remember Me
12. Blessings

Featured artists
Dean Fraser
/
Dexta Daps
/
Shenseea
/
Konshens
/
Teejay