Review
Album Review: Mystic Bowie's Talking Dreads
06/20/2018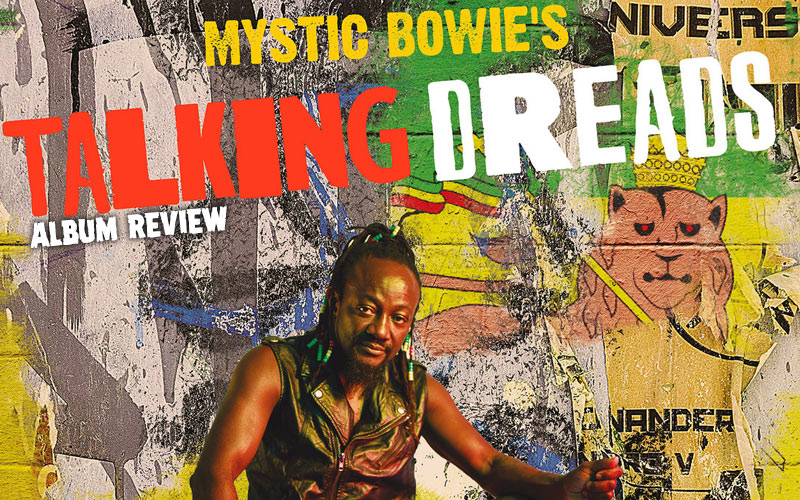 Mystic Bowie's Talking Dreads is a homage to the long-lasting legacy of Talking Heads. In the 1980s, the music of Talking Heads was ground-breaking in terms of post-punk and new wave, and now in 2018 Mystic Bowie pays tribute to the foundational band in the form of a Reggae album dedicated to their greatest hits.
Nobody would have ever thought that Psycho Killer, Burning Down The House or Pulled Up by Talking Heads would make a fine Reggae tune or even be suitable for an album project this size. Mystic proves the opposite with his debut album. The musical cast of the album is almost a guarantee for quality: from veteran singers like Freddie McGregor to up-to-date artists like Tarrus Riley; from Reggae guitar legend Ernest Ranglin to Dean Fraser on the saxophone; and from Kirk Bennett on drums to Lincoln Thomas on guitar - both of whom have played for McGregor for decades - the album is a homogeneous masterpiece of Roots Reggae. It is refreshing and a welcome variety to hear those ornamented lyrics of Talking Heads singer David Byrne on 15 elaborate Roots Riddims.
The album's instrumentals certainly lay the foundation for this great piece of art. However, it is Mystic Bowie's voice that forms strange yet familiar sculptures of word power and sound on this solid musical soil. It is many things, but definitely not monotonous. Musically as well as lyrically as colourful and diverse as a Steep Pulse album and as spirited as the Wailers, Mystic Bowie's Talking Dreads leads us into many different corners of Reggae music, allows them to shine in a new light and builds bridges from lyrics that originate from another genre with a similar mission. A Fusion worth trying for all who love either Talking Heads, Reggae, or both.
---
Release details
Mystic Bowie's Talking Dreads
DIGITAL RELEASE [Mystic Bowie's Talking Dreads]
Release date: 06/15/2018
Tracks
01. Love Goes to Building On Fire
02. Slippery People feat. Tarrus Riley
03. Burning Down The House
04. House In Motion
05. This Must Be The Place
06. Once In A Lifetime
07. Pulled Up
08. Life During Wartime feat. Freddie McGregor
09. Crossed Eyed And Painless
10. Shakedown Street
11. Psycho Killer
12. Piece of My Heart
13. Heaven feat. Cindy Wilson
Featured artists
Tarrus Riley
/
Freddie McGregor