Review
Album Review: Iba Mahr - Diamond Sox
11/20/2015
by Gardy Stein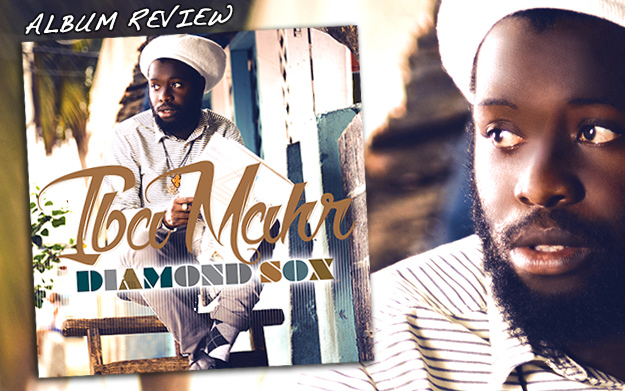 Sometimes, the book of life has to be hewn in rough stone, every new page a struggle to fill. At other times, however, chapter after chapter seems to flow freely from the quill, its quick progress taking us places we didn't plan to go but seem to be destined for. An unavoidable destiny has been fully embraced recently by a man from the beautifully named Jamaican district Time & Patience. Mario "of Harar" (shortened to Mahr) Greaves adopted the African name Iba of which he was told it means calm and humble, thus a perfect description of his unpretentious demeanour.

His debut album Diamond Sox, produced by Jermaine Edwards and Roland McDermot for Born Rollin Productions, is a logic consequence of the EP Great is HIM that was released (but not much heeded) last year.

Like lighthouses, the Capleton feature Clean And Pure and title track Diamond Sox stand out from the 15 songs included. Apart from the original solo-version of the latter, purchasers are also rewarded with the celebrated Tarrus Riley remix. Clean And Pure is a crisp combination of two styles that are compatible exactly because they are so different: the original Fire Man King Shango comes in with his usual rough and powerful shove, while young Iba adds his characteristic soft, enticing vocal touch. On a skilfully dubbed remake of the Death In The Arena riddim, both artists unfold a melodious intensity that will sweep you off your feet while taking a similar lyrical line as Chronixx in Clean As A Whistle or - most recently - Romain Virgo in Fade Away.

Setting similar high standards in morality, but adding a deeply religious conviction, Alter (recorded at Tuff Gong Studios under Michael Howell, along with 5 other tracks), Glory Of The King (Royal Order Music) and Haile (Conquering Lion Records) bear proof of the early gospelic influences of little Mario.

Reflecting on the difficulties of life, Sound A Alarm and Weeping And Mourning call for solutions, both on a political and a personal level. Travelling (on the well-known Retro Locks Riddim by Oneness Records) is an expression of the eternal yearning for a place where love and compassion rule, a place where we can feel at home. Into the lover's section: while You Give Me Joy just narrowly misses to be sob stuff, Jah9 knows exactly how to coax a fragile, emotional sound from the soul-inspired beat of Fame In Our Court.

Mama Rosie (Notis Records) is of course dedicated to his mother, Roselin Embden, whose only son he is - Iba Mahr relates most of his morals and integrity to her and his grandparents where he spent his early childhood years. Despite its strong lyrics, neither Jahmali nor Iba Mahr deliver their best in The Time Is Now, but the last song lets Iba's star shine bright once more. Having Fun is an uplifting flirt of the singer's voice with Dean Fraser's omnipotent saxophone, both of which intermingle on a Ska-induced riddim that simply calls for dancing. And pressing repeat!

The timeless beauty of his songs, due in big chunks to his trademark vocal tremolo, and the well-conceived lyrics establish Iba Mahr as an important constant in the future development of conscious Reggae music, a gentle force to be reckoned with. Says the artist: "Diamond Sox album displays the many moods of Iba Mahr and shows that I have aso much to say! Each song brings variety to the album, allowing me to express my spirituality, roots, culture, history, love and intimacy. I refer to this one as a good book, with interesting chapters to read."


---
Release details
Iba Mahr - Diamond Sox
CD / DIGITAL RELEASE [VP Records]
Release date: 11/20/2015
Tracks
01. Alter

02. Glory Of The King

03. Clean And Pure feat. Capleton
04. Sound A Alarm
05. Weeping And Mourning

06. Travelling

07. Will I Wait In Vain

08. You Give Me Joy

09. Fame In Our Court feat. Jah 9
10. Mama Rosie

11. Diamond Sox with Notis
12. The Time Is Now feat. Jahmali

13. Haile

14. Diamond Sox with Notis feat. Tarrus Riley

15. Having Fun feat. Dean Fraser


Featured artists
Capleton
/
Jah9
/
Jahmali
/
Dean Fraser
/
Tarrus Riley