Review
Album Review: Bugle - Be Yourself
01/29/2017
by Gardy Stein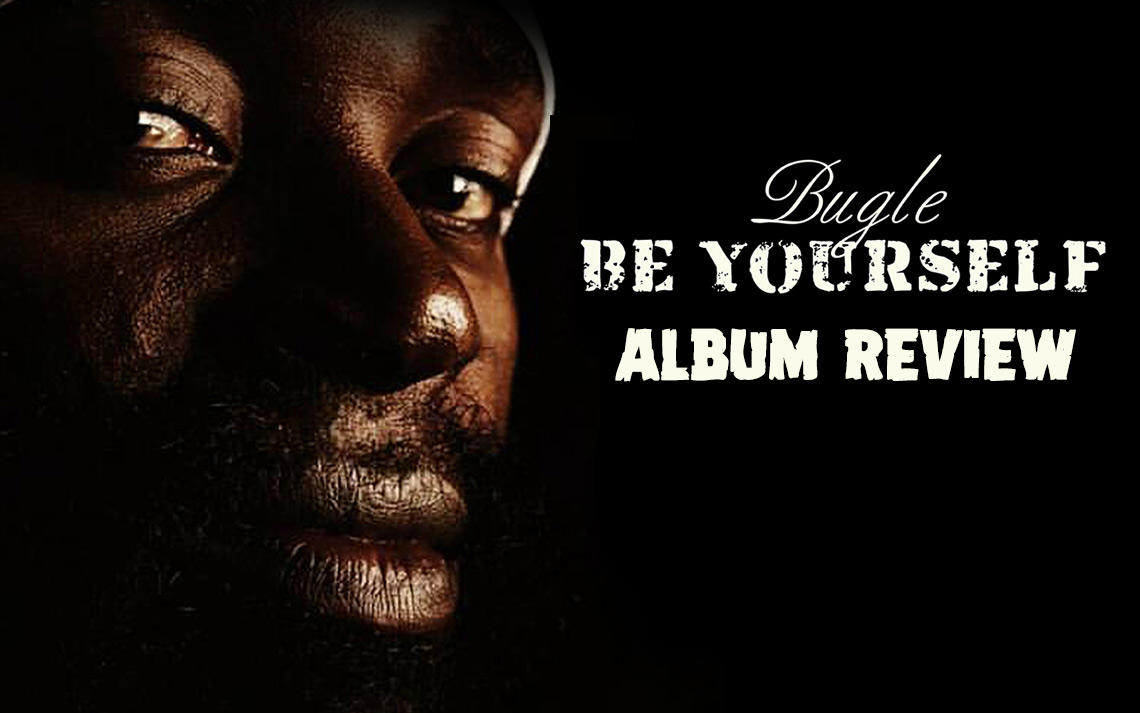 "Be yourself all when people nuh accept you fi you. Chances are it's just because you nah do wah dem waan yuh fi do. But before you please nobody please please yourself, can't be nobody else, so be yourself!" (Bugle)
Be Yourself!
That's the simple but powerful message Bugle sends out to the people with his new album. After his celebrated debut Anointed (2014) and the equally well-received EP Reggae Knowledge (2016), Be Yourself is bound to take the world by storm – again!

Again, the versatile artist managed to completely, entirely, unsavably enchant me within the first three beats, the first ten words of the title track which starts the release. Like a skilled magician, he interweaves minimal nyabinghi instrumentation, a bass so deep and natural that it seems to correspond to the beat of life itself and his trademark voice delivering words of wisdom ("When di fox cyaa get di grapes him say it sour"), to form a spell you won't be able to resist. Not that anyone would want to!
The remaining 14 tracks unfold equally skilful the musical know-how Bugle has accumulated over the years. He made sure that he has something in store for everyone, be it Dubstep-enthusiasts (Ganja, a speedy combination with Shaggy), friends of fine Lover's (with the Shensea feature Love Me Only) or Carnival fanatics - check out the sizzling remix version of Rasta Party featuring Tarrus Riley and Sizzla!
Bugle even pays his dues to the masters who laid the foundations before him, like Jimmy Cliff in Better Must Come or The Abyssinians' Satta Massa Gana in the last track Acceptance. Oh, and remember Barrington Levy's seminal Prison Oval Rock? In a wonderful remake of this riddim, Always A Way combines the old with the new and is, for me, one of the most outstanding tunes of the release.
As always, the artist lays his main focus on teachings and content. Thus, morals and values are discussed in Devalue, while Endurance talks about how it takes strength to lead the life of a Rastafarian, despite all hostilities. Elevation paints the vision of a time when every ghetto youth is able to buy a house and provide a living for his family; patience and hard work are highlighted in Rope, a track that assures us that "everything is just a matter of time".
Overall, Be Yourself is set on a calmer pace than its predecessors, as tracks such as the rootsy Once A Man Twice A Child show, but of course modern beats have their spot as well. Genuine Love, for instance, and more experimental approaches like Never Say You Can't, a hard-to-grasp rhythmic adventure from Ward-21-wizard Kunley McCarthy. With an almost Oriental touch, Sophisticated Sufferers introduces Rockaz Element, a group of youngsters outta Spanish Town, in their multi-vocal plea to "Hold on!".
Holding on is actually a very good idea on this magical rollercoaster-ride through moods, emotions, subjects and genres. Bugle has once more demonstrated how, by completely being himself, he creates outstanding music. And his clear advice sticks: don't bow to any expectations, be it friends', family's or music business' - just Be Yourself!
---
Release details
Bugle - Be Yourself
DIGITAL RELEASE [An9ted Ent]
Release date: 01/30/2017
Tracks
01. Be Yourself
02. Devalue
03. Endurance
04. Always a Way
05. Ganja feat. Shaggy
06. Love Me Only feat. Shenseea
07. Genuine Love
08. Better Must Come
09. Rasta Party feat. Tarrus Riley & Sizzla (Remix)
10. Rope
11. Elevation
12. Sophisticated Sufferers feat. Rockaz Elements
13. Never Say You Cant
14. Once a Man Twice a Child
15. Acceptance
Featured artists
Shaggy
/
Tarrus Riley
/
Sizzla
/
Shenseea