Review
Album Review: Alaine - Ten Of Hearts
05/26/2015
by Gardy Stein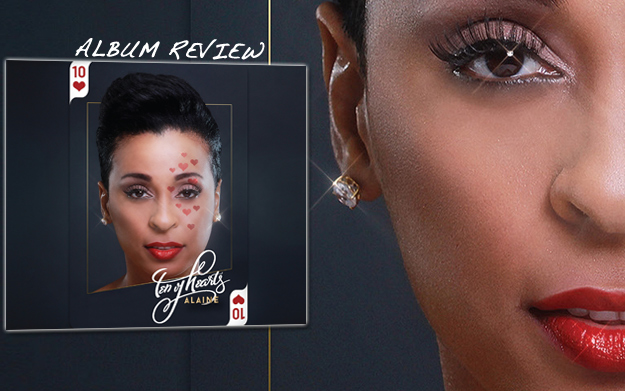 Close your eyes. Feel your heartbeat. Take a deep breath. Count to ten. Ok, NOW you are ready to press play on Alaine's new album Ten Of Hearts!

The Jamaican singer has created an emotional collection of 13 songs which treat the subject of love in all its facets. Of course, romantic love is very prominent among these, and we get a glimpse of different stages, from the first tentative butterflies to mature relationships. Starting with Like A Drum, the former is picked out: Alaine and Dre Island let their voices melt into each other to sing about the sweet excitement of having a crush on someone. In Favourite Boy (which is my favourite song, incidentally), the story is developed further. Its chords, tempo, instrumentation and most of all the way Alaine lets her voice sway from one note to the next capture perfectly the feeling of being newly enamoured.

Almost as if this feeling was developed further and consolidated, Mr. Singy Singy Tarrus Riley joins in on Sugar Love, a song dripping with lyrical and vocal saccharine. Love in its strongest, most serious and intimate form is the subject of T.H.I.S., an achingly beautiful piano ballad that makes the ideal background music for any candle-lit one-to-one evening. Two more tracks belong in this section as well, the Dexta Daps feature Number One and Better Than This, a single that has been around since last year, including a video.

Not everything is seen through rose-colored glasses, however. In Don't Walk Away, the artist is looking at the heart-ache-side of love as well. It is especially touching, not only because J Boog seems to pour all the emotions of the world into this song, but also because it has a good ending… we can work it out!

No happy end for Suzanna, though. The lyrics are based on a real person, a girl that Alaine met in a care home, and tell the sad story of a victim of abuse. This lack of care and love stand behind Sidewalk Hotel as well. Inspired by a homeless man she saw sleeping on the sidewalk, Alaine successfully draws our attention to those less fortunate, those most in need of a little compassion and kindness.

As if to counteract the preceding fates, Make It Home serves as a direct encouragement: "This is dedicated to the lonely hearts, to the dreamers whose dreams fall apart, to the lovers with the broken hearts… dedicate this one to everyone, keep moving on!" Moving on to the last track, we land in Kenya. Wafula is the result of Alaine's appearance in Mwalim Churchill's comedy show, a song that will certainly have Kenyans go crazy – make sure you read the whole story behind it in the upcoming interview! Rounded off by two thematically relevant and brilliantly delivered covers (Loving Feeling and Ain't No Sunshine), Ten Of Hearts is a highly recommendable album that will have fans and lovers all over the world sigh with pleasure.

The fact that it has been recorded and mixed in some of Kingston's hottest studios (Big Yard, Chimney Records, Birchill, Penthouse Records and Tuff Gong) as well as the list of contributing instrumentalists that reads like the who's who of Jamaica's vibrant music scene (Dean Fraser, Oral Brown, Denver Smith, Glen Browne, Mitchum Khan, Winta James, Unga, Stringy, Monty, Kirkledove etc.) guarantees the high quality of this production. The Countdown is on!
---
Release details
Alaine - Ten Of Hearts
DIGITAL RELEASE / CD [JukeBoxx Productions]
Release date: 05/26/2015
Tracks
01. Ten of Hearts (Intro)
02. Like a drum feat. Dre Island
03. Favorite Boy
04. Sugar Love feat. Tarrus Riley
05. Loving Feeling
06. Don't Walk Away feat. J Boog
07. Ain't No Sunshine
08. T.H.I.S.
09. Sidewalk Hotel
10. Number One feat. Dexta Daps
11. Better Than This
12. Suzanna
13. Make it Home Again
14. Wafula feat. Mwalim Churchill


Featured artists
Dre Island
/
Tarrus Riley
/
J Boog
/
Dexta Daps