The Possessed Riddim by Necessary Mayhem
04/13/2012 by Angus Taylor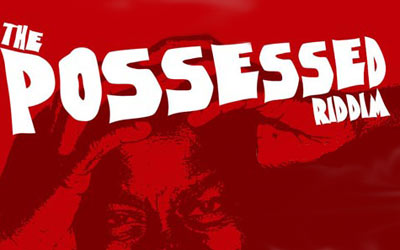 Curtis Lynch of Necessary Mayhem records unveiled the Possessed rhythm (a haunting relick of Lloyd Charmers rhythm to Ken Boothe's Black Gold and Green) on his Future Cuts compilation in February.

Now what must the first installment of the rhythm series has arrived featuring three very different but highly qualified vocalists and the traditional dub.


The title track was recorded in Jamaica with Tarrus Riley - who voiced LaLa Warriors on the label's equally moody minor key Gorilla rhythm - and is cloaked in spooky vocal effects. In another nod to roots reggae's past the Riley scion quotes Horace Andy, warning "You see a man's face but you don't see his heart".

The Future Cuts offering Blood Thirsty by the scantly voiced cult singer Jahmali, is joined by Cool Down a plea for calm by Necessary soldier Million Stylez out of Sweden.

The paranormal miniseries climaxes with a typically bells and whistles dub from Lynch's version alter ego Da Grynch.

Curtis told Reggaeville that he decided to do over this connossieurs rhythm because "Musically it's one of my favourites and it's an overall frequency that my ears love. I felt if I redid this now with my sound on it we could make some sound system speaker boxes shake!"

The Possessed rhythm is one of Lynch's deeper backings for the roots crowd and is out now on two vinyl 12s with a digital release on April 28th.
Listen to the riddim mix here: