Sierra Nevada World Music Festival 2017 - Initial Artists Announced
02/17/2017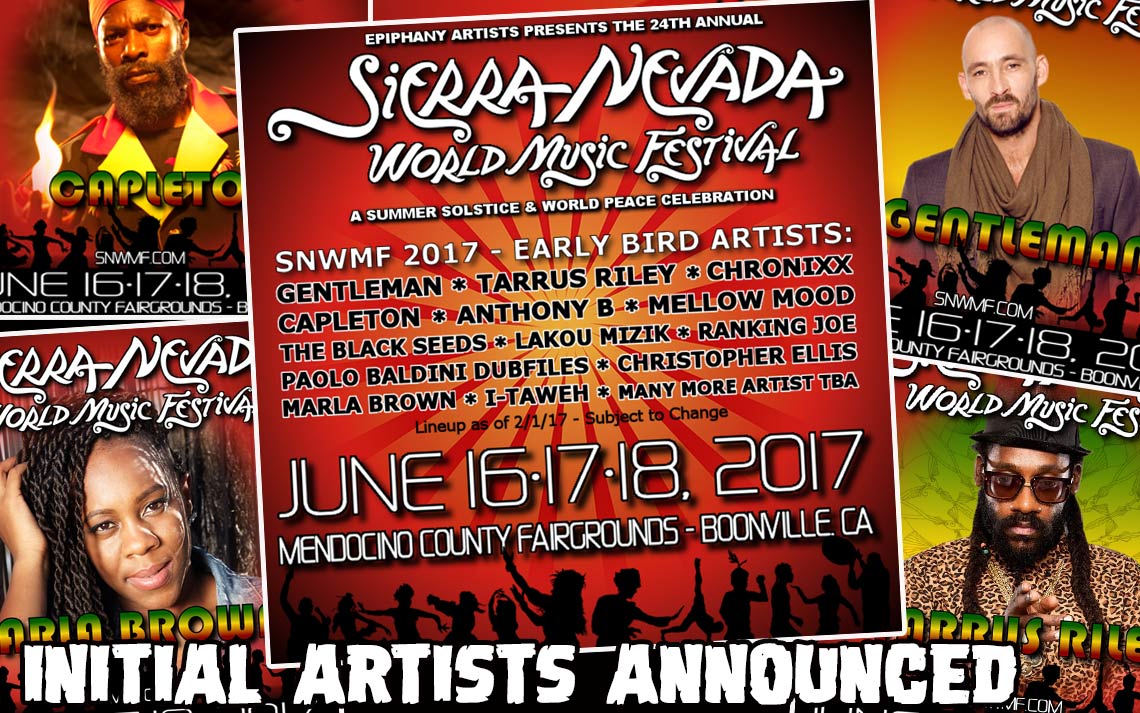 Here is the list of SNWMF 2017 Early Bird artists that have been confirmed for SNWMF 2017. The festival is more than 4 months away, and many more will be announced in the weeks to come. As always, our lineup of artists is subject to change. SNWMF never announces an artist unless and until they are confirmed to perform at our festival:

The Sierra Nevada World Music Festival is Northern California's premier roots reggae and world music festival. This year's initial list of reggae artists slated to appear includes the Boonville debut of Germany's biggest reggae star, Gentleman, who will be performing backed by his band The Evolution. Jamaica's own Capleton will be making his Boonville debut and Tarrus Riley as well as Anthony B will be returning to nice-it-up for the good people of Mendocino County once again. 2017 will also feature the SNWMF debut of rising reggae star Chronixx alongside ZincFence Redemption. After their massively successful US debut last year, SNMWF is pleased to announce the return of Italy's Mellow Mood as well as an appearance of Paolo Baldini DubFiles in the dancehall.

Hailing from 'down under,' this year's festival will also include the SNWMF debut of The Black Seeds. Our first world music offering for 2017 is Lakou Mizik, a multigenerational collective of Haitian musicians. And, after years of requests, we are happy to oblige this year's attendees with the indomitable sounds of Ranking Joe. SNWMF will also be serving up some second generation artists in the form of Christopher Ellis and Marla Brown. Rounding out the initial list of SNWMF 2017 performers will be I-Taweh, whose new album "Judgement" was just released.