Interview with Obrian Williams / Mystikal Revolution
04/14/2013 by Angus Taylor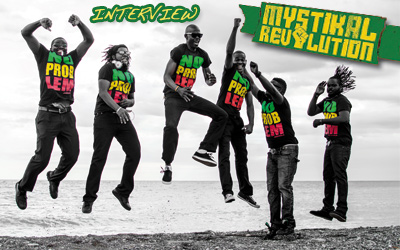 This month Reggaeville was the first publication in Europe to review Divide And Rule the debut album by Jamaican roots band Mystikal Revolution [REVIEW HERE]. In this followup interview we asked drummer and bandleader Obrian Williams to give us the story behind the group…

Are you pleased with the response to your first album?
It has been great. I have been getting a great response. I woke up this morning and got a message from someone in Mexico saying they love the sound of the album – which is good news!

How did the band start? You and lead singer Sanjay Barrett live near each other.
We started in two ways – from Edna Manley College and then with our lead vocalist and I grew up like big brother and little brother in the same community. I met the other members of the band at Edna Manley and we all had the same vision. I wanted a different sound for the band so I never went for a "school" singer. I wanted a more edgy rootsy sound. Your lead singer contributes to the sound of a successful band and he has that edgy, ragamuffin sound. A more commanding sound that makes people want to listen.

You went to Edna Manley College with members of Pentateuch and Raging Fyah. What was it like there?
It was an epic experience. A lot of musicians together having the same dream. We learned from each other as we all learned from the great Ibo Cooper from Third World who taught us in class. We'd jam together, play music. It was a whole brotherly vibe.
Who are your main musical influences?
Life on the whole, but as it relates to persons, our inspiration comes from different angles of music and different genres. If you listen to our guitar sound it has a rock sound and a blues sound. Because my guitarist is one of the best blues guitarists, if not the best blues guitarist, here in Jamaica. So we kind of mix that sound together to make it more commercial and mainstream. But in terms of inspiration, it's coming from the roots and when you talk about the roots it's Bob Marley and the Wailers. Then after Bob Marley and the Wailers it's Morgan Heritage with a little of Stephen Marley. I see Stephen Marley as the evolution of Bob Marley and roots reggae music.
Are you a fan of Revelations Part One?
Actually just before we did this interview I was listening to it! It's a great album that inspired me to do our album. One of the best reggae albums.
Which drummers do you admire?
Definitely Squidly Cole who is Stephen Marley's drummer. He called me yesterday about getting a copy of the album. Kirk Bennett who plays for Beres Hammond and a little of Jubba from Dubtonic Kru. A little of Sly and of course Carlton Barrett who played for Bob Marley but more Kirk and Squidly because they are young modern drummers. Kirk played on Tarrus Riley's Parables album - I spent a long time wondering who was the drummer who played on that? And Squidly played on Stephen Marley Revelation album.
What do you bring to the table as a drummer?
More of a rootsy edgy modern sound. I try to focus on my own creativity and to listen and build my own beats and create my own sound. So that if someone hears the drums playing they will know it's O'Brian. That's why I look up to Squidly and Kirk as drummers because when I listen to a track I can know it's them playing. That's how I want my drumming to be. Now reggae music has gone global I want people who want to learn to play reggae music to listen to a Mystikal Revolution CD and get the pattern and the strike of the guitar and those kind of vibes.

You won some band competitions like Heineken Inspire and Jamaica Cultural Development Corporation. Do you have to rehearse hard to get your sound?
It's more than just playing physically. It's more of a spiritual connection. We say Mystikal and Natural is the Mystic and the Mystic is Natural. It's the whole camaraderie and the whole brotherly feeling. It plays out in the music how we vibe together and talk together. We cook together and although I don't smoke, the rest of the band smoke together. The more you play together the more you stay together. We try our best to pray and give Jah all the thanks and praise. The whole socialistic principle we practise comes in handy when we are playing. So those are the things that keep a band together and keep a band tight in terms of their playing – the relationship we have.
Black Woman was your breakout single prior to the album. How big was that for you?
It went number one in a few local charts and radio stations out here. Because of that song we were featured on NBC New York as Jamaica's hottest reggae band. Some international media flew down and wanted to feature a more popular reggae band and the local media actually recommended Mystikal Revolution because of that song. The inspiration for that song came from the lead singer. I have a little demo studio in the backroom of my house and he came over saying he saw his aunt crying and it had touched him to come out with the lyrics to the rhythm we already had. And as he was telling me the story I started to reflect on my mum and that's when goose pimples came over my skin and so we did it, made the video, pushed it and promoted it.
You recorded most of the album at Tuff Gong – which must have felt good as Bob Marley fans.
Definitely. Black Woman was the first track we recorded there and it was my first time playing at Tuff Gong as well. It was a great joy to know that we were at the same place where Bob Marley and the Wailers and some of the musicians I look up to played and it was a memorable experience.
How did you get all these big artists like Sizzla, Tarrus, Bunny Rugs and Queen Ifrica on your debut album?
We dream big and try to make the big stuff happen, so that we can be more competitive in the mainstream. Our first collab was with Queen Ifrica because Black Woman was one of her favourite songs of the moment; she liked the lead vocalist's voice and wanted to do something with us. I already had the track ready [Love You] and we were going to release it as a single without a combination. So when Queen Ifrica contacted us and said Black Woman was a true inspiration to her I said we had a song, so let's go in the booth and do something together.

How about Reggae Skanking with Tarrus and Bunny?
For Reggae Skanking me and the guitarist came up with the melody one morning with drums and acoustic guitar while cooking and holding a vibe and then the lead singer came by. We actually wanted to do the track with Third World and Tarrus Riley but when we went to the studio that day, which was my birthday, we saw Bunny Rugs and said we had a song and we wanted to feature him on our album and he said "Yeah man!" He took ten minutes to record the song without writing it! It was the same for Tarrus Riley. Unlike us who sat down and wrote the song and the melody they just went in the booth like it was nothing to them! So it was a history song for the way it was recorded. That day we had a lot of pioneer musicians and producers in the booth like Mikey Bennett and Dean Fraser. I wouldn't be surprised if the whole world gravitates to this song next!
And Sizzla for Gangster Story?
We had a show called Reggae Fusion that we did last November at a popular live music venue. Sizzla came by and we were just vibing on stage together. He called me the day after and asked if we wanted to do something together! I stayed in contact with him for a good while but he was on tour and then he called me one Sunday morning and said we must link him at his studio and the rest was history.
Which non-reggae artists do you admire and want to work with?
Definitely Bruno Mars. I woke up this morning and was thinking about music and decided for the next album that we want to go more global in our collabs. We're looking at Bruno Mars, I love Adele, Maroon Five – their music is well put together. I definitely want to do something with the Marleys and Bruno Mars.
Divide and Rule has a lot of social commentary in the lyrics. What struggles inspire you and are you trying to make society less divided?
Life as a whole inspires our lyrics to come because we all write. It's stuff that each band member goes through and other people close to us go through day by day. We who have the tools and the power to campaign for truth and justice and righteousness are trying to do this for the people and the world. Our ultimate aim is to bring the world together with our music. That's where the inspiration comes from and that's where we are headed: to bring the world together with our music.
Do you see yourself as part of a wider live band movement in Jamaica – and what do you see happening in the music scene today?
I see it as a reggae revival. I see it as a richness for Jamaica. Something that will actually boost our economic growth. These things will attract more tourists to come here to see and be a part of this movement. I am privileged to be in a reggae band that is part of this. It's a great inspiration – most of these musicians and I went to college classes together, especially Pentateuch and Kumar from Raging Fyah. Actually, when we won our first competition, the JCDC Band Festival, Kumar Bent was the lead singer for us on that day! Every time we see each other and link up he says "Trust me O'Brian, you just born fi win because remember them time deh". It's a movement where everybody's together and is a part of so we want to see everybody being successful.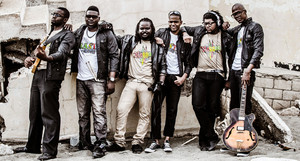 How are you adjusting to being a big profile band – how do you stay grounded with all the hype and pitfalls of the industry?
I always say this to my band members as the band leader: whatever we are doing we are always trying to get new fans. So we are always going to have the most humble approach to this journey as we embark on it. We don't want to get complacent doing music because the sky is the limit and we want to take this reggae music to a different level, even further than Bob Marley and other successful reggae artists. We want to take reggae music to more a mainstream arena where the rock and hip hop are, so even more people will gravitate to it globally. We want to take the music to that level. To do that we have to channel these urges and maker stuff happen really big. This album is what we are using to open the door and go higher and bigger.
When can people in Europe see and hear you perform live?
We're working on that right now. We've been in communication with Mediacom in France. We just need to get the business part of it sorted out first before we make a move. But we're planning on doing a Divide and Rule tour soon. If we don't get to come for this summer, then maybe after. I know when we get the opportunity it will be a great experience and a memorable one.