Review
Album Review: Talisman - Don't Play With Fyah
03/15/2017
by Munchy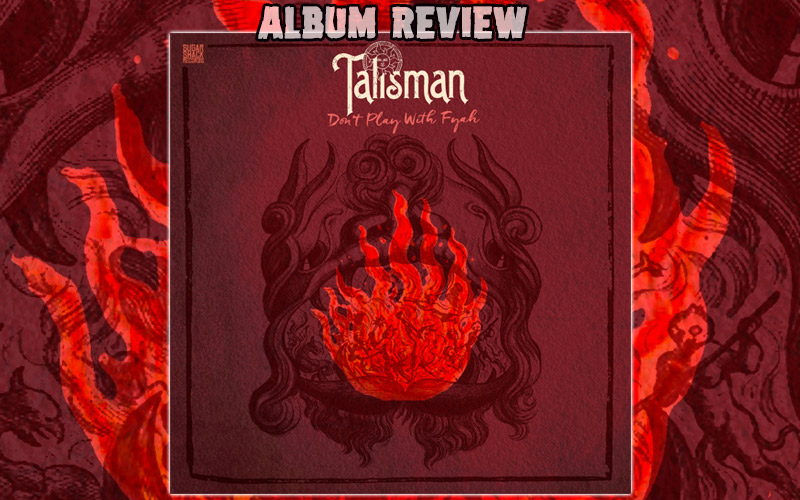 Brand new tracks combined with their respective Dub versions is a concept that already aroused enthusiasm on I-Surrection, the previous album of Talisman released in 2013. On March 17, 2017 the band from Bristol is continuing its success story presenting another 14 track record following that same scheme. Entitled Don't Play With Fyah the longplayer is released both digitally and physically on CD and a limited edition 8 track vinyl on Sugar Shack Records, whose label owner Mike Darby was instrumental in motivating the band to get back together after a more than twenty years break. Naturally, considering the format mentioned above the new album shines sonically not only through great musicianship - including a full horn section and a huge variety of keyboard sounds from the classics piano and vintage organ to charismatic, broad synths or playful, tender bell-like tones, just to mention a few of the ear-tickling details - but of course with the works of its engineer, who is no other than legendary Dennis Bovell. The British Reggae musician, producer and sound engineer added his fine auditory sense and comprehensive wealth of experience to the project being responsible for not just the mixing but also the Dub versions, that unlike on I-Surrection exceed mere instrumentals by far but add that unique feel that lies within seemingly endless reverb tails, side shifting panorama gimmicks, fascinating percussion and sound effects merged into a timeless musical dream landscape.
Kicking it off with Relijan, the thought provoking harbinger that was already released on January 20th with an aestethic black and white video by 8th Sense Media, the listeners dive right into the typical spirit and sound of UK Reggae from the 70s. The classic roots track reminds of fellow bands like Steel Pulse or Aswad with brass accents, striking synths and adequate mid-tempo. Phrases like 'so much religion, still we hate on another' and 'killing in the name of the Lord ' are almost frightening relevant these days and leave no doubt that besides the record's sound, also its lyrical content is captivating.
After pillory, Talisman don't fail to deliver improvement suggestions right away: 'Now is the time for a revolution! What you waiting for? (…) Free up your mind! Africa needs your attention. The time for revolution is now!'. Talkin' Revolution is a monumental, thrilling song driven by sweeping, sinister horns, an uptempo vibe inviting to join the revolution right as you listen and a just not too polished but slightly snotty saxophone solo. Moving forward to the sound of the 80s, fans of UK Reggae must love this one just like the title track. Don't Play With Fyah is illustrated with love for detail on the red and magenta cover and translates musically into mellow one drop climbing through its rising arrangement to an emphasis of the warning expressed in the text of the song. Creaking keyboard sound patterns, samples of a dropping bomb and the corresponding drums and horns top off the production.
Another highlight yet to mention is the final Wheel And Come Again. The light and easy upbeat with slight pop fusion, talking trumpet, knobby synths and a deejay-like repetition segment prove that Talisman's work is not all mentally heavy and serious, but just the right blend of all the dearly beloved aspects that Reggae from Britain had and still has to offer.
---
Release details
Talisman - Don't Play with Fyah
DIGITAL RELEASE [Sugar Shack Records]
Release date: 03/17/2017
Tracks
01. Relijan
02. Talkin' Revolution
03. She Look Like Reggae
04. Don't Play with Fyah
05. Hear No Evil
06. Racism Never Sleep
07. Wheel and Come Again
08. Relijan Dub
09. Revolutionary Dub
10. She Look Like Dub
11. Don't Play with Dub
12. Hear No Dub
13. Racism Never Dub
14. Wheel and Dub Again