Review
Album Review: Takana Zion – Good Life
05/29/2016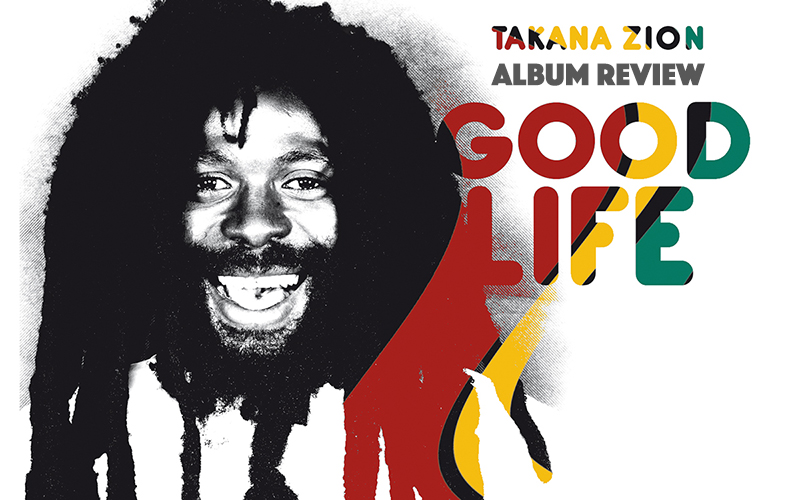 Guinea's reggae star number one, Takana Zion, spends a lot of his time in studios recording songs as they spring to his mind. He's rather picky with his releases, though. Since his last international release, the critically acclaimed LP Kakilambe, it's been four years. Now he presents Good Life, an album recorded at Tuff Gong Studio in Kingston. As he had done for his 2011 project Rasta Government, he invited a number of luminary Jamaican musicians to the recording sessions.

For Good Life, it's Leroy "Horsemouth" Wallace and Errol "Flabba Holt" Carter instead of Sly & Robbie, plus Lloyd "Obeah" Denton on keys, Rohan "Maka" Kirk Gordon on guitar, and Dean Fraser on saxophone. Sam Clayton Jr. led the recording sessions, he had been a part of the Rasta Government project, too.

While Takana Zion's last album Kakilambe was a blend of reggae, electronica, and traditional Guinean music styles, Good Life is classic, undiluted roots reggae à la Jamaïcaine. In line with that spirit, Takana sings almost exclusively in Patois and English this time, making Good Life the most accessible album to the international public he's released to date.

On 13 tracks, Takana Zion asks his fellow Africans to unite (Africa Unite), praises Jah and promotes Rasta livity (Congo Dreadlocks, Good Life, Hit My Soul, Jah Love, Jah Will Be There, Protect Myself), and pays tribute to his wife (Mariama). Rainbow Generation honors Nelson Mandela and speaks out against segregation, demanding oneness of humanity. Black consciousness shines through the ska track Real Black Man. No Takana Zion album would be complete without a homage to Marcus Garvey (Mosiah Marcus). Wailers-like harmonies adorn When Jah Speaks, a combination with Bunny Wailer that is clearly the highlight of this album.

Good Life is a flawless, solid album. But listening to Takana Zion is much more fun when he sounds progressive and experimental, as on Kakilambe, then when he tries to sound more Jamaican than Sizzla – even though he's great at that, too. Takana is such a versatile artist that "Chameleon" would be an adequate nickname. That doesn't stretch to the message he's spreading, though. He remains very consistent in his conscious attitude.
---
Release details
Takana Zion - Good Life
DIGITAL RELEASE [Soulbeats Records]
Release date: 05/27/2016
Tracks
01. Mosiah Marcus
02. Protect Myself
03. When Jah Speaks feat. Bunny Wailer
04. Real Black Man
05. Mariama
06. Congo Dreadlocks
07. Hit My Soul
08. Rainbow Generation
09. Good Life
10. Make It Work
11. Jah Love
12. Jah Will Be There
13. Africa Unite
Featured artists
Bunny Wailer