Interview: Suga Roy & Conrad Crystal
09/29/2011 by Angus Taylor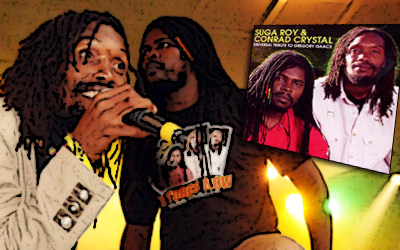 At Reggae Jam 2011 singer Conrad Crystal and deejay Suga Roy made their first live appearance in Germany touring their 3rd album: Universal Tribute to Gregory Isaacs. Where many of the most memorable performers at festivals could be said to have held the crowd in the palm of their hand, the slender Conrad and the hulking Suga grabbed theirs by the scruff of the neck: with the latter even jumping into the photography pit to demand the energy and commitment of the people. Sure enough an audience not hugely familiar with the dynamic duo (and their myriad foundation collaborations) was won over. Just a few hours beforehand Reggaeville conducted this on-the-spot interview with the pair.

One of the things you two are famous for is the sheer number of artists you've worked with - particularly on your second album And The Great Reggae Icons. Where does your love of the foundation come from?
Suga Roy: Well, as a youth who come up in the business I respect the foundation artists, so I have to go to them and share some work with them. That is my tribute to them. A lot of man show tribute to some man when they die but that is my way of showing tribute to all of the big artists, which is the original who set the business. So that's why we did the album named Great Reggae Icons, with Suga Roy and Conrad Crystal.


So this year for your third album you decided to focus on one of the biggest foundation artists of them all - the late great Gregory Isaacs. When did the idea to do the Gregory tribute come to you?
Suga Roy: Well, Gregory is an artist where coming up in the business and living in Clarendon I always loved Gregory Isaacs' music so when I enter in the business and come forward to Kingston it was a joy to do over Gregory Isaacs' songs. I also did a song with Gregory Isaacs before he died.
Conrad Crystal: Which is the song named Soon Forward.

How come it never featured on one of your albums?
Suga Roy: Soon Forward was never on Great Reggae Icons because it was a single with Suga Roy and Gregory Isaacs. But me and Conrad Crystal did Love Overdue when we come together on the scene in 2004.
Conrad Crystal: One of my favourite artists.
Suga Roy: So Gregory always loved the vibe and so that encouraged me to do more when he left earth, to come and do a Gregory Isaacs album.

How well did you know Gregory?
Conrad Crystal: Very well, very well.
Suga Roy: Very close. I'd go check Gregory in him studio or when we'd go on the road and do work outside of Jamaica. He was a great icon and he did a lot. I believe Gregory Isaacs is one of the greatest writers from Jamaica in the music and also a good singer, so I show my respect by doing this tribute to Gregory which is 18 tracks of Gregory Isaacs.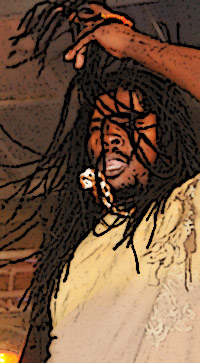 You've worked with all sorts of artists, some of them no longer with us such as Joseph Hill, and some of them who are still with us who are great icons like Lee Scratch Perry. How do you manage to get all these artists to work with you?
Suga Roy: Well, it's a joy. As a youth coming up in the business they respect youth who honour their works. Nowadays some of the youth don't respect the veterans and don't know how them set it. So when a youth like Suga Roy comes to the business them don't give me no problem. They voice for me easy and fast! Because they love to see a youth who looks up to them in the business.
Conrad Crystal: As a now generation set of artists to come to them as the veteran, them respect it. And we show the respect to them, so it's a pleasure for them to work with us.

How important are conscious lyrics to you?
Conrad Crystal: Very important.
Suga Roy: Very important. When I as a youth growing up and knowing Sister Nancy [who is sitting nearby having just finished performing] upon the scene and listening to her cassettes, meeting her forward when I come to Kingston, still see Sister Nancy rocking the stage a while.
Conrad Crystal: It's a joy.
Suga Roy: I feel good, I know if she never had the positive lyrics she could never stand up at this moment. I hear her say she's 50 years old and she looks good and fresh. So I know that the positive lyrics makes you have that look, yeah.

What do you think of the music coming out of Jamaica today?
Suga Roy: Well, you have a lot of good music same way but I guess they don't highlight the good music and highlight the negative music that makes people outside of Jamaica feel like good music is not made in Jamaica no more. Good music is being made but there's the new DJs on the radio and in the dancehall promoting the negative side of the business. And a lot of DJs and soundmen are taking money to play songs but the positive man is not going to pay money to play the positive songs whereas the negative man is going to give money for the negative, to arrive. But Jah is there and Jah works mean they cannot hide the good positive part.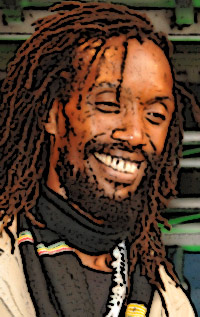 So which young artists will be appearing on the next Suga Roy and Conrad Crystal ensemble album of combinations?
Suga Roy: You have a lot of young artists out there like Chezidek who is a good artist and I respect his work or even Romain Virgo who does positive works. I respect that.
Conrad Crystal: Also Fantan.
Suga Roy: Yes, Fantan Mojah who is on the new album with we, as well as Luciano. Because whenever we do an album we always put at least one combination or two to give people a different kind of vibe.

How is your work received in Jamaica compared to Europe? Is there a difference or is it received the same way?
Suga Roy: When we come on the scene in Jamaica they said "Fyah we blaze" because it boils down the performance. So when we come to Europe we get the same vibe - it's no different with Suga Roy and Conrad Crystal. Because when you come with positiveness from your heart and it comes clean it goes through the people's bodies and they feel it and give we the energy.

It's obvious there's a very strong partnership between the two of you. What do you like about working with each other?
Suga Roy: It's a joy to work with each other.
Conrad Crystal: Right now where Conrad Crystal and Suga Roy is concerned there is a chemistry. A good chemistry.
Suga Roy: It's Jah set it like that.
Conrad Crystal: And the greatest thing is Suga Roy respects Crystal, Crystal respects Suga Roy. We look up to each other and looking up to each other is very important for us.




How long have you known each other and why did you start working together?
Conrad Crystal: We've known each other for years before we even started working together. It was Suga Roy's idea to start working together.
Suga Roy: Well as you know I am a producer and I own Fireball Records label. And from a youth growing up I loved the roots part of the music which is the foundation so I'd always play over the original rhythms them and get the foundation artists to sing our hits on the original rhythms. So I licked over the True Love rhythm which is Death In The Arena and Crystal did True Love Will Never Die. I got him to sing back the song and combinationed on it and people loved the vibe so it meshed together. Then we did Love Overdue and people still said "Keep on! Keep on! It is a chemistry!" so then I said "Crystal we have to come with something very strong". So we came with Education [chants] "And from your mother say no go ah school go get your education... You put boyfriend first..." and from there it was history all over the world.

So now this album is in the bag what's the next project?
Suga Roy: Right now you can get this album on iTunes. It's distributed by Ernie B in the USA, it's distributed by Dub Vendor in London, it's distributed by Irie Ites in France and VP have it also so it's all over the place. But as you know we always come with a surprise! We have something coming next but we cannot talk because the greatest thing for staying in the business is you have to have great ideas! In the business there aren't a lot of great ideas so when a person hears you have a great idea they try to thief it and come before you! So I cannot let out the secret right now! (laughs)

(laughing) It's the same in my business and I totally understand!