Review
Album Review: Kingston All-Stars - Rise Up
09/17/2018
by Gardy Stein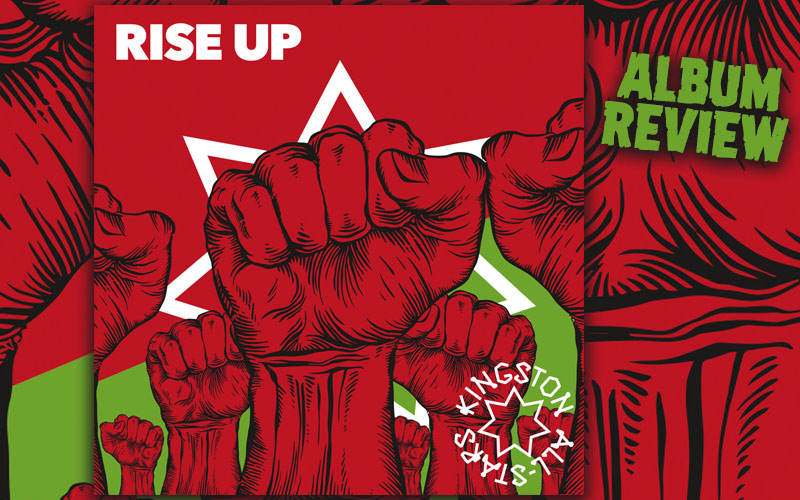 Aged is the new cool! After decades of increasingly hectic attempts to chase youthfulness and be as "in" as possible, the realization seems to seep through that, no matter what, we all grow older. The challenge is to do so in dignity and gratefulness, as few are blessed to reach old age. And those who do have a lot to share!
That's exactly what The Kingston All Stars do, actually. In their new release Rise Up, they share their profound knowledge of Rocksteady, Ska and Reggae, genres they helped to lay the foundations for. Uniting accomplished musicians like Sly Dunbar, Hux Brown, Mikey "Mao" Chung, Ansel Collins, Jackie Jackson, Robbie Lyn, Everton & Everald Gayle as well as 7 skilled vocalists, this album represents a total of almost 1000 life-years of experience and practice. Musician, writer and engineer Moss "Mossman" Raxlen came all the way from Canada to help initiate, produce and mix this album, and without his and other people's efforts and enthusiasm, it wouldn't have seen the light of day. "The Kingston All Stars project basically runs on love - lots of volunteers and people doing things for free or at a big discount." he explains how it was possible to record this piece of magic without a big label in the background. And that this kind of devotion is badly needed is shown by his next statement: "That's Mikey Boo Richards playing drums on the first track Boo Rock. It is one of, if not THE last Reggae recording from him as he now has full dementia and is no longer able to play drums." Which brings us right to the core of things!
Apart from the introductory tribute, there are three more instrumental tracks, all of them testimonies of the fine art of playing music in a way that every instrumentalist gets his spot, well balanced and fine-tuned by Moss: Jamodica, Pirates Fog and Clappers. The latter is the Dub version of Guns & Pulpit, a gripping piece sung by RZee Jackson who has already contributed to the last KAS album (the same riddim is ridden by Stranger Cole in Yard Man as well). RZee has been taught harmony singing by the likes of Leroy Sibbles and Jackie Mittoo, the phenomenal musician who passed away far too early in 1990 at age 42. His wife and daughter, Carol Brown and Krystal Mittoo, carry on his legacy in Only Jah Knows, a bright Rocksteady piece that brings some female energies to the KAS brotherhood.
It's brothers like Prince Alla and Ansel Collins who transport the vibes provided by the musical crew to higher heights. In My Vision, Alla invokes the pictures of Africa he saw in his dream while Ansel uses the same riddim (composed by him, by the way) to invite us on the dance floor in Let's Dance, introducing the instrumentalists along the way. Music is so sweet! New to my ears was the voice of Allen Jahsana, a Kingston original who is struggling every day to survive and knows the rough side of life. This fact can be heard in the emotional delivery of both Rising In The Ghettos and the acoustic Jungle Justice.
Brilliant on so many levels, the greatest feat of Rise Up is probably the conservation of skills it makes possible, putting artists into the spotlight which sadly are too often elided in our fast and furious world. It calls for deceleration, for taking the time to acknowledge the roots of this music we all love, and revere those amazingly cool guys still among us!
---
Release details
Kingston All-Stars - Rise Up
DIGITAL RELEASE / CD / VINYL [Roots & Wire]
Release date: 09/14/2018
Tracks
01. Boo Rock (Tribute To Mikey Boo Richards)
02. Jungle Justice feat. Allen Jahsana
03. Jamodica
04. Only Jah Knows feat. Carol Brown
05. My Vision feat. Prince Alla
06. Guns & Pulpit feat. Rzee Jackson
07. Rising From The Ghettos feat. Allen Jahsana
08. Pirates Fog
09. Yard Man feat. Stranger Cole
10. Clappers (Dub 2)
11. Saturday Night Is Here feat. Jah Fagan
12. Let's Dance feat. Ansel Collins
Featured artists
Prince Alla
/
Stranger Cole