Review
Album Review: Stick Figure - World On Fire
08/31/2019
by Gardy Stein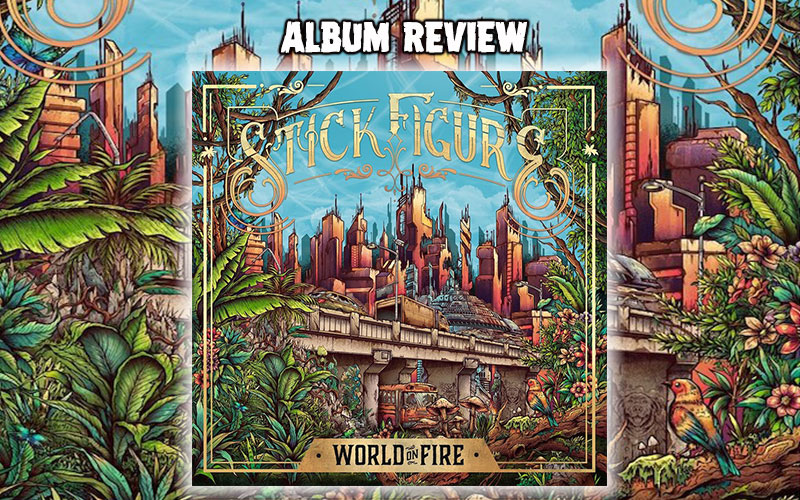 Who set the world on fire? Good question, provocatively posed in the title track of Stick Figure's new album World On Fire. Let's postpone the answer for now and figure out the who and what of the music first.
Who: Stick Figure. A band that has a very, very, veeeery hard and decisive core called Scott Woodruff. Producer and multi-instrumentalist he is, he recorded five albums completely on his own before, in 2012, deciding that he should put a band together to be able to play his music live. Touring ever since, Stick Figure convinces listeners around the world that they are really good at what they're doing. Oh, and don't forget about their companion! Cocoa the tour-dog is on stage for every single show, and I was honoured to meet him when the band performed in Hamburg in 2016.
So, Scott is not only the creator of Stick Figure's music, but also responsible for putting it out there. His label, congruously called Ruffwood Records, is the roof under which this newest feat has seen the light of day, and Scott's name is virtually the only one you'll find on the credits, apart from the featured artists and band-mate Johnny Cosmic on harmonies.
What: Fifteen tracks that, once heard, you won't forget. Once In A Lifetime business, as the first song says. With a mature, round sound, well-thought-out lyrics and a clear, beautifully in-key voice that carries just a pinch of melancholia, they trickle into your ears, nestling comfortably among nostalgic memories of special moments and positive emotions deep inside the convolutions of your brain. Take All For You, for instance. With an intro of spherical keyboard pattern that morphs into a legit Reggae-beat, it captures the listener at least as much as the idea of someone doing it all for you conveyed by the lyrics. Or, take the vivid lyrics in Easy Runway on that equally vivid beat: "When you're stressed out take a deep breath, I hope that you can see it, the world needs people like you, you're here to make a difference!" At least as touching are the rootsy Rise And Fall or the closing track Burn The Night, a bitter-sweet ode to hours spent alone and yearning for someone.
Remarkableare also the features: Whiskey Sun featuring TJ O'Neill is a rather pensive, heavily laid-back tune that carries reminiscence of late-night, after-party rides home. "Smoking makes the sun come up, the Whiskey makes the sun go down...". Summertime, on the other hand, with American Blues-Soul-Folk singer Citizen Cope, fulfils the promise its title makes - a bongo-flavoured, breezy, sunshine-filled piece to swing and rock along to. A similar vibe is brought across by Life Is A Party - just why Norwegian Wood is part of the track remains a mystery to me.
More familiar notes are struck in Cocoa de Rock: the song originally written by Alpha Blondy in 1984 as Cocody Rock (Cocody is a district of Abidjan) is here superbly covered, probably carrying a tribute to Cocoa the tour-dog in its title.
A lot of great stuff to listen out for! And even songs that, at first, seem quite average like Shine, Above The Storm, The Great Unknown or Welcome To The Sun unfold their potential further on or at second listen.
My personal zenith of the album, though, is Angels Above Me. Starting out almost country-esque, it's an extremely authentic fit for Scott's pleading vocals, and the moment the drum-roll announces the subsequent Reggae-drop, deep bass and all, is priceless. Thank you for that song!
So, coming back to our inital question, who set the world on fire, then? If you have listened carefully to the title track (featuring the voice of Slightly Stoopid's singer Kyle McDonald), you know the answer: "It's me who set the world on fire!" And, although I can't be sure whether or not the artist means it in a literal sense, I understand this phrase as a wake-up-call to our consciousness, especially in light of the detailed cover-art-work by Juan Manuel. Because, although it sounds harsh, each of us shares part of the responsability for the state our earth is in. Every time you board a plane, every time you vent off your anger on someone (who, in turn, will vent it off on someone else, creating a negativity-ripple-effect), every time you buy a Nestlé product, every time you eat a hearty steak, every time you consume instead of repairing, planting, sustaining, you kindle these flames. Being the convenient, self-righteous creatures we are, it's a good thing that artists, rebels and activists hold up the mirror to our faces once in a while. Especially if it sounds as wonderful as Stick Figure's World On Fire!
---
Release details
Stick Figure - World On Fire
DIGITAL RELEASE / CD / VINYL [Ruffwood Records]
Release date: 08/30/2019
Tracks
01. Once In A Lifetime
02. World On Fire feat. Slightly Stoopid
03. Angels Above Me
04. Shine
05. All For You
06. Above The Storm
07. Whiskey Sun feat. TJ O'Neill
08. Summertime feat. Citizen Cope
09. Easy Runaway
10. The Great Unknown
11. Rise And Fall
12. Life Is A party
13. Cocoa De Rock
14. Welcome To The Sun
15. Burn The Night