Review
Steppa Style - See The World
12/14/2014
Steppa Style will mash up the dance!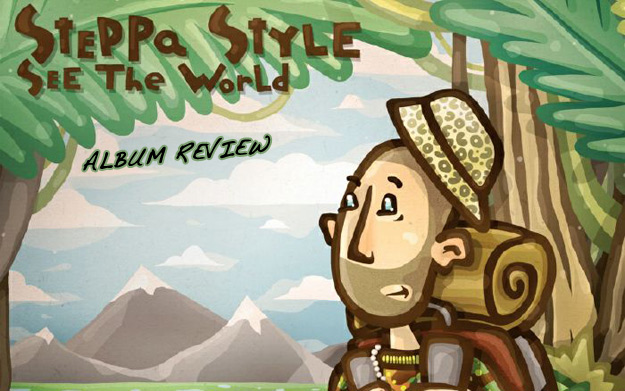 From Reggae to Jungle and from Russia around the globe!

A man on a musical journey, with a bag full of energy, lyrical skills and ready to share good vibes with people he meets. No mountains are too high, no valleys are too deep, this man knows that everything is possible and everything can be reached: when there's a will there's a way!

This man is the Russian artist Steppa Style, originally from the capital Moscow, bringing out a new album called See The World. This album is a result of lot of international collaborations with artists and producers presenting Steppa's different styles.

The front cover artwork shows a draft version of Steppa with a backpack on his shoulders, walking through an open landscape. It was realized by the Russian graphic designer Anthony Sakvo and reflects the meaning of the new album-release: A musical journey around the globe.

From Reggae to Rub-A-Dub and digital Dancehall, from Raggamuffin to Dubstep and Breakbeat: This is what Steppa carries in his music bag. Always with a strong message and constant positivity in his lyrics.

See The World was released by Irish Moss Records and realized in collaboration with many international producers such as Dj Vadim, Kyderone, Dreadsquad, Viktorious, Anancy Sound, Supersonic Sound, Rebel Steppa, Reggie, Feyder, ePeak, Krak In Dub, Bizzarri, Illegal Content and Benny Page.

As featured artists, Steppa took on board two Jamaican singers Kris Kelly and Skarra Mucci, as well as the UK-representatives Solo Banton and Deadly Hunter.

Not all of 18 album tracks are brand new, some of them are "old treasures" recorded in the years 2010 and 2011 and still so far unreleased. The instrumental development of tracks from 1 to 18 moves from rootical vibes and One Drop to heavy baseline and digitalized Riddims.

The Opening track What A Life on the Way Home Riddim by Anancy Production is spreading a positive message: Steppa calls for the appreciation of life, living in peace and overstanding and showing love to one another.

Two years after it's original release in 2012, the single Jungle Rebel on Infinite Records still belongs to the top hits on the album: It presents Steppa with his powerful lyrical Raggamuffin style.

Jungle Rebel is followed by another tuff tune: A big combination between Russia and UK. No other than Solo Banton this time - everyone who had the chance to see him performing live would probably agree to me when I call him the lyrical machine. Digital is already an anthem for the digital production and computer style and gives special big ups to the old veteran MCs and singers such as Sugar Minott, Yellowman & General Trees, calling to remember the foundation of Reggae music.

Unity is not just a word, it's a song which message is to unify people to enjoy the dance and have a wonderful time.

Another combo with UK artists is the tune Hard Work. It features Steppa and Deadly Hunta (who is also a good friend of Solo Banton) telling the youth working hard opens new doors in life and never to give up no matter the tuff times. In his case, as a performing artist, working hard did pay off: he was on tour in many different countries and his music has already reached many people.

One interesting aspect of Hard Work is, that it is a re-issue of an international masterpiece: The classic Swing Easy Riddim (originally Studio One production) and re-released by Bizzarri Records from Italy under the name Swing Heavy Riddim.

Steppa's lyrical speed (original Rub A Dub) is unique: You can hear his musical background as a Soundsystem MC in his voice. He still runs a Sound with a crew named Trudeboys Sound in Moscow for almost 10 years now, which is one of very few active Reggae Sounds in Russia. His voice is a great gift and therefor is the mic his tool to reach and to teach the people.

There are many more tunes on the album to discover. Check it out and stay tuned to witness a live gig in your town. Steppa Style will mash up the dance!
---
Release details
Steppa Style - See The World
DIGITAL RELEASE [Irish Moss Records]
Release date: 12/08/2014
Tracks
01. What A Life
02. Running Wave
03. Inna Disya Time feat. Skarra Mucci
04. Jungle Rebel
05. Digital feat. Solo Banton
06. Unity
07. Work Harda feat. Deadly Hunter
08. Sweet Love
09. See The World
10. Food Of Love
11. My Time feat. Kriss Kelly
12. Gunman
13. Original Steppa
14. Instagram
15. Shout Out Loud
16. Call Pon Me Phone
17. No Sound
18. Nice Up
Featured artists
Skarra Mucci
/
Solo Banton