Lightning the Magnetic - Interview with Stephen Newland
05/04/2018 by Gardy Stein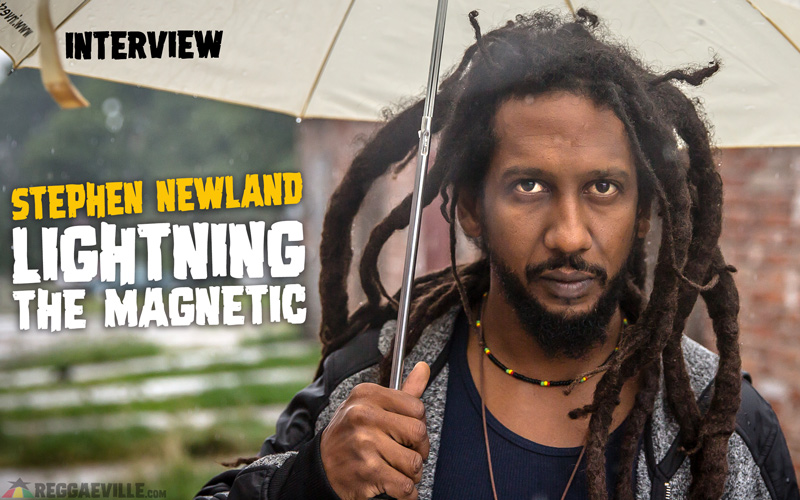 Thunder and lightning, brimstone and fire! The phrases so present in Rastafarian culture resonate deeply within the artist who just released his second ever solo work: Stephen Newland aka Lightning the Magnetic! Like a whirlwind, the Rootz Underground front-man sweeps through the world, and everywhere he touches ground he leaves his mark - whether as environmental activist initiating school projects in Jamaica, as actor impersonating the spirit of Bob Marley in a show called "56 Hope Road Revisited" presented at Oslo's Norway Opera House this February, or recording music with the living legends from Inna De Yard. To talk about this and his newest feat Thunderground, Reggaeville caught up with the restless artist amidst a very real thunderstorm in Ostroda, Poland:
How did you receive your name Lightning The Magnetic?
Because everywhere I go is lightning! (points to the raging storm outside and laughs).You know, that name… it's funny. It was years ago at a show I was playing with my band, Rootz Underground. I was asked in an interview "What's your stage name?" and I said "I don't have a stage name! My stage name is the lightning, the thunder, the brimstone and the fire!", just explaining. And then in the article she writes: "His stage name is The Lightning!" (laughs) and from then I just sticked with it. And The Magnetic is because our energies of Rastafari powers is a magnetic energy, it pulls the spirit of righteousness towards us everywhere we go, and because of that we are safe, we are protected. Wherever we go, our family is there to meet us, greet us, bring us herb and food, take care of us in different ways, even in countries I have never been. So that is the magnetic force that brings us all together. Even in places where they don't know who we are and we start to play in front of maybe ten people, we keep playing and the sound of the music and the spirit of I'n'I pulls out the rest of the people towards the music like a magnet!
As you mentioned, you are known as the lead singer of Rootz Underground, but in 2017, you performed solo in Ostroda and elsewhere – how comes?
Well, 2017 was the first time I really did tour on my own. It was really serendipity. I was in Jamaica, totally unrelated, we have an environmental competition for school kids and the prize for the best school is to record their song at Tuff Gong. So, I was there that day and suddenly, foop, a bus of tourists from Poland comes in, and after the bus here comes Maken, my bredrin, and a whole bunch of Polish friends. Among them was the man Jarek, who is a fan of the band, and we started to talk and he said "There's a festival in Poland and we would like to bring the band, but unfortunately the money is not enough." And then he proposed to me a project of collaborating with some Polish musicians, and of course my first choice was Jafia because I love this band, I've seen them play together, I shared stage with them, and they are a really powerful band with twenty years of experience. So I asked him and he said yes! And to make it even better, we also played with some young musicians in the horn section I've never played with before, so this was a fantastic link-up: veteran Polish musicians, me from Jamaica and also brand-new musicians from Poland. I'm happy to have the opportunity to give these youths a chance, because Ostroda is a great festival and it was very important for them. For me, it was a humbling experience; it's unusual to travel alone, without my band! But I came to Europe one week early with the intention of rehearsing with Jafia, and they have this beautiful place out in the country where we spent time together – we play, we play, we play, we make lunch, we eat, straight living, so that was a great experience!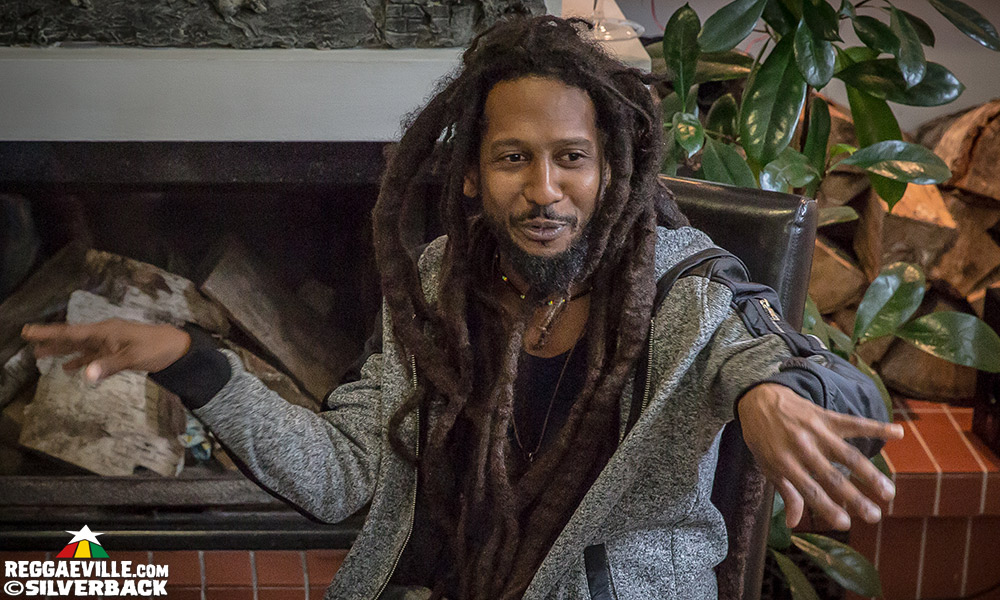 Do you plan to record some tracks with them?
Yes! We haven't done it yet, but it's planned. The time wasn't right yet, as we had to prepare the Ostroda show and they also had their own tour, but Jah is with us. We are honoured that we are able to do this thing. I also think that projects like this will help to open doors for a lot more musical collaborations like this. People somehow may have a barrier, they say "This is German Reggae, this is Polish Reggae, this is Jamaican Reggae, this is US Reggae…", you know, but I don't say that. I say this is Jah music, we have to tell people about Rastafari, teach them about Africa, unity, togetherness and love! It doesn't matter where you come from if the music plays you right, then it will have the message and the power and the musical and lyrical content which is necessary.
You also were part of the wonderful project called Inna Di Yard and you contributed a song called Sign Of The Times. Can you tell us about the vibes?
I'm glad you mention this. Again, this is just the mystic of Rastafari! Winston McAnuff, a very good bredrin of mine, an elder, and Cedric Myton, all these Reggae legends… you know, this is my Reggae collection at home! Imagine your record collection gets up and says "Hey, let's play together!" So for me it was a magnificent thing. And then to perform with them… I was in France with them, where we did two festivals with the Inna De Yard Crew. It went very well, we had a good energy together, they even asked me to stay on, but since I had to go to Ostroda I couldn't make it. But I have to tell you that this was unique! First the experience of not being the centre of attention on stage, playing drums for two songs… This concept is like a perfect example of Rasta community, right, meaning that we have the elders who are stars, we have the up-and-coming artists like me who are growing in popularity now, and we are working together. And each one performs just one song and then retires to the back, to a drums position. There's no ego, no stars, everyone is a star, the whole unit is one! I had the opportunity to play drums with all these fantastic artist, the Nyabinghi, which is very important as a Rastaman. I go to the Nyabinghi celebration all the time, but I never performed 2 hours, 3 hours in a row to an audience. Nyabinghi is not a performance thing, it's a magnetism, you are tuned in to the ancient spirits of all Rasta, all people around the world! And now here is the chance to use this musical power with lyrics that we have written and put this power out to share with the people. There is an intrinsic, unexplainable power that's happening to everyone in the show, people that may not even like the drums at first. But the spirits and the vibes of love… I can't explain it, it's like a dream.
Moving to your own album, Thunderground… how was the idea born to do this?
The Thunderground album is really a collaboration with Natural High Music, these are my younger cousins in Jamaica. Blaze Davis aka Binghi and Jordan "The Rock" Armond who is the nephew of Wayne Armond of Chalice. These two young producers in Jamaica are red hot, super musical genius. On the last Rootz Underground album they mixed one song and it came out really well. Then we did another single together called Out Of The Box, and from that we said let's do a whole project together. So here's the result! Apart from recording, we also want to do a live dubbing project where we re-create all the musical tracks live on stage! Hopefully by summer we will be on the road with that, Blaze, Jordan and I.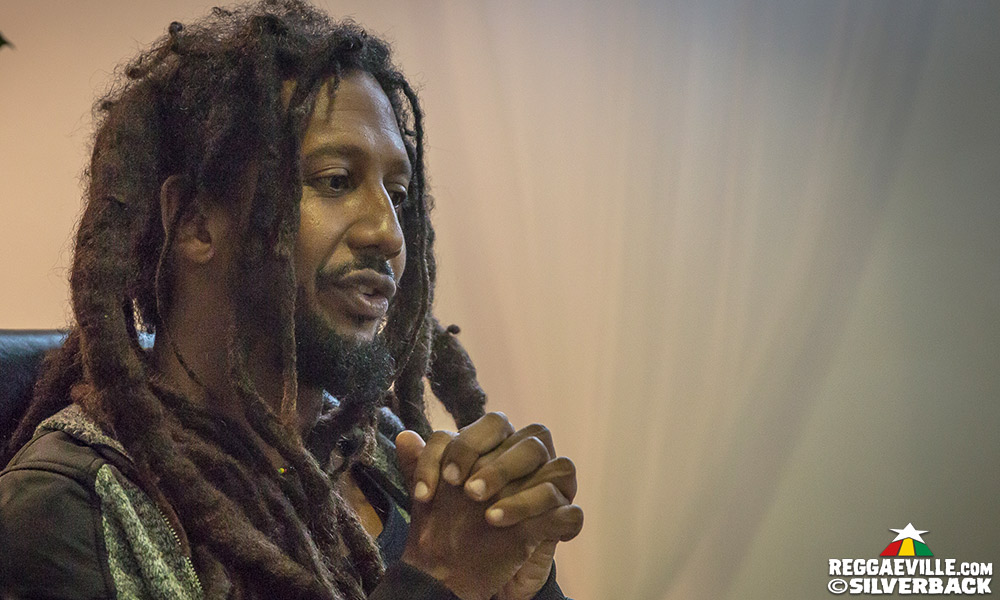 The album doesn't only contain your extraordinary vocals, but also amazing features. What made you choose the artists who are on it?
Midnite is my all time favourite band, in terms of who I listen to the most, from years back. Before they were popular, I used to go and watch them, they had this power of reality and they never ever go away from Rastafari, there is no song which is not Rasta, even love songs are about Rasta. So that was a big example for me as a young musician and I stayed with them, as a fan and a bredrin.
How the link with Vaughn happened now… there was a festival in Vermont a couple of years ago that we played at together, and our good friend Dave Pransky was there, a mutual friend, and we met in this informal scene and talked about doing a project. And Dave, who lives in Miami, organised the Black Uhuru Studio in Fort Lauderdale, an awesome studio, and this was the most mystical song experience for me. At 10 am I arrived at the studio, and we started to reason with Vaughn, about the bible, different scriptures, what his lyrics mean, all day long! Now, the studio time was almost finished, and like 4 o'clock the bredrin says "Hey, what about the song?" and Vaughn said "Give us a minute, we are just preparing!" Then we went in and it was just an acoustic riddim on a mandolin, played by David, and Vaughn sits and listens and just writes amazing lyrics as usual. Then he went in and did it and I just heard what he did and followed his lead! The song is called Hard Drive/ Frontline. The album version is a remix from what we've done at the studio; that was an organic acoustic version, on the album we released something like a dance version which is unusual for Midnite. Anyway, I hope to do many more songs with him!

Junior Reid now, in Jamaica he is an icon of course. One Blood! This is a man who is a big family man. Him love him youths! If they are playing in Timbuktu, he's just going to be there to see them, this is the type of man he is. So I respect him for that, being a father myself. Big up to the One Blood family! One day, I met Yung JR at the studio and he said let's work together, so I linked with Daddy and told him about this song called One Thing and him say: "From a One is in it, I do anything you want!" (laughs). I checked in at his place, we went to his studio and played the riddim, and again, most day was fun and laughing. Our crew was there and in like half hour we made a perfect recording, and the rest of the family had fun, doing the badman dance (laughs) he was teaching us that. So we didn't really spend much time working, it was quickly recorded and the rest was fun, but this is the nature of the One Blood studio, you know. We have some other surprises, more collaborations, but we save them for the next album.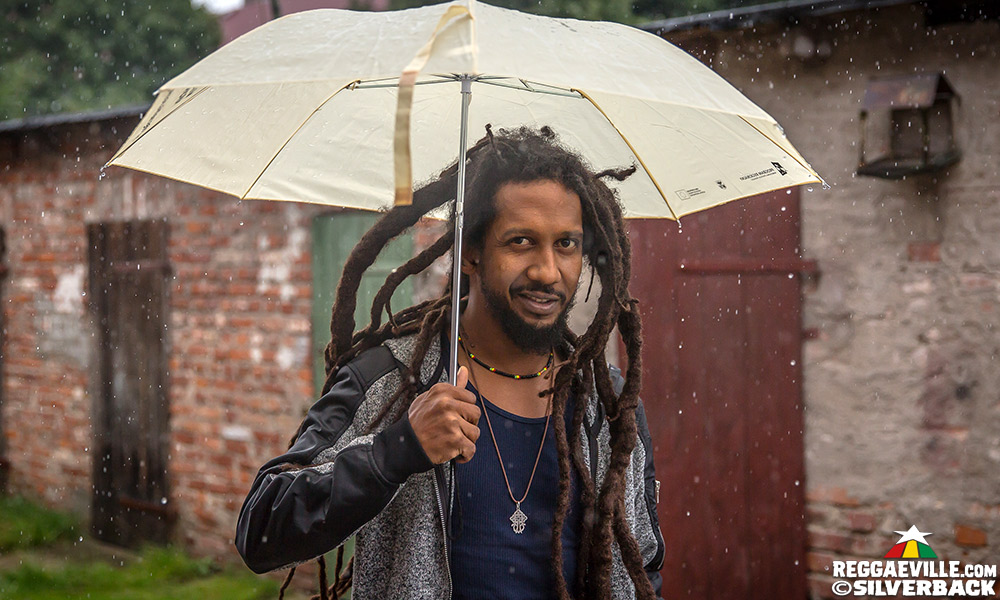 Good to hear that more is coming! In the beginning you mentioned an environmental project. Can you tell us more about it?
Oh yes! It all starts with the organic farming I do. In Jamaica, or in the world, there is a serious problem called food war. You can see a rise in different illnesses, physical anomalies people are going through. It's the stress people have to cope with, about the wars everywhere and how you take care of your kids with so many bad things happening, but it's also the food, I'n'I a say the food is the beginning! If I had a tomato now, it would spend three weeks growing, and after that it's nice and ripe. But you check it now, when you buy it in the supermarket, they washed it in chemicals and pump it up with these GMO stuff so it gets red quickly. But, food has to be in the earth, absorbing the earth, minerals and vitamins and all nutrients, it must stay longer in the earth or in the sun, it must get the natural vitamin D powers! So, instead of just blablabla, I'n'I decide to start growing food, get into farming. My family has land in the country, in St. Mary, a very poor section of Jamaica, but we no watch poor because wherever Rasta is, it's a VIP section! So we've gone there and just put our blood, sweat and tears and the money we make on tour into the farm, clearing it, and now I'm pleased to say we have like 5 acres of land, we grow 3000 tomato plants, organic, no fertilizers, no chemical whatsoever, we grow pak choy, sweet pepper, beets, carrots, lettuce, plantain, coconut, onion, pumpkin - no marihuana! (laughs) We haven't started to grow that yet. The idea is… I mean, there are thousands of farms in Jamaica, but the idea of our farm is to do something different. We are not running on a profit model but on a health model, on a community outreach model. So we would like to provide food for old folks' homes, orphanages and so on, and the only profit we will keep is for running the farm, pay salaries and buy equipment and so forth. All the money is going into feeding the children of the parish organically! So this style of farming should be in all parishes of Jamaica and spread throughout the Caribbean, all right?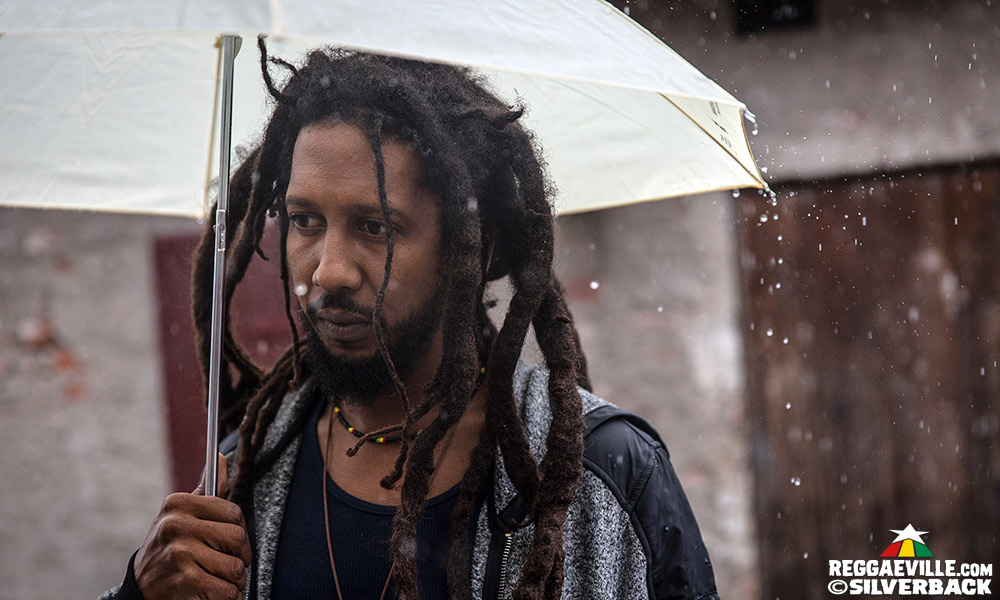 Jah is mighty! We also have to show people like, me, Stephen Newland, I have to humble myself to the bigger, which is natural living. I want to remind the youths in Jamaica, I mean not just in Jamaica but around the world, that farming, to work in the mud, is nothing bad, there is nothing low or not to be proud of, this is the best thing! So even now, you see me on tour, but when I arrive back at Jamaica, I guarantee you that by the next day I'm in the mud! I encourage all the musicians to do that. We started a public awareness project called Artists For The Environment to speak about it. In Jamaica, we have a huge problem with plastic bottles, Styrofoam, a huge problem with waste disposal and how it's not well organized, so people just burn their rubbish which is causing asthma and tuberculosis and different things for the youths. We are really attacking the problem from the food side, because if you have good food you can function better. If you are hungry and miserable, you can't learn, and we have to educate the kids about these things. I love love love this thing, it's hard for me sometimes to be in the studio, when I really want to farm!
We also do a competition across the island, last June was our fifth anniversary, where we give prizes to children under 12, in primary school. For the most trees planted, most bottles collected, best garden, best song, best dance, best poetry… we call it Releaf Environmental Awareness. In fact, that's why I'm here because it was because of this project that I was at Tuff Gong, recording with the children, and meeting Maken and Jarek and the festival people when they arrived there, so it's Jah works.
Wow, that's great stuff. Big respect for what you're doing! Hopefully I can come and visit your farm one day.