Review
Album Review: Ziggy Marley - More Family Time
09/20/2020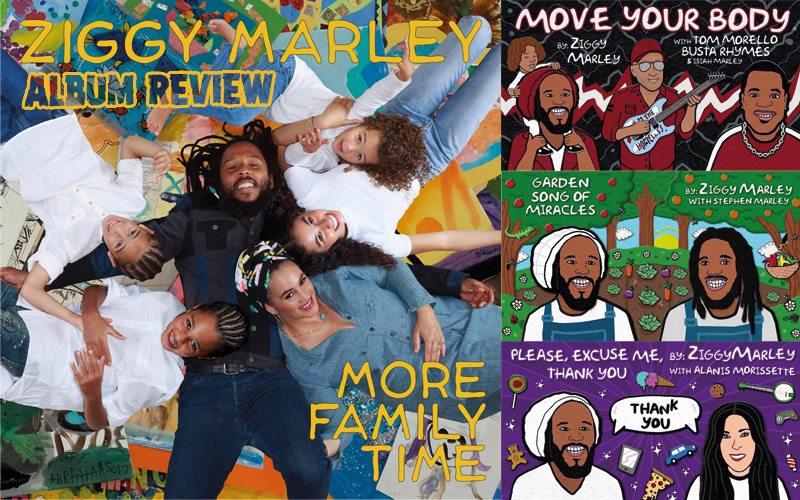 In 2009, Ziggy Marley issued Family Time. It was an album of tidy, smart, and colorful songs aimed at children, and the child inside every adult, loaded with guest cameos, including members of the Marley family, and a bounty of bouncy, fresh beats. The recipe worked especially well; Marley took home a Grammy and an Emmy for the effort.
Even so, it's surprising that eleven years later, in the midst of so much global concern over health, race relations, and climate change, that the socially and politically-conscious Marley would, once again, turn to bouncy, fresh beats for More Family Time. Yet, that's exactly what he's done. Once again, it's an album loaded with guests and plenty of positive, edifying fun, and perhaps, exactly the hopeful reminder the planet could use at the moment.
The record tips off with Marley and his longtime friend, Ben Harper, on vocals and guitar, working through the brightening horn lines of Play With Sky. It's a wonderfully sunny stroll that continues throughout, following with a poppy love song and its deeper message, as Ziggy teams with Sheryl Crow for Everywhere You Go. Next, Marley chases zig-zagging guitar and a darting melody, utilizing the building blocks of the day to make music with Lisa Loeb on Music Is In Everything.
There are pleasant, easily repeatable choruses and mostly light, major key arrangements consistently encouraging the festivities, but there is also room for some grit and weightier cultural grace. Rock guitarist Tom Morello and rapper Busta Rhymes join Ziggy's four-year-old son, Isaiah, on the hard-charging dance and jump of Move Your Body, while Angelique Kidjo pairs with Marley, in Swahili, for a beautiful reading of an African traditional, Jambo. And, lessons in manners never sounded more helpful than when Alanis Morissette and Ziggy deliver them on Please Excuse Me Thank You.
Brother Stephen Marley lends a hand on Garden Song of Miracles; Ragga doubling down on the insightful refrain as it cuts through the brass section: Plant one/Reap many. The next two are Ziggy at his most playful in the set, joyfully naming his wild animal friends with Goo Goo Ga Ga, and ushering in the debut of the Marley family pet, literally, on My Dog Romeo. That leaves the finale; a gathering of Ziggy and a trio of Marley Next Generation- including Judah, Gideon, and Abraham Marley- for the darker, minor-key, yet no less optimistic Wonderful People, and a final celebration of the real stars in Marley's world: the children.
---
Release details
Ziggy Marley - More Family Time
DIGITAL RELEASE / CD [Tuff Gong International]
Release date: 09/18/2020
Tracks
01. Play With Sky feat. Ben Harper
02. Everywhere You Go feat. Sheryl Crow
03. Music Is In Everything feat. Lisa Loeb
04. Move Your Body feat. Tom Morello, Busta Rhymes & Isaiah Marley
05. Jambo feat. Angelique Kidjo
06. Please Excuse Me Thank You feat. Alanis Morissette
07. Garden Song Of Miracles feat. Stephen Marley
08. Goo Goo Ga Ga
09. My Dog Romeo
10. Wonderful People feat. Judah Marley, Gideon Marley, Abraham Marley
Featured artists
Stephen Marley