Review
Album Review: Stephen Marley - The Fruit Of Life | Revelation PT.II
07/15/2016
by Larson Sutton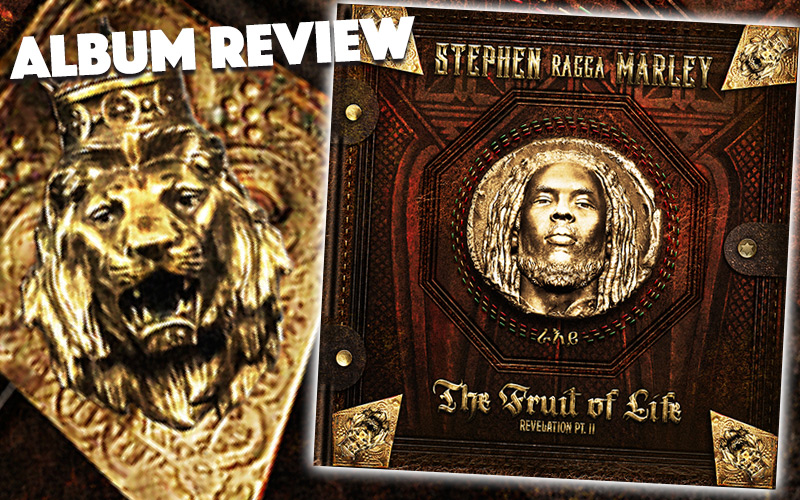 After five years, the long-awaited follow-up to Stephen Marley's vast and sprawling collection that won a Grammy for Best Reggae Album in 2011, Revelation Pt. 1 - The Root of Life, is finally here. It can be written with certainty that Revelation Pt. 2 - The Fruit of Life, in what one hopes is the middle chapter of a trilogy, is not only a worthy next entry of epic proportion, but even more ambitious and immense than its predecessor. With over two dozen guests scattered through 21 tracks and three bonus songs, Marley is doing his part to further both the legacy of his own successful solo career, as well as add to the family empire, all while promoting and propelling the spirit of reggae into a variety of voices and genres.

First, let's talk about the guests. Without devoting the entire review to listing each and every one, though they are all deserving of mention, it's fair to say that this is an A-list of artists Marley has assembled. From the family alone, there are Damian Jr. Gong Marley, Kymani Marley, and Jo Mersa. From the universe of schools old and new, there are Capleton, Shaggy, and Sizzla; Pitbull, Iggy Azalea, and Dead Prez; Wyclef Jean, Busta Rhymes, and Waka Flocka… the list goes on. A virtual anthropological collection of modern music that chooses not to assimilate this myriad of personalities and styles into one, but rather simmers them together in the melting pot allowing each ingredient to shine within the mix. It's much the same way reggae music itself blended in its origin bits of mento, ska, folk, and American R&B.

Which brings us to the music. One look at the number of tracks and the correspondent number of guests, and the concern could be that the depth of the effort in the individual performances may be lost in the sheer volume of work being put forth. Call it a 'too much of a good thing' syndrome. Not to worry. Taken one by one, each has a unique distinction separate from the others, yet the record overall craftily avoids feeling like simply a string of singles.

The album opens with a foreboding, almost martial, drum beat under a spoken sampled declaration of its intent. From there, themes both past and present begin to cohabitate. Babylon utilizes a looping acoustic, while Revelation Party provides the record's most retro reggae vibe.

There are social critiques and suggestions of 9/11 conspiracy in So Unjust that slide into a home recording of just Marley and guitar, at maybe his most bare and vulnerable, in a prelude to Walking Away, a '60s ballad juiced up with cutting saxophone. Talk of street hustles and the ghetto collide with samples of Bob Marley speaking of revolution; clavi and Spanish guitar sit next to cycling hi-hat and affected auto-tuned vocals and injections of hip-hop. The attention to detail on every cut is conscientious, respectful, and impressive. Nods to '70s blaxploitation funk on Music is Alive play as neo-retro irony. This music is abundantly alive as it reaches back 40 years for a jolt, or even 50 years, as on So Strong, whose female harmony vocals recall Motown soul at its height.

Most of the cuts deploy the guests at their finest, often carving out space for free expression in a bridge section between verses. The most stunning example may be Jasmin Karma and Twista's appearance on Paradise. A rapid-fire barrage from Twista comes like an earthquake over the sultry-in-the-shadows Karma, in a shift so abrupt it works both as a jarring juxtaposition and as a reminder of how Marley can make us comfortable, but never complacent.

Revelation Pt. 2 - The Fruit of Life is a masterwork the breadth of which cannot be appreciated without repeated listens. It is an album that can and perhaps will be dissected for all it says and does, but what it really should be is enjoyed as an incredible bounty of art and life. If there is a Part 3 in Marley's future, this one will be incredibly difficult to top.
---
Release details
Stephen Marley - The Fruit Of Life - Revelation PT.II
DIGITAL RELEASE / CD [Ghetto Youths International]
Release date: 07/22/2016
Tracks
01. Intro
02. Babylon feat. Junior Reid & Dead Prez
03. Revelation Party feat. Jo Mersa Marley
04. So Unjust feat. Rakim & Kardinal
05. Prelude
06. Walking Away
07. The Lion Roars feat. Rick Ross
08. Scars On My Feet feat. Waka Flocka Flame
09. Pleasure Or Pain feat. Busta Rhymes
10. Perfect Picture feat Damian Marley
11. Father Of The Man feat. Wyclef Jean
12. Music Is Alive feat. Pain Killer 
13. So Strong feat. Shaggy
14. Thorn Or A Rose feat. Black Thought 
15. Paradise feat. Twista & Jasmin Karma
16. Tonight (It's A Party) feat. DJ Kharled, Waka Flocka Flame & Iggy Azalea 
17. Ghetto Boy feat. Bounty Killer & Cobra
18. Rock Stone feat. Capleton & Sizzla
19. When She Dances feat. Pitbull
20. It's Alright
21. Outro
22. The Lion Roars feat. Rick Ross (Mayfield Version) 
23. When She Dances feat. Pitbull (DJ Chino Remix)
24. When She Dances feat. Pitbull (DJ Noodles Remix)
Featured artists
Capleton
/
Sizzla
/
Bounty Killer
/
Ky-Mani Marley
/
Jo Mersa Marley
/
Damian Marley
/
Shaggy
/
Junior Reid
/
Mad Cobra