Review
Album Review: Damian Jr. Gong Marley - Stony Hill
07/13/2017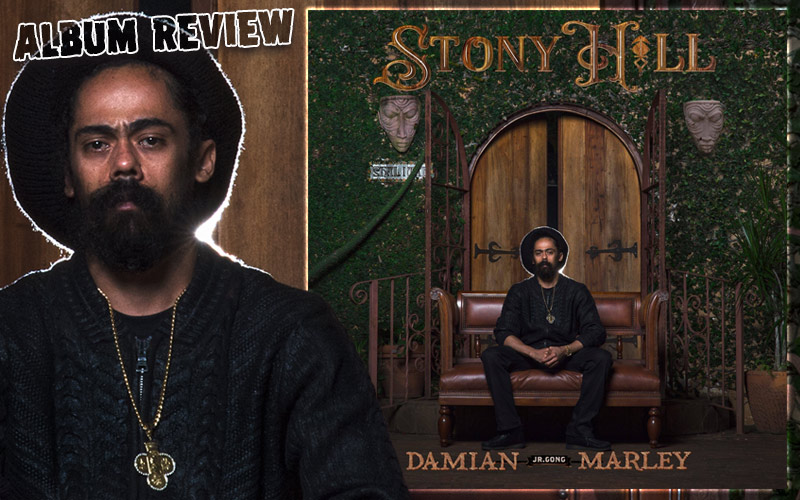 Jr. Gong has returned, and here we go. It's been over a decade since Damian Marley's last solo record, Welcome to Jamrock (2005), was a worldwide hit. Marley's put out some memorable music in the interim- namely, collaborations with Nas and Skrillex- but the full-length follow-up is finally here with Stony Hill. At a running length of 18 cuts clocking in at 75 minutes, essentially, this is a double-album, and a monster, at that.

After a short, spoken word intro, comes Here We Go, a pulsing opener that dovetails nicely into the single, Nail Pon Cross, invoking the Golden Rule among the many of its incisive and provocative comments about the actions of a judgmental mind. R.O.A.R. follows in form; assertive, even aggressive before the cannabis valentine, Medication (feat. Stephen Marley), that deals a firm rebuke of cocaine as it slips in a nod to "What a Wonderful World." This is but prelude to a string of songs that will soon sit among Marley's finest, with each showcasing its own unique quality, yet making up a mini-set of soon-to-be classics.

First-up is Time Travel, with Jr. Gong rattling off recent world history in a dizzying array of names and places, ceding to the party pick of the summer, Living It Up, whose velvet disco-soul balances struggle and success and the perils of each. On the duo of hardened reggae- Looks are Deceiving and The Struggle Discontinues- Marley's impressive vocal range shows an understanding of structure and melody that repeatedly affect, not just infect, with hooks and turns that actually mean something substantial, and still lodge in the brain, just the same. There is even, perhaps, a passing melodic resemblance to father Bob's Ambush in the Night on the latter.

The midpoint of Stony Hill transitions on the orchestral power ballad Autumn Leaves, that, again, demonstrates Marley's depth as a singer, climbing in the chorus effortlessly from low to high. There are warnings, subtle and explicit, throughout the collection, as on the pursuit of fame on Everybody Wants to Be Somebody, and its swelling horn lines. A trio of tracks with South American subtleties are next in line, starting with the darting Latin-colored R&B of Upholstery, that features Bounty Killer scion Major Myjah, and the nylon-stringed guitar tinges in Grown and Sexy.

Marley gives a passing wink to brother Ziggy, namechecking his Lee and Molly within Perfect Picture, ironically also a song on Stephen's 2016 outing, Revelation Part II; one of a trio of tracks Ragga makes an appearance. More acoustic guitar adorns the stripped-back, gather 'round So A Child May Follow, offering encouragement for the future, only to be pulled back to present reality on Slave Mill. It's a sharp commentary of the darkness of the evil institution set against percussive African rhythms. There is then the thumping Caution, before a final humbling prayer of Speak Life lowers the curtain on this magnificent effort.

There has been a long wait for this album, and given the triumph of its predecessor, one could forgive Marley for taking his time. Stony Hill not only marks the work of an artist that has, almost inconceivably, maintained the Jamrock momentum from a dozen years ago, but has reloaded with jet fuel along the way. This is set of songs that are as powerful as singles in the digital download age as they are within the complete thought of an album. In fact, it is as an album on which the scope and sensation must be experienced in sequence, from start to finish, in order to be fully appreciated. Let's only hope that we don't have to wait another 12 years for more from Jr. Gong.



---
Release details
Damian Jr. Gong Marley - Stony Hill
CD / DIGITAL RELEASE / VINYL / DELUXE BOX [Republic Records]
Release date: 07/21/2017
01. Intro (spoken by Big Youth)
02. Here We Go
03. Nail Pon Cross
04. R.O.A.R.
05. Medication feat. Stephen Marley
06. Time Travel
07. Living It Up
08. Looks Are Deceiving
09. The Struggle Discontinues
10. Autumn Leaves
11. Everybody Wants To Be Somebody
12. Upholstery feat. Major Myjah
13. Grown & Sexy feat. Stephen Marley
14. Perfect Picture feat. Stephen Marley
15. So a Child May Follow
16. Slave Mill
17. Caution
18. Speak Life

STONY HILL VINYL & BOXSET OUT August 28th 2017
Available @ REPUBLICRECORDS.com
Featured artists
Stephen Marley
/
Big Youth