Ziggy Marley Announces New Album Rebellion Rises
04/06/2018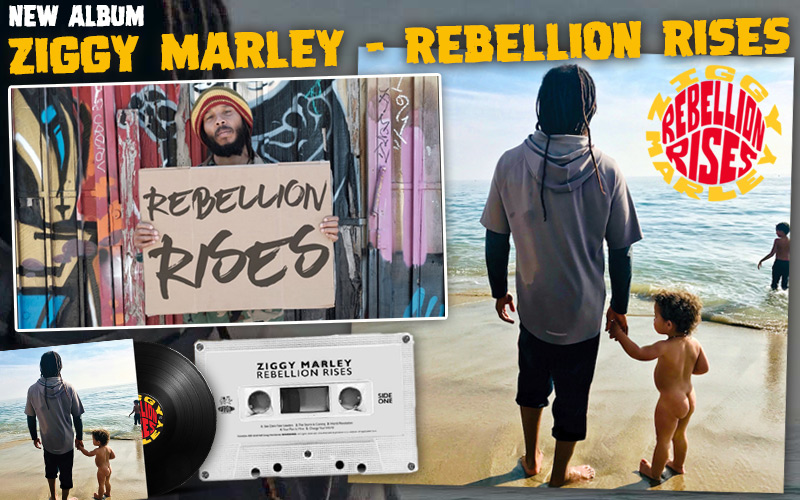 Eight-time Grammy award winning musician and reggae icon Ziggy Marley will release his seventh full-length solo studio album, Rebellion Rises on May 18th through Tuff Gong Worldwide. Fully written, recorded and produced by Marley, this passionate and indelible new collection of music encourages people to stand together in activism through love.

"The rebellion begins in the mind, the melody, and the music," assures Ziggy. "We are a conduit of that. The rebellion is consciousness. Now the consciousness starts spreading, we become aware and we rise."

No track embodies this message better than the album's title track and official first single Rebellion Rises. A manifesto with a chant-like chorus, the song emboldens its listeners to use the power we all have as instruments of positive change around the world.

"The better side of humanity, cannot let the side of humanity that push negativity and hatred be more willing," Marley explained in a recent interview. "It cannot happen. It's a battle of wills. We've got to have more will."

Rebellious Rises Tracklist:
01. See Dem Fake Leaders
02. The Storm Is Coming feat. Gideon Marley
03. World Revolution feat. Samuill Kalonji
04. Your Pain Is Mine
05. Change Your World
06. I Will Be Glad
07. High On Life
08. Circle Of Peace feat. Stephen Marley
09. I Am A Human
10. Rebellion Rises

Rebellion Rises marks Ziggy's first studio release in two years, following 2016's critically acclaimed self-titled project which took home the 2016 Grammy award for Best Reggae Album and marked his fourth consecutive debut at #1 on the Billboard Top Reggae Album Chart.

This June, Ziggy Marley will embark on the first leg of his North American tour with stops in a number of west coast markets including Napa, CA, Seattle, WA, Portland, OR and San Francisco, CA. The tour will then make its way to Europe beginning June 29th where it opens in Legnano, Italy.

Check all tour dates here!