Stephen Marley: Soldier of Jah
05/07/2011 by Michael Gerity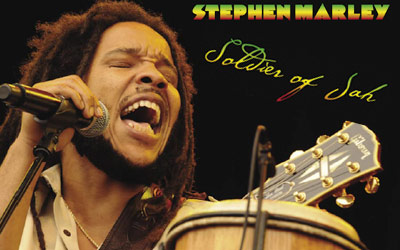 Stephen Marley - Soldier of Jah
by Michael Gerity - Mousike Magazine April/May 2011
FAMILY
There are many different ways in which people react and deal with being born to a parent or parents of fame. Some become reclusive and completely shy away from a public life. Some willingly jump at the chance of notoriety only to be overwhelmed by mainstream's expectations and constant scrutiny. And still others find living in the limelight a natural course of events, a somewhat familiar continuation of an open childhood in which they grew up, and one that ultimately provides them the tools to succeed. Stephen 'Raggamuffin' Marley took the tools from his parents and wasted no time becoming accustomed to both the musical recording world and performance on the stage.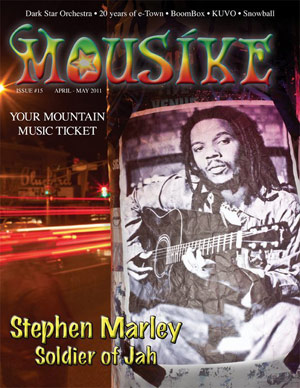 Stephen Robert Nesta Marley was born on April 20th 1972 in Wilmington Delaware to his parents Bob and Rita Marley. About the same time Stephen was born, his father Bob and his band The Wailin' Wailers, had just met Chris Blackwell of Island Records. They would soon convince him to finance an album they planned to record back in Jamaica. And one week before Stephen's first birthday in April of 1973, Catch a Fire was released, propelling Stephen's father Bob and the Wailer's on a course to Reggae superstardom.

Nearly forty years later it can be said that, the Marley family may very well be the 'first family' of Reggae. Not only did Bob and Rita share a stage for nearly a decade for some of the most influential Reggae music of that time, but they bore a family of musicians that have continued to shape the sound of Reggae and Hip-Hop.

Stephen was the third child born to Bob and Rita, after older sister Cedella and older brother David "Ziggy". He also has an older half-sister Sharon, from Rita's previous relationship and the family musical roots have continued after him with younger brothers Damian "Jr Gong", Ky-Mani and Julian, all whom share Bob as a father. His other siblings include Robert, Rohan, Karen and Makeda who have all pursued non-musical careers.
Stephen first appeared on record in 1979 at age 7 with Sharon, Cedella and Ziggy on "Children Playing in the streets", a song written and produced by their father. The single addressed the horrible poverty that many children in Jamaica were living in and royalties from the single were donated to the United Nations to aid in its efforts during the international year of the child.

By age 8, Stephen took lead vocals on "Sugar Pie", which he also performed live at the 1982 Jamaica World Music Festival in Montego Bay. If you check out YouTube, you will see a young Stephen strut his stuff with a booming confidence, his movements emanating a young swagger reminiscent of Bob. Even at this early age, it is clear he is his father's son.
MELODY MAKERS
In 1981, Bob passed on from this plane and a nine year old Stephen performed with his older brother Ziggy at their father's funeral. Later that same year Ziggy, Stephen, Cedella and Sharon released "What a Plot" as the Melody Makers. And so the Marley family band was officially born.

By 1985, the Melody Makers released their first album, Play the Game Right, but it failed to garner mainstream success. Stephen was featured on a 12" single titled "Jah is the Healing" (the reverse side to "Naah Leggo", the opening track of the album). And in 1986, they followed up with the release of Hey World!, but it too failed to crack the charts. Stephen however was again featured, on a track "Lord We A Come".

Conscious Party was the group's breakthrough in 1988 with the single "Tomorrow People" reaching mainstream audiences. Produced by Chris Franz and Tina Weymouth of the Talking Heads, it did well on both the pop and R & B/hip-hop charts in the US and the band won the Grammy for Best Reggae Recording that year.

One Bright Day was released soon after in 1989 and was again a Grammy Award winner. The Melody Makers rode that success and continued to put out albums until 2000, with Fallen is Babylon (1997) as the third Grammy Award winner for the band. The work, play and musical interaction with his older siblings throughout that twenty year period would eventually prove to be a fertile training ground for what was to come.CAREER
Although Stephen was on a record by the age of seven, it would be a long twenty eight more years until the release of his debut solo album. But by no means was Stephen inactive during that time. He is a seven-time Grammy Award winner as an artist, producer, and member of Ziggy Marley & the Melody Makers. And although awards were not presented for a Reggae category until 1985, his total of seven is more than any other Marley family member or any reggae artist in history. As the mid to late nineties rolled around, it became clear that the focus for Stephen began to shift from Melody Maker to musical collaborator and producer. Ghetto Youths International was founded by Ziggy and Stephen in 1989 as a means of controlling their own music and helping upcoming artists. Stephen's earliest solo production efforts for Ghetto Youths International includes his late grandmother's (Cedella Booker) album "My Altar", followed in 1995 by the Ziggy Marley and The Melody Makers single "Works To Do" and younger brother Damian's "10,000 Chariots". Both singles hit the Jamaican charts and generated a buzz surrounding Stephen's expanding production expertise.

In 1996, Stephen lent his collaborative and producing talents to his brothers Damian and Julian for albums they had begun crafting. That same year he showed a love for Hip Hop and R & B, remixing with the Fugees and their interpretation of 'No Woman No Cry'. And in '97 he appeared on Rebel Music (3 O'Clock Roadblock) with Michael Franti & Spearhead on their album Chocolate Supa Highway.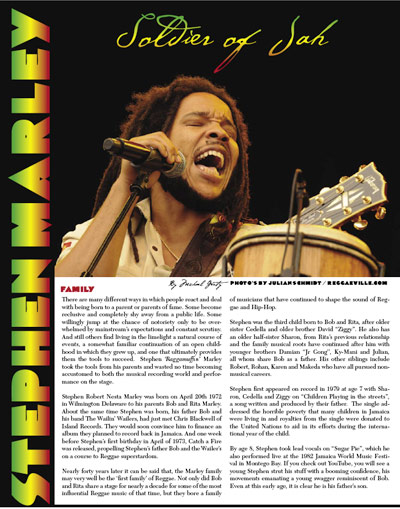 In November of 1999 Stephen released "Chant Down Babylon", a reworking and remixing of a collection of his father's songs where he showed the courage to alter his father's original vocal outtakes from the 1970s Island Records' sessions. He then spliced them into duets with hip-hop and R&B artists, while updating the Wailers' richly textured one-drop rhythms with an assortment of samples, loops and overdubs.

It was his biggest project to date, serving as an executive producer along with Steven Tyler, Joe Perry and a credit as The Marley Boyz as well. In addition to the original Bob Marley music, Erykah Badu, Guru, Rakim,Krayzie Bone, Busta Rhymes, Flipmode Squad, Lauryn Hill, Lost Boyz, Mr. Cheeks, MC Lyte, The Marley Brothers, The Ghetto Youths Crew, Steven Tyler, Joe Perry, Chuck D, The Roots and Black Thought all appear. When I recently spoke with Stephen at his Miami Studio,I asked how one even approaches dealing with his father's music catalog and a project of this magnitude.

"You need to search out and find a person that is going to uphold the musical integrity of the song", he said.

There was however quite a reaction to the album both positive and negative. As for the some fans and "reggae purist" types who were not so keen to the altering of Bob's original music.

'Well the critics and purists, they don't know everything… It's just like when my dad put out Kaya, you know.'

Which one could easily point to the Lester Bangs review of Kaya in one Rolling Stone magazine in 1978, in which Lester spews, '…This is quite possibly the blandest set of reggae music I have ever heard, including all the Engelbertisms of would be crossover crooners like John Holt.' And this is one of the more tame lines of the review. Ironically that same Rolling Stone Magazine had this to say about Stephen's "Chant Down Babylon" release- "...a giant piety party with reggae's most hallowed saint as the guest of honor....It introduces a young audience to a deserving icon and makes a pointed political connection between present-day America and Marley's Jamaican slums..."

But the point for Stephen wasn't about the critics; it was that the music moves on. And there is a newer generation of listeners that can get exposed to Bob's music and in a reciprocal way, some of the younger Hip-Hop/R & B acts can get some exposure to some older Bob fans. It is a cross generational thing, that in many ways it's not much different from the free style rapping that has been going on over Jamaican sound systems for years.


"…You know there is a lot of great reggae music out there that we are not hearing because of the radio stations. So the people needed to hear this music and the timing was right- to do it".

"Chant Down Babylon" achieved its objective of bringing Bob's music to a new generation of fans. It earned a Grammy nomination and was certified Gold by the Recording Industry Association of America and has sold more than one million copies worldwide. As the decade came to an end, Stephen continued to collaborate with a wide range of musicians from Ethiopian recording artist Chachi Tadesse, to Krazyie Bone, Dead Prez and Buju Banton, along with a stirring, soulful duet performance with Eryka Badu on I'm in Love with you that can be found on her Mama's Gun album, released in 2000. Stephen can also be heard on No No No by Eve, Smoke in My Eyes by Inner Circle and Mama Say and Til We Meet Again by Mr. Cheeks.

When Damian's 'Halfway Tree' was released in 2001 Stephen was again heavily involved and now getting noticed as not only a collaborator, but as a producer of a Grammy Award winning album. In 2002, Stephen, Damian and Julian Marley went on to incorporate the family owned record label. And Ghetto Youths International based in Miami, now had a solid foundation that was formed for charitable and educational purposes, with a '… mission to improve the lives of disadvantaged and minority youths both here and abroad by educating and assisting this population with the ultimate goal to reduce poverty, social, family disorder and alienation that this group feels on a daily basis.'

In 2003 Stephen and Damian put together an album entitled 'Educated Fools', a one track riddim album based on the Educated Fools track from 'Halfway Tree'. They released it under the Ghetto Youths banner as a Marley Boyz collaboration with a slew of other artists including Buju Banton, Capleton and brother Ky-Mani. In the same year Stephen's splendid take of Master Blaster made its way on to the Stevie Wonder tribute album Conception.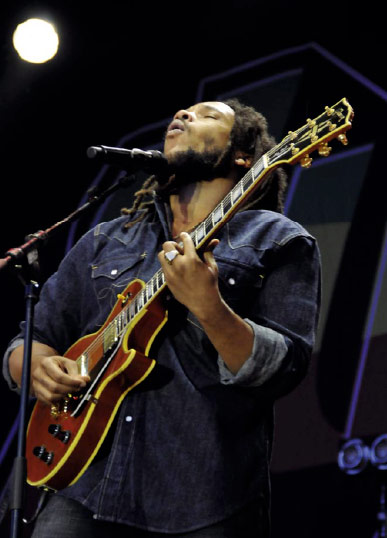 And still, Stephen continued a barrage of collaborations, Sunshine Girl by Capleton on Reign of Fire, Who am I by Iqulah on the single Rastafari 4 Eva, Revolution in Paradise (Jamaica Version- Alex White Remix) by Heath Hunter on the cd single Trenchtown and River Don't Runn by Nelly on Sweat. All of these were released in 2004, but a Solo Stephen project had yet to surface.

2005 was a big year for not only Stephen, but the entire Marley family.In commemoration of Bob's 60th birthday, the entire Marley family took a trip to Africa. A subsequent documentary entitled AFRICA UNITE is centered on that trip and the importance of Bob's message, the roots of Haile Selassie I and the meaning of it all. It was a family experience with a rejoicing of many musical performances.

"It was the greatest experience I and I ever had. To just be there and experience the energy was very special. Stepping off the plane and just feeing the energy of Ethiopia and all of Africa, you know. It was real special." By September of that same year, Damian's third album "Welcome to Jamrock" was released, in which Stephen again contributed to the writing and producing as well as performing on the tracks All Night, For the Babies, Hey Girl and a masterful contemporary re-working of their father's Pimpa's Paradise. "Welcome To Jamrock" (Tuff Gong/Ghetto Youths/Universal Republic) entered the Billboard Top 200 Albums Chart at No. 7, a record setting opening week for a reggae artist; it was certified Gold and won the 2006 Reggae Album Grammy while the single was honored for the Best Alternative Hip Hop performance, another first for a Jamaican artist.

The overwhelming success of Damian's "Welcome to Jamrock" only increased the anticipation of Stephen's long awaited debut solo album "Mind Control" (Tuff Gong/Ghetto Youths/Universal Republic). And when Mind Control was finally released in March of 2007, it premiered at No. 1 on the Billboard Reggae Album chart continuing a wave of Marley family success. The album is a long time coming of Stephen mixing the sounds and styles that he loves: a blend of Reggae, Rock, R&B, Nyabinghi Rhythms, Flamenco and Hip-Hop featuring cameos from Damian Jr, Gong Marley, Julian Marley, Mos Def, Ben Harper, and Mr. Cheeks.

When asked about the long waiting period to put out Mind Control, Stephen simply replied,

"I was just waiting for the time to be right. And for it to feel like it was my time."

Well his timing seemed to be spot on, as the album went on to receive widespread critical acclaim: Interview Magazine called it "a quiet masterpiece,
easily the best effort from a Marley progeny" while Entertainment Weekly hailed it as "the best Marley album in a generation." "Mind Control" was bestowed with the Best Reggae Album Grammy in 2008 while its unplugged version "Mind Control-Acoustic" was similarly honored in 2010.

Stephen wasted no time and got back on the road performing what is now becoming a catalog of not only some classics from father Bob, but an ever growing list of his own hits. In 2008, he appeared on Guava Jelly by Camile Velasco and The Mission by Damien Marley on Reggae Gold. In 2009 he toured with Snoop Dogg and Slightly Stoopid as part of the Blazed and Confused Tour. And in 2010 he appeared on the widely anticipated Nas/Damian Marley album "Distant Relatives" lending vocals to Leaders & In His Own Words as well as receiving credits for guitar, composer, keyboards, programming and producer.SOLDIER OF JAH
When I asked Stephen what was currently going on, I immediately got the feeling that he has something exciting that he is about to share with the world. In between touring and performing he has been working since last April writing and recording a follow up to 2007's "Mind Control" at both the Marley Music studio in Kingston, Jamaica and the Marley Lion's Den studio in Miami.

On May 24th Stephen Marley's second album, "Revelation Part 1: The Root of Life" is scheduled to drop. As exciting as that is for Stephen Marley fans, the news that a complimenting album, entitled "Revelation Part II: The Fruits of Life" is also scheduled for release some time around September, and that should make any 'Raggamuffin' fan plenty joyful.

The first album, The Root of Life is to have a much 'more roots reggae theme' with the Fruits of Life being a little more mixed bag, including some dancehall/ mash up/ Hip Hop and other flavors. If the first two singles are any indication of what we are to expect, Stephen should start building a new shelf for another Grammy. Jah Army was released as a single in November 2010 and has a strong lyrical rally call; a real recruiting anthem sound. And the second single No Cigarette Smoke In My Room released in February features a smooth R & B shuffling duet with a sultry performance by Melanie Fiona. In addition to Melanie Fiona, Stephen says you can expect cameo's from Rakim, Black Thought, Capleton, Buju Banton and brothers Damian, Ziggy and Ky-Mani along with a few other surprises as well.

So the natural instinct would be to get back out on the road and bring this new music to the people. Of course that's just what Stephen is doing. He has just wrapped up a string of dates up the east coast and is about to head out on a 15 show tour that includes performing at the Wanee Festival in Live Oak, Florida and the House of Blues in New Orleans along with three stops in Texas, three stops in Arizona and three stops in Colorado. He and his brother's recently played together at the 18th Annual 9 Mile Music Festival in Miami on March 12th and I asked what differences he notices between a small indoor venue and the larger festivals he'll begin to play as the weather breaks.

"You know the small venues you feel the energy of people 'cause they're up close. At the Festivals there is a whole other vibe, you know. There is a mix of different cultures and different types of music and the people bring it all together, they create the whole festival vibe."

Since visiting many of our Colorado venues over the years with the Melody Makers, Stephen has gained a real affinity for our state. "Yeah.. There is always a great vibe from the people of Colorado. You know, they wake up with mountains in front of them, with the fresh air and they always bring the good vibe to the show."

The three Colorado shows include a Friday stop in Fort Collins at the Aggie Theater, Saturday April 23rd at The Spring Back to Vail-outdoor end of the season party and the following night at the Belly Up in Aspen. Be sure to join the irie army and catch Stephen while he is passing through our state.

THE TIME IS NOW
On Sept 23 of last year, the Marley family again gathered, this time in Pittsburgh, PA for "Live Forever: A Bob Marley Celebration". It was a one-of-a-kind family event that honored Bob, his music and his message while recalling the last concert he ever performed, in the same building 30 years to the date. On May 11 2011, it will have been 30 years of life without Bob. For all of us, he is a global icon that left us much too soon. For Stephen it's a father he lost at age nine, although to him 'it doesn't feel like 30 years'.

"… he's not just my father. You Know. Yeah, he's my father, he taught me my morals and about life. Yeah we did normal things, but he didn't just take me out for ice cream. He is my mentor. He taught me music. So he's my musical mentor, see. And that's real important to me."

It is very clear to see that at a very young age Stephen took the tools and skills from his parents that he needed to succeed in a musical career. He matured those skills under the guidance of his older siblings in a career of its own within the Melody Makers. He then took his burgeoning prowess and selflessly nurtured his younger siblings to success. Patiently he added to his career by tracking, mixing, producing and singing with others, learning more of the craft along the way. With the upcoming releases of Stephen's second and third album, it's safe to say that we have not heard the last of him. And now, at two years older than what his musical mentor lived to be, it's clear, that it is finally Stephen's time.