Stephen Marley Kicks Off the 'The Root Of Life Tour'
06/08/2011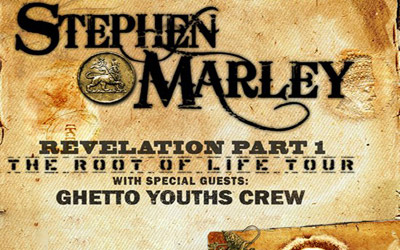 In support of his fresh album "The Revelation Pt.1: The Root of Life", Stephen Marley kicks off a six-weeks-tour in the USA.
First show takes place in Ventura, California tonight. The tour will touch 28 cities, including Los Angeles, Seattle, Aspen, Pittsburgh and New York, which marks the last show on July 16th. check the entire schedule HERE
After a short break the tour jumps over to Europe for at least two weeks with performances at big festivals like Reggae Sun Ska in France and Ostroda Reggae Festival in Poland.
Make sure to read our interview with Stephen Marley in the Festiville 2011 magazine.