Report: SummerJam 2012 - Videos, Photos, Reviews and more...
07/06/2012 by Angus Taylor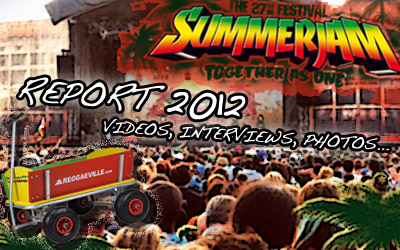 SUMMERJAM 2012 ► VIDEOS & PHOTOS


REVIEWS: DAY THREE - JULY 8th
STEPHEN MARLEY
Stephen Marley's last album, the Grammy winning Revelations Part 1: The Root of Life is so good that it is tempting to wish that he play it in its entirity tonight. But this is the final show on the Red Stage as Summerjam is winding down and so, after a sample of its strongest tracks (the drops like lead Break Us Apart and the jaunty Can't Keep I Down) it makes more sense to get everyone dancing and singing to the songs of Bob.

Moreover, the denim clad scion justifiably considers these songs and their legacy as his. And, delivered in a voice so familiar yet slightly different, it's clear the people do too. Even disembodied from off the stage, his first yelps for Reggae On Broadway create an emotional current through the crowd.


A relaxed mover while singing live compared to his furious father, Stephen offers up Three Little Birds, Jammin' and an irresistibly propulsive Could You Be Loved. He also shows the continuation of the legacy by bringing his son Jo Mersa on for his own, pre-Revelations originals Traffic Jam and The Mission - giving him what appears to be a fatherly pre song pep talk before the audience. The band is on point and the Red Stage's superior sound suits Stephen's exacting ears - and ours.

For his encore he closes with One Love and then Redemption Song as a pyrotechnical display licks the night sky. Fans will have to catch his longer sets on standalone tour to hear further Revelations but here remembering Bob was the right thing to do. Summerjam 2012 has come to a close in fine style.

J BOOG & MILLION STYLEZ
For a big man J Boog is fairly quiet in taking the stage. In fact, many punters wheel round in recognition of his grainy, almost-on-the-verge-of-breaking-down tones. He soon gets everyone to say "Aloha!" in tribute to the place he calls home and "Pakololo" in honour of what he likes to do with his time.

Considering he has two albums of his own material, it's interesting that he chooses to cover Beres, Gregory Isaacs and Marlon Asher during his set, but in all truth, he could sing the telephone book and get a reaction. When he does reach his huge Don Corleon hit Let's Do It Again, initially delivered in smooth soul ballad style, the rain starts to come down as if on cue.

Million Stylez, like Boog, backed by Sweden's Gideon Rockers band, is dressed like an East London hipster, and refuses to take off his shades. That's about the only criticism that can be levelled at him as he powers his way through his own (recorded) covers of Junior Byles' Fade Away, and John Holt's Police In Helicopter as well as his pulsating breakout smash Miss Fatty.
Alborosie may have the bigger billing, Gentleman questions may be mandatory in the press conferences... But on the strength of their showings at Summerjam, Million, Boog (and Collie Buddz from the night before) deserve a slice of the pie.
REVIEWS: DAY TWO - JULY 7th
PROTOJE
Following last year's showcase appearance at Reggae Jam with Pressure , Protoje has returned to SummerJam with only his producer cousin DonCorleon Bennett for company.

Later the press find out that not being able to bring his own Indiggnation band is a cause of big regret. But he has nothing but praise for Southern France's bottom-heavy, professional Dub Akom, who as their name might suggest, remove every trace of R&B influence from Don Corleon's rhythms live.

The slightly rough and off the cuff nature of the performance is due to the Green Stage's sound being a little muddy and 'Oje and the band having had no rehearsal. So they improvise around their mutual love of the music of Sly & Robbie – starting with Black Uhuru's Shine Eye Gal and ending with the title track to Protoje's debut album Seven Year Itch over the Riddim Twins' heavily versioned Revolution. In between the crowd go wild for album tracks like Rasta Love (whose chorus they sang acapella practically unprompted) and newer singles like Who Dem A Program ("I'm a Rastaman. I don't take direction" is Protoje's intro).

Corleon joins him on stage for album outtake Our Time Come – which he calls "something special for Burning Spear" (on later and sampled on the track). They did it at Reggae Jam the summer before yet it is still a nice touch – albeit one that makes us wonder if they will actually get the great man on stage for some modern reggae vibes...
Protoje seems tired at the start of the press conference after but quickly charms: telling the scribes how he originally wrote Our Time Come for Tarrus Riley; how he got Burning Spear and Nneka to sign his Germany jacket backstage; and how he was looking forward to going back to St Elizabeth to spend time with his mother, the great singer Lorna Bennett, for one day before hitting the road again.

BURNING SPEAR
Burning Spear has been candid in interviews about his decision to increase his market value and conserve his strength by doing fewer big shows each year. So there is a weight of expectation on his Red Stage headline spot, having chosen Garance in France in 2011 (even if the majority of German punters opt for Beenie Man - under similar expectation post "that apology" - on the sonically troubled Green Stage).
Plenty of people do turn out to behold the Spear Burning, however. And he seems relaxed and well rested, giving a very typical performance that included hand drumming, Slavery Days, Jah No Dead and Ites Green and Gold from the old days and newer material like his Grammy winning Jah Is Real.

The Young Lions band ably swing the rhythms in a relaxed jazzy fashion – and it is not one of those hard roots shows that Spear pulls out of the bag from time to time for the purists. But when he gives his customary cries of "talk to me" in search of appreciation, he gets it. In return, during African Postman, he thanks the fans for their support before calmly stepping off the stage.


REVIEWS: DAY ONE - JULY 6th
RAGING FYAH
In stark contrast to their name the laidback manner of Jamaican band Raging Fyah on Summerjam's rootsier Green Stage is perfect for the woozy sunshine of the late afternoon.

Here in Germany for the first time, having been championed in the German press, they don't draw the heaving throng of the USA's horn driven angsty roots rock outfit SOJA on the Red Stage. But the presence of artists like London's Natty in the crowd tells you all you need to know.

Singer Kumar Bent subtle, deceptively nonchalant vocals are an acquired taste at first – and seem low in the mix. But when he delivers a shimmering note perfect rendition of Slim Smith's My Conversation for the encore it becomes clear that this is a style and not a limitation. The rest of the band (horns free like all the Caribbean acts on the Friday) are as tight as you'd expect from compadres who have known each other for ten years. Their album Judgement Day has received rave reviews in Europe but on this showing may not do them justice in terms of capturing their live power.

In the press conference after they face the usual questions of Europe vs Jamaica and reggae vs dancehall with grace and good cheer. "It's a dream come true to play here" says Bent as Summerjam is a festival the youths back home have heard of. Asked about the much trumpeted "Live band revolution in Jamaica" he replies "it's happening" – suggesting both that this phenomenon is nothing new and that the stylistic takeover is perhaps some way off. His views on Gentleman and Europeans playing reggae are sought and are favourable – contextualized by the remark "well we play rock". An impressive debut all round.

MIDNITE
Midnite's first album announced that "Time is not counted from daylight but from Midnight". So it is a shame that the St Croix antinomians have to play the Green Stage while the sun is still in the sky.


Nowhere near as huge in Germany as in France – where they can play shows of several hours – their (at times) ponderously slow back catalogue is a source of puzzlement to dancehall and even more traditional roots fans. But as towering khaki clad near motionless singer Vaughn Benjamin warns "seek out the truth of the matter – don't rush to judgement" because whether preaching to the converted or the curious Midnite are always playing the long game.

A highlight is Mongst I&I from Benjamin's collaboration album with Andrew Bassie Campbell, King's Bell – whose message of good relations with the people near you is ideal for a big festival like Summerjam (where anonymity can take over).

In the press conference Benjamin baffles and illuminates the direct-answer-seeking journalists in equal measure with his joined up holistic world view. When asked about whether he does charitable works he replies that charity is fully integrated into life and not a separate activity. In response to a comparison between his lyrically dense vocals and dub poetry he suggests that all music is from Africa and all animals have the one drop heartbeat. He is grinning ear to ear throughout, suggesting this particular mission for his music and message has gone to plan.
---
SummerJam 2012 kicks off today on the main stages. We will provide the freshest videos, photos and interviews in during the next three days.
Our reporter Sara Lugo checked the vibes yesterday at SummerJam in Cologne, Germany. Watch it below.. and CLICK HERE to watch a drive over the SummerJam Camping area with the Bollerwagen-Camera!