New Stephen Marley Album - One Take (Acoustic Jams)
11/17/2018 by Reggaeville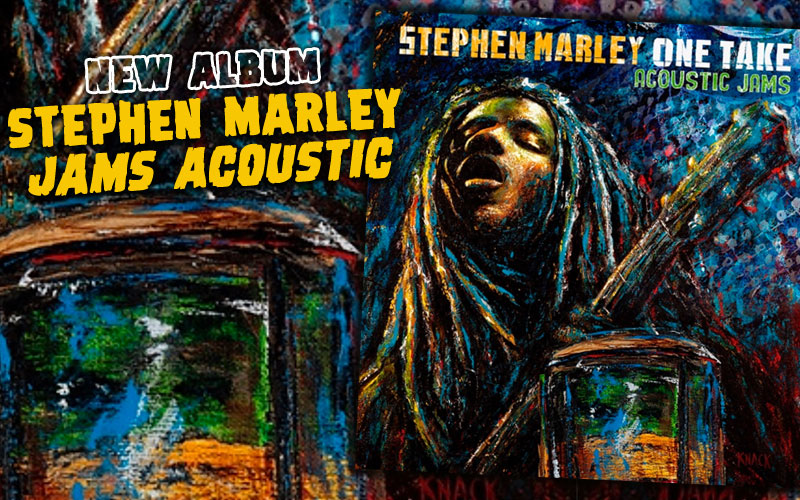 After the Grammy winning Mind Control Acoustic album (2012) Stephen Marley is back with an acoustic album: One Take (Acoustic Jams)!

The album was recorded in a very intimate setting: "It was just a jam at home, but we set up two mics, that's why it's called One Take, because that's how it was done, in one take. We didn't really plan for an album, so everything is in there, the mistakes too.[…]It is definitely a good vibration, putting something different out there." Stephen told Patricia Meschino from Billboard.

The full album (11 tracks) was premiered on Billboard.com on November 9 and the official release date was announced for November 12, but only a 5 track EP of One Take (Acoustic Jams) is currently available only on Apple Music and YouTube. Update November 18: now on Spotify!
LISTEN TO THE EP BELOW!

ALBUM TRACKLIST
01. All Day*
02. Easy Skanking*
03. Hey Baby
04. Hold On To This Feeling
05. Iron Bars
06. Mind Control*
07. The Mission
08. Rainbow Country
09. Real Good Time
10. Revelation Party*
11. Small Axe*
* included on the EP

Stephen Marley on lead vocals and percussion plus Javaughn Bond (bass), Ranoy Gordon (guitar), Nicholas Laraque (saxophone and clarinet) and Craig Taylor (bass drum and percussion).

Real Good Time has a special story. It's an unreleased Bob Marley song, which is also known as Bass Is Heavy from a Bob Marley & The Wailers rehearsal video tape [WATCH IT HERE], filmed by Neville Garrick in September 1980 in Miami. Stephen Marley performed it during his recent US acoustic tour, but it was also part of his shows during the past years.

In fact, 27 years ago, Stephen sang a few verses of Bass Is Heavy/Real Good Time on the song Good Time, which appeared on the Jahmekya album by Ziggy Marley & The Melody Makers in 1991 [LISTEN HERE]:

Bass is heavy, drummer is steady,
Riddim runs and I got you on the floor,
Cryin out for more,
Cause that's the only way we gonna know for sure,
You need some more.
LISTEN TO THE ONE TAKE (ACOUSTIC JAMS) EP HERE: