Grammy Nominees 2012: Best Reggae Album
12/01/2011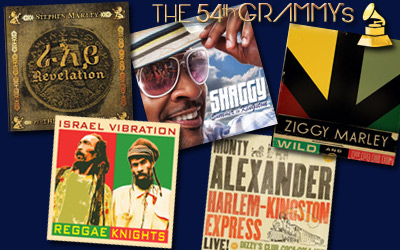 And the nominees are...
Best Reggae Album
For albums containing at least 51% playing time of new vocal or instrumental reggae recordings.
The eligibility period for the 2012 Grammy Awards is September 1, 2010 to September 30, 2011.
1. HARLEM-KINGSTON EXPRESS LIVE!
Monty Alexander [Motéma Music]

2. REGGAE KNIGHTS
Israel Vibration [Mediacom/VPAL]

3. REVELATION PT 1: THE ROOT OF LIFE
Stephen Marley [Tuff Gong/Universal Republic]

4. WILD AND FREE
Ziggy Marley [Tuff Gong Worldwide]

5. SUMMER IN KINGSTON
Shaggy [Ranch Entertainment]
Notable fact: the Superheavy project by Mick Jagger, Damian Marley, Joss Stone, Dave Stewart & A.R. Rahman did not get nominated in any category... kinda the same treatment, which got the Distant Relatives album by Damian Marley & Nas last year!
Buju Banton won the Grammy 2011 for his album Before The Dawn
The Grammy Awards 2012 will be held in Los Angeles, CA on February 12th! Full list of nominees is available @ GRAMMY.com