Ghetto Youths Foundation - Damian, Stephen & Julian Marley launch Pic Love Campaign
11/25/2019 by Reggaeville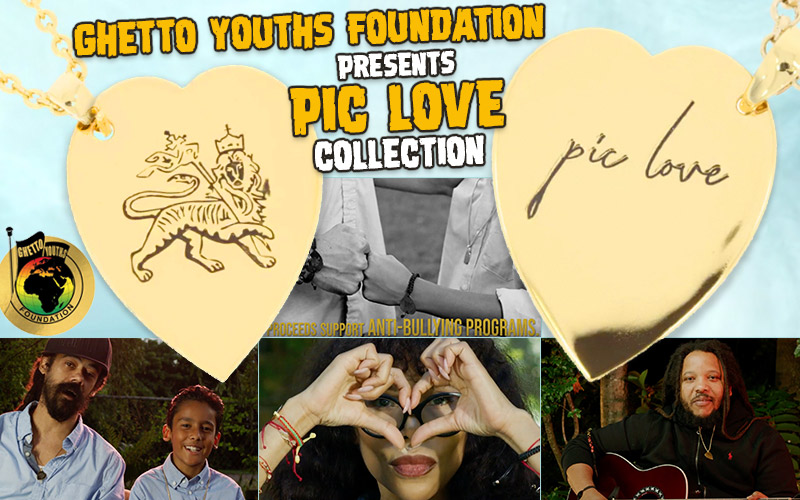 JOIN US TO PICK LOVE OVER HATE.
PICK PEACE AND UNITY OVER
VIOLENCE AND AGRESSION.
PICK TOLERANCE AND INCLUSION.
PICK KINDNESS, EVERY DAY.
#PICLOVE
Stephen, Damian, and Julian Marley present the Ghetto Youths Foundation Limited Edition PIC LOVE Jewelry Collection with proceeds benefiting anti-bullying programs for young people.

Inspired by the iconic heart-shaped guitar pic used onstage by Stephen Marley, the PIC LOVE Collection features this special guitar pic, hand-dipped in gold to create a timeless piece of meaningful jewelry.

The collection contains a small ($100) and large ($125) Necklace and two styles of Bracelets ($50).



Proceeds from the PIC LOVE Collection will directly support anti-bullying programs for young people. The first stop on this national campaign for kindness is a groundbreaking partnership with Miami-Dade County Public Schools to bring the spirit of acceptance, inclusion and LOVE into classrooms across Miami…

Join PIC LOVE, and stop bullying once and for all. Shop the cause @ GHETTOYOUTHSFOUNDATION.org